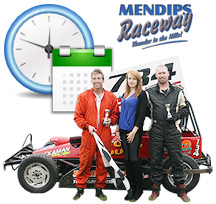 Here are the Mendips Raceway events listings for 2014. Click for Printable Fixture list.
New to Stock Car Racing? - Visit our See it Now Page - for an intro to our Racing Circuit and the facilities. See our Online Formula Guide for videos and descriptions of each type of racing that you will see at Mendips Raceway.
Ticket Prices for 2014 events are: Families £28 (2 Adults - 3 Children), Adults £12, Children £3, OAP £6.
Events start at 1.00pm unless stated otherwise.
To see last year's fixtures, and links to the Previews and Meeting Reports, CLICK HERE
Fixtures 2014
Saturday Feb 8th
Preview
Report
Mendips Raceway's Annual Dinner Dance and Presentation Evening, which takes place on Saturday 8th February 2014 at the Webbington Hotel and Spa, Loxton, near Axbridge. Tickets £28 from pat@mendipsraceway.com Tel: 01963 220028
Saturday March 1st
Preview
Report
Practice day-gates open 10am
Sunday March 30th
Preview
Report
Micro Massacre! National Bangers under 1200cc (1300 KA permitted)
Junior Rods, Hot Rods, Special Rods
Sunday April 20th
Preview
Report
Brisca F2 Stock Cars World Championship Qualifying Round
Gerry Dommett Memorial Trophy sponsored by Shocktec
Hot Rods CWS Mears Trophy. Rookie Bangers
Monday April 21st
Preview
Report
Banger Vans for the Ramplins Trophy
Heritage Junior Stock cars,Reliant Robins, Junior Rods.
Sunday May 4th
Preview
Report
THUNDERBOLT XIV Unlimited National Bangers
Hot Rods Special Rods
Monday May 5th
Preview
Report
National Bangers under 1400cc World Championship Qualifier
Brisca F2 Stock Cars Rookies Reward Round One by Shocktec
Reliant Robins Midland Mayhem Round Three
Sunday May 25th
Preview
Report
F2 Stock Cars Marion Bennett Trophy and F2 Rookies Reward
Round Two by Merv and Mary Maggs National Bangers under 1800cc
Reliant Robins Crazy Day & Midland Mayhem Round Four
Monday May 26th
Preview
Report
Unlimited National Bangers World Championship Qualifier
Hot Rods Spring Classic Andy and Loreen Trophy
Special Rods, Junior Rods
Saturday June 28th
Preview
Report
British Beef All Ford Bangers (RWD under 2 litre-no Granadas) Brisca Heritage
1950s Stock Cars, Hot Rods Parkhouse Trophy, Reliant Robins 5pm
Sunday June 29th
Preview
Report
Old Skool Unlimited Bangers Graham Salter Tribute (driver invitation only)
Junior Rods Brisca Heritage 1950s Stock Cars
Sunday July 27th
Preview
Report
Brisca F2 Stock Cars Pink Ribbon Trophy
Filo's Crashmania Rookie Banger Team Racing
Special Rods Summer Series Round One
Sunday August 24th
Preview
Report
Rookie Bangers World Championship Qualifier Junior Rods
Special Rods Summer Series Round Two
Monday August 25th
Preview
Report
Rookie Bangers World Championship Qualifier Caravandalism 14 Chris and Becca Trophy
Hot Rods West of England Championship sponsored by Shocktec
Special Rods Summer Series Final Reliant Robins Figure of Eight Caterers Cup
Sunday September 21st
Preview
Report
Junior Rods West of England Championship by JB Racing Engines
National Hot Rods 2014 World Qualifying Round Five by Tor Trucks and Anderson Racing Engines
Unlimited National Bangers World Championship Qualifier
Sunday October 5th
Preview
Report
Brisca F2 Stock Cars Rookies Reward Final & Ben Fund Trophy
Rookie Bangers West of England Championship
Special Rods West of England Championship
Saturday November 16th
Brisca F2 Shootout
BIRMINGHAM WHEELS RACEWAY
6pm
Sunday November 17th
ORCi National Banger Championship
ARENA ESSEX RACEWAY
1pm
All Meetings start at 1.00pm unless otherwise shown