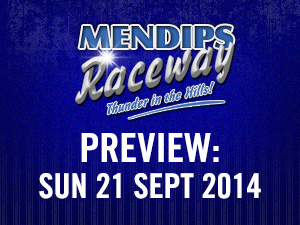 The 2014 season reaches its penultimate meeting at Mendips Raceway this Sunday, headlined by the return of the National Hot Rods as well as the unlimited National Bangers – both of which are in World Championship qualifying rounds whilst the 11-16 year olds in the Junior Rods have their biggest date of the year with their West of England Championship, and also points decider.
A year ago the National Hot Rods made what was effectively their modern day debut.  There was some trepidation from some that the unique track at Mendips would be too narrow, or tight but ultimately it was one of the highlights of the year.  Yes, it is very different to Hednesford or Ipswich but that is exactly what the drivers craved and it was big smiles all round at the end of the day.  Hence it was almost a no-brainer that that date would be repeated this year.  
This time it is round three of the 2014-15 World Series and last time on a very wet afternoon at Hednesford it was 964 Bradley Dynes who took the honours with 42 Shane Bland the other victor.  These two come into this latest round leading the points, although at the time of writing Dynes is not booked to attend.  Bland is, and will be looking to add to his tally on what is actually a little bit of a truncated series this time around.  
Last year 117 Rob McDonald made his long journey from Scotland worthwhile by taking a hat-trick of wins and he is looking to be back down south again today whilst the other win last year went to 305 Billy Wood, and he too is back.  Also set to return are the two local stars 348 Shane Brereton and 718 Colin White, who will be looking to be at his competitive best.  For the National Bangers, they have more than one World title race, we all know that and one of them is taking place at Arena Essex on Sunday and two of our stars in 252 Steve 'Boogie' Buglar and 262 Rob 'Roona' Buglar are representing Mendips Raceway in that there. 
However, with today being the last round ahead of the unlimited World Championship at Ipswich next month we can expect a healthy entry of our local and regular drivers.  It may be that the action is kept until the Destruction Derby at the end of the day, but equally you never know with the Banger drivers!  Veteran star 517 Scott Weldon leads the points coming into today hotly tracked by 739 Jason Moore, whose hat-trick back in May propelled him up the charts whilst 54 Tom Davey and 114 Liam Lake are not too far back either. 
So, they have it all to go for and with 67 Rickie Beasley, who stormed to the Final on Old Skool day back in June looking to be present too, then we will have some very competitive racing and good action.
Finally, the Junior Rods and they have once again had a great season of racing and will relish being part of a higher profile meeting on Sunday.   Last year the West of England Championship went to 273 Zoe Cambridge, but she has reached retiring age and thus unable to defend. 
Therefore come what may we will be seeing a new winner.  Last time out 66 Becky Pearce took two heats before 190 Ewan Gumbleton took the other and then it was 30 Joe Capel who won the Final ahead of 300 Charlie Ayles and 258 Deane Hughes.  Any of those could win, or 87 Callum Richards or perhaps the old A40 of 700 Ben Brice.  A wide open race if ever there was to be one, and the point's title to be decided too, they youngsters have it all to race for.
The meeting will get underway at 1.00pm with the traditional grand parade of drivers and the SatNav address can be found on the homepage of this website.