The annual July meeting brought warm sunshine to Mendips Raceway where the theme was pink for Crashmania for Cancer, with the meeting dedicated to our friends Phil Cleverley and Lesley Maidment. The pits were busy for with no less than 15 Banger teams on hand as well as the BriSCA F2 Stock Cars and Special Rods.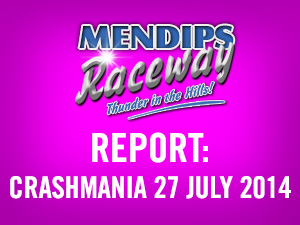 With a few regulars getting in some pre-World Championship Semi Final practice at Mildenhall, the entry of BriSCA F2's dropped below what had been hoped for but it was decided to still stick with the plan of the traditional full format. However, it did include welcome visiting interest from 100 George MacMillan all the way from Glasgow (for which he received a crate of local Thatcher's Cider from Andy Maidment for being the furthest travelled driver) as well as 38 Dave Polley from East Anglia and also track champion 886 Chris Bradbury back on track after several weeks on the side lines through injury. He was swiftly back into his stride winning heat one and then 315 Justin Fisher took heat two.
Having crashed on oil from a blown engine for 979 Paul Moss in heat two, the consolation was all about Polley and 676 Neil Hooper as they battled throughout and Polley came home to win.
The Pink Ribbon Trophy Final was lead off by 734 Glenn Sanders and he opened out a good sized gap at the front. However, a couple of yellow flags eradicated it and Hooper and Bradbury hit the front. Hooper held off Bradbury for a few laps until 886 went in with a telling hit three laps from the end and took the lead and went on to win and in doing so, confirmed himself as track champion for a record seventh time. Hooper and Polley completed the top three. The Grand National unfortunately had to be curtailed two laps early after a crash involving 189 Paul Butcher and 828 Julian Coombes resulted in both requiring medical assistance. Sanders was leading at the time of the stoppage and was declared the winner.
15 teams in the (Rookie) Bangers made up a total of 57 cars, proving that the format for this does work. However, throughout the day there were several instances of drivers who simply did not or do not grasp the concept of the nudge and spin that is Rookie Bangers. Heavy fencing, jacking, waiting and so on is not permissible and it could be that some drivers will facing the consequences of their actions.
That said, it was entertaining as there was plenty of good racing throughout. 881 Gary Emery took heat one for 'Balls Out' A and then 242 Ben Ellacott took heat two and it was these victories that set the groundwork for the momentum that ultimately led them to victory at the end of the day. 244 Ian Frampton took heat three for the 'Pink and Blacks' and it was another 'Balls Out' A win in heat four with 938 Ashley Rice taking the flag. Those teams that did not make the top eight featured in the 'B' Final, which saw 908 David Brown for 'Balls Out' B take what was effectively the consolation prize.
It was the Final where things really got a little too over heated and there were several transgressions and when it was left with only two cars left circulating, the Steward declared enough was enough and the result was left to stand two laps early. One of those two cars was 242 Ellacott though and he thus sealed the win for 'Balls Out' A. 189 Jamie Knox was second for the 'All Blacks' (who were earlier awarded the best presented team) and this actually propelled them to joint third overall with the 'Pink and Blacks' and behind 'Rough and Ready'. The 'Spirit of Flio' award also had an extra £50 courtesy of Adam Elias, which was for an specific driver on the day rather than team and this was awarded to 36 ? of late entrants, the "Energise" team.
The Special Rods had the first round of their Somerset Surfacing Summer Series, to run alongside the track championship points. 5 Alan Lettley took heat one, 41 Dene Howard heat two and then 51 Rob Price heat three.
The Final was a very scrappy race with probably a few too many incidents, and at one point half the field almost came to a halt to avoid a spun car. It did feature a spectacular moment though when several got together on the home straight 85 Andy Pincott's car flew through the air and almost rolled. But, to his credit he carried on and actually finished fourth! At the front 26 Andy Bennett had a huge lead at one stage but 18 Russ Colenut hunted him down and over the closing stages he was in a position to challenge. He looked on the wide outside and at one stage, for a brief moment had his nose in front. However, the spun/crashed car of 8 Andy Russell blocked his route and he had to give way but it was very close at the line with Bennett just getting there in a near photo finish with Colenut. 304 Tim Weare was third.
{module Facebook slideshow - Crashmania 27th July 2014}

Click Here to View and Tag the full gallery on Facebook
F2:-

Heat 1
Chris Bradbury
886,734,189,100,797,935,14,328,937,683
Heat 2
Justin Fisher
315,828,542,740,156,460,737
Cons
Dave Polley
38,676,522,438,572,937,851,104
Final
Chris Bradbury
886,676,38,522,189,935,315,797,542,734
G.N.
Glenn Saunders
734,38,542,100,522,886,206,315,935,797
 
 
 

Rookie Team Bangers:-

Heat 1
Gary Emery
881,475,384,735,37,938,816,111,154,69
Heat 2
Ben Ellacott
242,70,176,244,36,107,284,270,328,129
Heat 3
Ian Frampton
244,121,718,36,189,438,556,881
Heat 4
Ashley Rice
938,70,556,284,129,328,36
Final (B)
David Brown
908,301,328,183,107,270
Final .
Ben Ellacott
242,189
 
 
 
Winning Team:- Balls Out A 54, 2nd Rough and Ready 26, 3rd All Blacks/Pinkn Blacks 25, 4th Energy 24, 5th Dirty Rotters 23, 6th Team RAW A 20, 7th Allsorts 16, 8th Team Raw B 9.
 
 
 

Special Rods:-

Heat 1
Andy Lettley
5,26,720,122,304,47,700,43,23,8
Heat 2
Dene Howard
41,7,85,5,18,700,23,47,324,364
Heat 3
Rob Price
51,18,26,720,122,304,41,85,43,324
Final.
Andy Bennett
26,18,304,85,700,324,7,43,192,668