Here are a few tips for visitors coming to Mendips Raceway for the first time...
Before you leave home: The track is right on top of the Mendip hills and if the weather closes in it can get very cold and wet! We suggest that you bring additional clothing and a brolly which you can leave in your car just a short walk from the track. Whilst you can sit on the grass banks around the track you may like to bring deck chairs as well as a picnic blanket.
When you arrive: An afternoon at The Mendips Raceway is a family occasion so whether you are 3 or 93 you will feel at home!
We have some playground equipment for the younger ones but would ask that you stay with them whilst that are using it.
For those with disabilities we have an area reserved where you can watch the action in comfort.
Burgers and pork rolls are on sale along with soft drinks, beer and cider. Ice cream and lollipops are also there for you to enjoy.
We have a track shop where you can purchase clothing, photos and other memorabilia to remember your day and hopefully remind you to return!
Before the start of each race, our commentator will give you a brief overview of the Formula and the background to the race itself. Your program will also provide you with a short summary. You'll see from your program that we try to pack a lot into the afternoon so that you get to see as much action as possible.
If you're visiting for the first time, it's easy to get bamboozled by the pace of the event and the phrases used to describe what's happening! If you are not sure what's happening just ask the person standing next to you – we're a friendly bunch and very happy to make sure that your visit is made as enjoyable as possible.
When you get home: We are always looking for ways to improve the experience for first time visitors so please let us know – "how was it for you?"
---
More about the Raceway...
Mendips Raceway is a 350m tarmac track situated in the Mendip Hills in Somerset which stages oval racing from March till October.
Oval racing has a variety of different types of cars racing, from old bangers through to £30,000 purpose built specials called stock cars. Some cars are allowed contact, where drivers may push each other out of the way to gain position, and some are strictly non contact.
The track is surrounded by a solid steel barrier, called the safety fence, and once on the track, there is no way out!
All of the track can be seen from any point on the spectator banking. Spectators can watch the racing from the grass banks around the circuit, and are allowed into the pits to see the drivers and the cars at close quarters.
There are two toilet blocks, and food and drink outlets at the Raceway, but guests are welcome to bring a picnic and enjoy it during the racing. Dogs are welcome but must be kept on leash.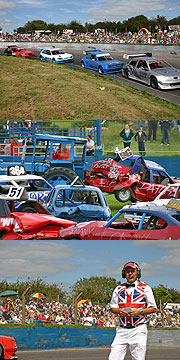 Parking is available free, and tickets do not need to be prebooked, although there are occasionally special offers that can be booked on line. We cannot accept credit cards.
Most meetings will feature three different types of car, racing in between three and six races each. These races are over from between 10 and 25 laps of the track, and most meetings feature a Destruction Derby where the last car running is the winner!
There are two races over the figure of eight course during the course of the season, one of them featuring Reliant Robins! Most meetings start at 1.00pm, and finish around 5.30pm.
WE NEVER CANCEL, so you can be assured that racing will take place come rain or shine.
For more details about what is happening and when - check the Fixtures page.
Want to find out more about the Cars?!