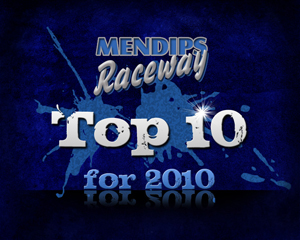 Here's your chance to see some best top 10 Mendips Raceway events and to tell us which one was your favourite!
We asked our commentators to let us know which races or events were their favourites from the year at Mendips Raceway.
Below are their top 10 choices along with video links to see and hear the action taking place.  We are interested to know which event is your favourite.
Click the Titles to view the videos.  Viewers on slower connections are advised to pause the videos while they download then restart them.
Let us know your favourite by clicking your choice on the poll opposite.
Voting is restricted to one vote per computer per day.
The Top 10…

What it was and when…

Who chose it and why…

 

 

The F2 Final on 4th April – Easter Sunday 2010.

 

 

Steve Linfield – 'This battle between 152, 218 and 886 was an epic one for supremacy between three of the biggest star names.'

 

Matches and Despatches - Easter Monday 5 April 2010.

 

Graham Bunter – 'A classic Hearse demolition job by a big bad Lincoln Limo.' (Sam Trim – 363)

 

The F2 Nationals Championship race 18th April 2010.

 

Steve Linfield – 'A very spectacular first corner to the F2 Nationals Championship.'

 

The Bangers Thunderbolt Final - 3rd May 2010.

Steve Linfield – 'The Thunderbolt ends in a bang!'

 

Bangers British Beef Final 27th June 2010.

Steve Linfield – 'Proper tail happy Banger racing in the British Beef battle.'

6.  Russ's Special Rod Spectacular

 

Special Rods – 31st May 2010.

 

Alan Bunter – 'One of the best chases of the season with a neck to neck fight for second place – behind Russ Colenutt.'

 

The Robins - Ramp fun!  30 August 2010.

Alan Bunter – 'I just love these cars – they are so entertaining!'

 

Caravandalism Stunt – 30th August 2010.

Graham Bunter – 'Not the best place to park a caravan when Mad Mike Cocks is around!'

 

 

Caravandalism - 30th August 2010.

Graham Bunter – 'Mike Cocks took centre stage again with his piggy back ride in the MGB over and under 2 caravans!'

10. Run Rabbit Run!

 

September and October West of England banger heats.

Graham Bunter – 'The Mendips Banger drivers taking on the best banger team in the country - and winning!'