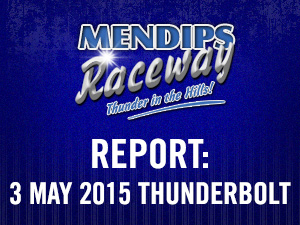 The weather was a mixture of light rain and very heavy showers, with very few short dry sunny spells, leaving some very changeable and difficult driving conditions.  
There was a good mix of cars for the Thunderbolt XV with a lot of very well presented cars, including 120 Mark Ashley in a Triumph, 9 Mavis in a Granada Estate, 284 Noddy Benjafield in a Mercedes Estate, 54 Tom Davey in a Yank Tank, and 363 Sam Trim In a Toyota Crown, along with some Volvo Estates, Jaguars and Mk 4 Granadas. The first race was the Thunderbolt XV Final which had 27 Cars in it. Davey took the early lead from pole there was a lot of knocks and spins and a pile emerged on the turnstyle bend which eventually cleared leaving about 3 cars left in the fence and a few other cars stranded around the track. 282 Steve Hunt was flying and put 225 Richie Edmonds into the inner marker tyres in the battle for the lead taking them both out of the race! 246 Ryan Sparks went on to take the win from Ashley, then 362 Johnnie James. There were  22 cars out for the 2nd race. 40 Pete Stanley and 624 Mr Lossie  jnr. got spun out right at the start of the race and got collected by most of the other cars which quickly cleared, and 614 Mr Lossie lost a wheel causing a stoppage. 278 Shaun Brokenshire led the re-start from Sparkes who started last on the grid, 262 Rob Bugler tried to spin Mr Lossie then tried to push him wide but Mr Lossie managed to hold on Sparkes had a couple of attempts to pass Brokenshire but couldn't find the grip. Brokenshire took the win from Sparkes, and Ashley. 16 cars made it out for the 3rd race at the start 228 Matt Fall spun Mavis out. Then Mavis pushed 878 Joe Prior into the fence and was then jacked up by Mr Lossie jnr. Mr Lossie jnr then backed out and carried on and then Fall then jacked up Mavis! Then a few cars crashed on the pit bend and Ashley was left stranded and needing assistance and fortunately he was ok! Bugler spun 20 Sam King out, and Brokenshire won the race from 714 Paul Smaldon , then James. Only 7 cars made it out for the allcomers Bugler spun and Mills cars suddenly slowed and he was then jacked up by Bugler! Then a lap later Bugler decided to jack up Mills again! Sparkes took the win from 517 Scott Weldon, then Trim.
There were 18 cars out for the 1st Special Rod Heat 192 Ashley Raymond took the early lead from pole from 108 Steve Brown then 324 Paul Frankland, 122 Joe Rowe was going well mostly round the outside until he got forced 3 abreast and nearly hit the fence and lost a lot of places. 304 Tim Weare quickly got up to 4th from last on the grid, then there was a 9 car pile up on the pit bend involving 136 Jason Horseman, 426 Ross Colenutt, , 175 Kevin Oliver, 700 Les Brice, 51 Rob Price, 730 Scott Sealey, 5 Alan Lettley, Rowe , and Weare, which forced most of them to retire. Raymond led the re-start from Brown then Frankland, then 608 Darren House.  With 4 laps left the rain came down really heavy and they was all struggling for grip and Brown, Frankland,  Weare, Sealey all spun out , and Colenutt found a way past Raymond to take the lead then onto win from Raymond, then 26 Andy Bennet. 15 cars made it out for the 2nd heat Raymond outdragged pole sitter Frankland for the lead. Sealey, 7 Will Harraway, Frankland all spun out at different parts of the race and 993 Darren Foss nearly lost it as he got out of shape on the home straight. Brice quickly got up to 2nd from 6th. Brice tried the inside of Raymond and they spent a few laps side-by-side but Brice couldn't make it stick until Raymond was boxed in by backmarker. Colenutt quickly got up to 3rd from last on the grid Colenutt tried a few times to get up the inside of Raymond but couldn't make it stick, then Colenutt nearly spun and lost time as he recovered it, then House had a half spin and was collected by Lettley. Brice went onto take the win from Raymond(who spun across the finish line), then Colenutt. 14 cars made it out for the Final including Price who managed to repair his damaged car from the 1st Heat. Pole sitter 364 Darren Feltham outdragged Raymond for the lead. Price, 720 Dan Latimer, and Harraway had spins, then Raymond spun 360deg and managed to carry on not losing to many places!  Brice was quickly up to 2nd and Colenutt went round the outside of Brice to relive him of 2nd but Feltham was too far ahead to catch. Feltham went onto win from Colenutt, then Brice. 17 cars made it out for the Grand National with Feltham on pole but a lap down. D.Latimer, Price, and even Colenutt spun out during the race! Brice quickly relieved Raymond of the lead from Foss then Foss spun out of 3rd Harraway had a half spin on the pit bend which they all done very well to brake in time. Brice went onto win from Raymond then Weare.
There were 9 Hot Rods in the 1st heat 258 James Griggs led from pole and 205 Mike Norton found a way past 278 Maurice Cole for 2nd, and Griggs and Norton built up a big lead, from 536 Jeff Johnson. 718 Colin White spun out whilst trying to pass 904 Wilson Hamilton on the outside and 282 Steve Hunt tried to pass 788 Mark Shelper but couldn't make it stick. Then White and Cole had a coming together and Cole spun out. Hamilton just managed to squeeze up the inside of Shelper on the last lap. Griggs took the win from Norton, then Hamilton. In The 2nd heat Hamilton took the early lead from Norton, White was quick up to 3rd place from near the back of the grid using the inside and outside line. Hamilton lead for a lot of laps before he slid wide and Norton didn't need a 2nd invite followed closely by White. Shelper, and Hamilton got very sideways when they was side-by-side and Shelper spun out. White then found a way past Norton for the lead Hunt quickly got into 3rd after a slow start, then Hunt found a way past Norton for 2nd. White went onto win from Hunt, then, Norton. In the Final Norton took the early lead from pole and White quickly got upto 2nd from 6th on the grid, White then managed to pass Norton on the inside to take the lead then he built up a ½ a lap lead with 5 laps left White developed a misfire, and Hunt tried the inside of Griggs but couldn't make it stick. White went onto take the win from Norton, then Griggs, then Hunt. 
{module Facebook slideshow - MendipsRaceway3May2015Photos}

Click Here to View and Tag the full gallery on Facebook
| | | |
| --- | --- | --- |
| Hot Rods:- |   |   |
| Heat 1 | James Griggs | 258,205,904,788,282,536,278 |
| Heat 2 | Colin White | 718,282,205,536,904,258,278,788,578 |
| Final | Colin White | 718,205,258,282,536,788,904,278,578 |
|   |   |   |
| Special Rods:- |   |   |
| Heat 1 | Russ Colenut | 426,192,26,7,364,304,730,108 |
| Heat 2 | Les Brice | 700,192,426,364,608,993,720,304,122,26 |
| Final | Darren Feltham | 364,426,700,192,304,993,608,136,720,26 |
| G.N. | Les Brice | 700,192,304,364,7,136,993,608,426,730 |
|   |   |   |
| Bangers:- |   |   |
| Heat 1 | Shaun Brokenshire | 278,246,120,714,624,739,262,517,440,171 |
| Heat 2 | Shaun Brokenshire | 278,714,362,440,739,363,54 |
| Heat 3 | Ryan Sparks | 246,517,363,362,228,262 |
| Final | Ryan Sparks | 246,120,362,278,40,262,363,9,517,27 |