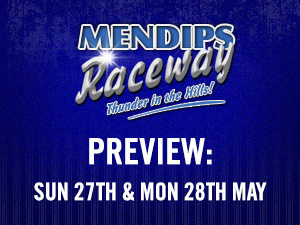 Another Bank Holiday Weekend gets underway at Mendips with another busy weekend of action. Sunday sees the Old Skool World Final with Juniors and F2's playing support. Monday sees B2B Unlimited Bangers along with Special and Hot Rods along with Craziness galore with the Robins!
OLD SKOOL WORLD FINAL The 3rd running of the Old Skool Unlimted Banger World Final, where the nudge and spinners negotiate their way though the grid, using reasonable force! Reigning champion is Johnny James (362) who very much kept it in the family from his brother Buddy (262) who won the title in 2016. Dean Quinn (27) and Big Mac (440) will also be contenders along with the like of the Newton Abbot based drivers Danny Hunt (382) and Ryan Sparks (246) With the unlimited bangers this will be their first meeting under old skool rules- i.e nudge and spin, no follow ins… BRISCA F2 Another meeting for the UK's biggest open wheeled formula and the form book certainly points to more lower grade success, following on the heels Matt Stoneman (127) stole top honours last time, which catapulted him to a healthy lead in the track points championship. Paul Moss (979) was a star of the show last time out, but has now returned to accustomed blue top. Stoneman's fellow superstar, Steve Gilbert (542) continues to chase that elusive first final win at Mendips. Boyed from her best white top award, Becky Pearce (660) will be looking to build on this. Also making an impressive track debut was Tommy Farrell (667) We might see some more visitors as the World Final draws ever nearer….. JUNIOR RODS The Juniors certainly have been entertaining this year, and with the new grades it proved to be no hinderance. Charlie Johns (35) took a win, but George Jenkins (8) won from his new grade, his second of the season. Thomas Weeks (100) is the man to beat as he picked up his 4 and 5th race wins of the year and very much the youngster to beat. Hoping for a better day is Maddie Giambaresi (176) who stuck her Micra on its roof. She got out and wanted to go racing again! We like this!!
BACK TO BASICS BANGERS Back to basics. Take a wreck, take out the flammable bits, stick a cage in, and let's go racing! The interest. Last time this was run it was part of the British Weekend last year, where Rob Mills (404) raced a new beetle! Jason Moore (739) and Jake Carless (744) were also race winners. Lots of bookings are coming in…HOT RODS After an astonishing 15 cars turned up last time out, the precedent has been set for a classic season of hot rod racing. Somethings never change as Colin White (718) took the top honours, and with it the Andy and Loreen Trophy. In his Ginetta bodied car Alistair Murray (926) certainly impressed, and wily old Steve Hunt (282) also was a race winner last time out. With the busier fields and the tight nature of the Mendips track, it won't be as easy for the top guys to have their way! SPECIAL RODS The budget non contact racers are back, and last time out, numbers were so good, that a full format was deployed. History was made as the first BMW shell came out, as the Sierras get few and far between. Race win wise it was an emotional win for Darren Feltham (364) who won with an extra passenger – his late Uncle Paul. Andy Howard (43), Micky Ford (266) were also winners, but Scania Dave (831) took the final! Points wise, Jim Cannon (135) leads the Brices, Les (700) and Ben (701) ROBINS CRAZY DAY After the bedlam of the caravans, more bonkers robins racing as all kinds of different races are on the agenda. Dean Quinn (27) was the star of the show with 2 race wins and the Caravan race, and Cliff Worthington (437) taking the over race. The caravan race was fairly brutal, but with plenty of racers it bodes well for more wacky races than Dick Dastardly and Mutley could ever muster! Expect Ramp Races, Slaloms and the like!
KEEP THE BOOKINGS COMING!
Sunday
F2
White
660 Becky Pearce Dundry
762 Mike Cocks Portishead
851 Gary Smith Radstock
948 John Brereton Somerton
976 Dan Kent Clevedon
Yellow
325 Ryan Sheehan Chard
438 Mike Rice Uffculme
667 Tommy Farrell Plymouth
890 Paul Rice Ideford
895 Ben Goddard Taunton
Blue
111 Lewis Geach Exeter
315 Justin Fisher Newton Abbott
522 Chris Mikulla Weston Super-Mare
613 Ian Serpell Plymouth
761 Richard Bowyer Halesowen
979 Paul Moss Fowey
Red
468 Sam Weston
676 Neil Hooper Exmouth
935 Nathan Maidment Milborne Port
Superstar
127 Matt Stoneman Cullompton
542 Steven Gilbert Doublbois
Old Skool World Final
27 Dean Quinn
62 Buddy James
67 Rickie Beasley
103 Jack Deacon
134 Cameron McColm
167 Tom Luke
232 Alan Roby
284 Leon Benjafield
362 Johnny James
404 Rob Mills
440 Macauley Mills
739 Jason Moore
744 Jake Carless
760 Joey Reynolds
775 Brad Hunt
Junior Rods
White
28 Ava Hawkins Bishop Sutton
92 Abi Southgate Bristol
111 Millie Ruby Banwell
127 Kacey Quinn Bristol
214 Jude Manley White
437 Ryan Worthington Yate
856 Jamie Cocks Portishead
Blue
8 George Jenkins Clevedon
26 Leah Bennett Bradford on Avon
30 Finlay Holloway Bristol
35 Charley Johns
176 Maddy Giambaressi Bristol
236 Alfie Brimble
599 Louis White
Red
11 Jake Devine Yatton
29 Jasz McCardle Bishop Sutton
77 Jacob Filer Bristol
100 Thomas Weeks Bath
149 Ieuan Preston Cardiff
854 Jack Sear St Stithians
Superstar
36 Josh Weare Cheddar
75 Jack Buckingham Weston Super-Mare
190 Ewan Gumbleton Radstock
Monday
Special Rods
SS:
135 Jim Cannon
700 Les Brice
701 Ben Brice
Red:
7 Will Harraway
43 Andy Howard
47 Richard Howard
181 Ian McLaren
233 Jordan Clark
244 Dale Edwards
556 Stuart Garland
581 Ryan Wallace
612 Dale Brace
Blue:
41 Dene Howard
75 Gary Hunt
120 Andy Latimer
224 Jordan Edwards
266 Micky Ford
364 Darren Feltham
720 Dan Latimer
775 Brad Hunt
831 Scania Dave
White:
6 Tim Bristow
46 Angie Harris
53 Angus Hawkins
108 Adam Headland
192 Ashley Raymond
335 Joey Cannon
711 Matt Gregory
Bangers Unlimited B2B
27 Dean Quinn
134 Cameron McColm
211 Adrian Coles
284 Leon Benjafield
328 Mike Parry
403 Andy Howard
428 Zak Torode
440 Macauley Mills
471 Martin Manny Taylor
595 Ben Wall
616 Daniel Moore
744 Jake Carless
956 Harry Thompson
Robins
25 Kylie Gillingham Glastonbury
26 Russ Gillingham Glastonbury
27 Dean Quinn Bristol
81 Andy Hawkins Bishop Sutton
101 Gordon Mintram Radstock
119 Stacey Howe Radstock
134 Cameron Mc Colm Draycott
174 Ben Sid Taylor Yeovil
242 John Quinn Bristol
304 Tim Weare Draycott
364 Darren Feltham Thornbury
437 Clifford Worthinton Yate
504 Andrew Worthington Yate
509 Matt Dixon Bristol
510 Sid Harrison Bristol
Hot Rods
28 Tim Seaford
35 Neil Muddle
38 Phil Parkhouse
44 Dan Fivien
49 Maurice Cole
57 Graeme Taylor
117 Dave Tossell
258 James Griggs
426 Russell Colenutt
536 Jeff Johnson
611 Jamie Bryant
718 Colin White
788 Mark Shelper
926 Alistair Murray