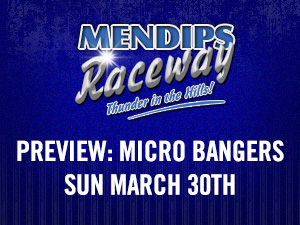 Mendips Raceway's opening meeting for 2014 will be a very busy one, with all of our local formulae having their first outing of the season. We feature Juniors, Special Rods, Hot Rods, and Micro Bangers – little cars-big action!
It has been a trying winter for all of us, especially as we had planned a very big project, to provide some covered accommodation for race fans around the top bend. This has just gone back and back with the terrible weather, but all being well we are approaching completion of the job by the time the gates open today. We have always wanted to be able to do this, but time and money are always hard to find, and we must acknowledge the considerable assistance from Colin White and CWS Engineering with making the plan come to reality.
We are confident of a good field of drivers in all classes today. The Micro Bangers are a real fun formula that do not require complex builds, and are a one day car-crash it and scrap it! We are due a couple of oddball machines, as usual-who can forget the outstanding performance of Dom Bubblegum and his Marina last year, and his mate Scott Mowlam with the little A40! Jack 'Sherlock' Holmes (315) has a Renault 12, Simon Sparrow(920) a Mazda 818, Shaun 'Diabolical' Dyer (731) intends racing a Marina and the rest is likely to be a mix of Nissan Micras, Ford KAs and such like.
There have been a succession of rule changes in National Bangers this year, but the majority don't really apply to Micro bangers, and these changes are designed to reign in the over building and over spending on bangers that seems to be making the sport out of reach. We have changed our meeting schedule this year to try to get back to simpler builds and cheaper cars so we hope that this will make the sport more fun for all.
In the Hot Rods there have been some car and driver changes. James Griggs (258) now recovered from his very serious illness last year, has a new car and was exceptionally quick on Practice Day, while Andy Wadley (6) was sampling the power and grip of James's old car, and comparing it to his Special Rod! Mark Shelper (88) son of long serving racer Alan, was also out with a new car, but had some engine problems that we hope he has managed to sort by today. Steve Hunt (282) has sold his car, but may well be here driving another car on loan, and Colin White (718) intends to fit in as many rounds as he can this year depending on his other commitments.
The Juniors will be here in force-we had no less than eleven new drivers take their Assessments on Practice Day, and there were some existing drivers with new cars. The most impressive was Charlie Ayles (300) in a Suzuki Swift, while Most Improved Driver of 2013, Dan Kent (376), had a fresh Fiat Siecento here powered by an earlier type engine. Paul May's (778) son Henry has a nice 1000cc Nova, hard to find these days, Dean Hughes , son of former banger driver Jason Hughes, (258) had a Micra, and showed good speed in practice.
Special Rods  were a little quiet on Practice Day, but we can expect a better entry today including new drivers Andy Oliver (309), and Paul Frankland(324). Despite strong rumours that he had retired, we are delighted that Ross Stuckey has revamped his car and will be challenging again for top honours, along with the Howard brothers, Dene and Richard, Joe Rowe, and multi winner Russ Colenut (18) The Yokohama AO -21-R tyre will continue to be the control tyre for the formula, and there have been very few rule changes during the winter, which means stability for the formula.
All in all, we have all the ingredients of a class meeting to kick off 2014, and then we look forward to our classic Easter Presentations, which, as usual will feature the Brisca F2 stock cars in their annual World Championship Qualifying round, and another chance for someone to win the fabulous Gerry Dommett Memorial Trophy, remembering the man who founded and built this racetrack in 1969.
As we are celebrating sixty years of stock car racing this year, we should recall that Gerry was one of the founder members, the barnstormers, who raced all over the country in 1954/55 and laid the foundations of the sport we have today. Gerry soon turned his hand to promoting, from his Fordingbridge base, and presented the sport at many tracks over the next thirty years here in the west Country, and this, the Mendips Raceway, is his lasting legacy. Easter Monday will see a return to and old favourite-Banger Vans, so expect to see a fair few ancient Transits and LDVs sent to their final destination that day. As well as that, there will be full supporting programme, and we hope to see Charlie the Clown around with his big bag of Easter Eggs!
Both meetings start at 1pm.