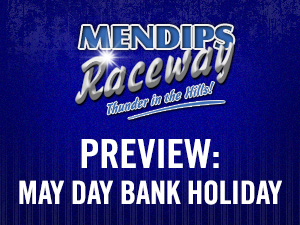 Mendips Raceway will be back in action this coming Bank Holiday weekend with oval racing in all shapes and sizes – literally – over the two meetings on Sunday and then Bank Holiday Monday afternoon.
Sunday and the Unlimited Bangers reach THUNDERBOLT 15, thus now a long standing event, but for this year (as you will see on the previous website posting) there has been a slight change to run to 'Old Skool' format and when the change of format was announced the entry almost doubled overnight, so clearly looking back is the way forward for the foreseeable future.  Will it have an effect on the outcome?  Possibly as defending title holder 239 Steve Carter has opted not to defend, as he is open to admit that 'Old Skool' isn't for him.  That said, both previous National Banger Finals here have been won by 67 Ricky Beasley in Micro's and then Vans.
Variety is the spice and let's not forget that Ricky won the Graham Salter Final to 'Old Skool' rules last year and is set to be present again.  Others to look out for could be reigning points champion 54 Tom Davey, 252 Steve 'Boogie' Buglar and brother 262 Rob 'Roona' Buglar, young guns 440 Mac Mills and 739 Jason Moore and never discount veterans 40 Pete Stanley and 517 Scott Weldon.  
This has the potential to be the best THUNDERBOLT in quite some time…. Sunday's programme will be backed up by all non-contact racing with the Sierra Special Rods and Hot Rods back out.  
The Hot Rods have had two meetings and a variety of winners, including three different ones in 788 Mark Shelper, 258 James Griggs and 125 Mike Hibbert whilst 718 Colin White was the winner in March.  The reigning points champion is back from long circuit duty this time.  
For the Special Rods last time on Easter Monday 730 Scott Sealey took a couple of race wins, with an Allcomers added to the programme whilst 51 Rob Price was the other heat winner and 304 Tim Weare the Final, on a day when he actually won the Reliant Robin Final too.   
There didn't seem to be much of a pattern form as to who will do what with regards to the points chase this year, but the re-grades for today will shake up the order and could well lead to a surprise or two.
Monday and the BriSCA F2 Stock Cars will headline the programme and they had their World Championship qualifying round on Easter Sunday where 464 Matt Linfield recorded and heat and Final double and 560 Luke Wrench rounded the day as top points scorer so much as with the Special Rods no clear pattern emerged after this first meeting with Linfield only an occasional racer here and Wrench was on his first visit.  
However, the new grades come in force this weekend on the national points chart and that could change things as some drivers have gone up, others have gone down and all of this could play a significant part in the outcome.  For the lower graded in white and yellow, it will be the first round of the Rookies Reward series, once again sponsored by our friends at Shock-Tec.
After the National Bangers on Sunday, it is the domestic (formally known as Rookie) Bangers on Monday, and as it showed on their previous encounter on Easter Sunday it means lots of cars and drivers, where the more basic preparation and nudge and spin format entices drivers on to the track.  Yes, there was what was classed as an over-the-top hit, but the driver involved has thrown away his chance to race in this format again.  
The one they simply couldn't beat on the day was 28 Steve Linley who made his trip from Cornwall with his fast Ford Focus worthwhile with a heat and Final double of wins.  929 Sam Baker and 438 Mike Rice, on a day's outing in the Bangers were the other winners.  
Finally, the Reliant Robins will have their usual Bank Holiday fun on three wheels, where as well as it being a race there is the Entertainers League where points are awarded for rolls, spins and whatever the judges class as worthy.  
The previously mentioned 304 Tim Weare is the reigning overall points champion and he got his defence off to a good start by winning twice whilst 504 Liam Boden was the other winner.  With another good entry anticipated this time expect another fun session.
Both meetings commence at 1.00pm.