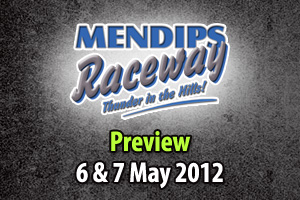 Mendips Raceway will be back in action this weekend and fingers and heck, everything crossed for this weekend's two days of racing as we will have the usual something for everyone over the two meetings with the highlight being the Unlimited Bangers Thunderbolt, ahead of more action, including the BriSCA F2 Stock Cars on Monday, and a lot of Bank Holiday fun too.
Sunday and the Unlimited National Bangers reach THUNDERBOLT 12.  Yes, it really has now been going that long, and that well established that drivers have had cars put aside and in many cases built several weeks ago for the fixture.  It is our only ORCi fully sanctioned titled race at Mendips Raceway and once again looks set to produce an interesting entry of both drivers and cars. 
Last year long established star 58 Martin Dalton took the honours, in what was a relatively surprise win, as he had only just returned from his 'retirement'.  162 Brett Ellacott was the runner-up and will surely be one to watch in every way this time around too, both in terms of racing and action.  
Local star 363 Sam Trim comes into the meeting leading the points and is capable of winning, but the lure of the crash may prove too much.  Several other big names and hitters are set to be present, including the Buglar brothers in 252 'Boogie' and 262 'Rooner' and the brothers Ashby in 507 and 508 whilst it will be a welcome return to racing for 416 Danny 'Rude Boy' Lawrence who has been in Australia in recent months.
Sunday's programme will be backed up by all non-contact racing with the Sierra Special Rods and Hot Rods back out.  
The Special Rods had the very wet Easter Monday afternoon, but for West of England Champion 210 Paul Barnes he picked up from where he left off at the end of last season by taking a heat and Final double of wins, and he will without doubt be a front runner again this time – of course 'Barney' is well known to the Banger fans, and another, 440 Steve Griffin looked good on his return to the non-contact side of things last time.  
23 Ross Stuckey and 18 Russ Colenut both look like they will be up there all season long too, along with stalwart 43 Andy Howard as these early meetings always form the base of the points championship, and early numbers on the board are always worthwhile come the end of the season.   
The Hot Rods had the dry on Easter Sunday and after 718 Colin White and 904 Wilson Hamilton took the heat wins mechanical failure saw White grind to a spinning halt in the Final which went to 282 Steve Hunt.  So experience is counting for everything it seems this season, and they have the Hamilton Motors trophy to race for this time.
Monday will be our annual cancer charity meeting.  It has been in the summer in previous years, where a total of over £20,000 has been raised and obviously we will be looking to significantly add to that this time.  
There will be a charity bike race during the afternoon, one for the under 12 year olds and another for the over's, with the starting positions determined by age (rather than experience!)  There are currently 50 entrants and counting for this, it is £5 to enter with it all going to cancer charities.  
The BriSCA F2 Stock Cars will headline the programme and they had their World Championship qualifying round on Easter Sunday, and it was 886 Chris Bradbury who took a heat and Final double on a day that saw several big and spectacular crashes.  
This time it will be the second running of the Pink Ribbon Trophy, which was staged last year by the Maidment family.  It was won last year by 76 Chris Rowe and he has fallen to the yellow grade in the new national re-grades and stands a very good chance of regaining it.  Indeed, such is the strength of the yellow and blue grade today it will be a surprise if there is a star grade victor.
The National Bangers will have a World Championship qualifying round and this will probably have more local interest on track than THUNDERBOLT, with the easier availability of the cars, and to make it a little fairer on all, no Mondeo/Cougar cars are permitted.   
Much the same applies as with Sunday with regard to who may be the ones to watch, and we also hope that some of those who raced with the 'Rookie' Bangers on Easter Sunday will give the Nationals a go this time.  
The Junior Rods for those aged 10 to 16 are a great starting ground for the young drivers and they coped very well with the conditions last time, none more so than 198 Will Steads who took a heat and Final double of wins, but it is 404 Mac Mills who comes into the meeting leading the points chase.   
Last but certainly not least, even though they have one less wheel, the Reliant Robins complete the programme and on Easter Monday there was no stopping 499 Lee Charles as he took all the wins, and also picked up an extra 10 points for being one of the best entertainers of the day too – because, remember that is what it is all about.