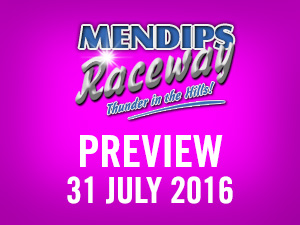 Sunday sees the Raceway looking fantastic in fuschia once again, as the Mendips Goes Pink, as we remember those that have been affected by the terrible disease cancer, in our annual Cancer Research fundraiser. From the wacky bike race to seeing more pink than a Peppa Pig convention, it's gonna be a fun day of fundraising!
The meeting will kick off with the wacky bike race, more Tour De Pants, than Tour De France for some frantic laps of the Mendips Velodrome. Drivers, mechanics, kids and spectators are whole heartedly encouraged to get involved and in the words of Norman Tebbit – get on your bike! Just £5 gets you on track, and for the kids it's just a quid, with prizes for the wannabe Wiggins…
BriSCA F2 – THE PINK RIBBON TROPHY
The Pink Ribbon Trophy is something at Mendips we hold dear to our hearts, as we remember our former lapscorer, Lesley Maidment, who we lost some five years ago. We hope a big field of F2's turn up as our promoter Graham Bunter has challenged the driver fraternity to do their bit, for every car over 20, Graham will donate £10 out of his own pocket! Last year the meeting was held in rotten conditions, with rain and traditional Mendips mist. Lewis Geach (111) came out on top and defends the Pink Ribbon.
This year there are a few travellers coming down, including English Champion Dave Polley (38) with his stablemates national points champion, George Macmillan (100) and Liam Bentham (488). It was Whitsun that the F2s were out with us, and it was Chris Mikulla (522) who took the final after a hatrick of wins for Lee Morgan (745). An enhanced sponsorship package has been put together by Andy Maidment, with a plethora of additional benefits for the drivers, with tyres and enhanced prize money on the final!
BANGERS TEAMS – FILO'S CRASHMANIA
The annual tribute to the late, great, Phil Cleverly aka Filo is back again in its traditional 4 a side team format. Last year's winners "Piston Broke" of Chris Neville (109), Tom Davey (54), Kev (38) and Ben Styles (83) are back as "Red and Gold" with Davey replaced by Ashley Rice (938). Other noteable teams include the All Blacks with the Daltons with Jason Hughes for support, Rough and Ready has the Benjafields of Scott and Noddy. Action will be the attraction and plenty of good natured banger racing with an added edge – all good fun!
SPECIAL RODS
Round one of the Special Rods Summer Series plays more than adequate support.
Last time out, it was debutant Sam Bartlett (91) who won his first race out. Very much not in his first race, veteran Les Brice (700) took the 2nd heat, taking full advantage. Rob Price (51) took the third heat and the final went the way of Dan Latimer (720) after long time leader Andy Pincott (85) lost power. Another decent field is promised of close racing...
The meeting gets under way at 1pm, but get there early to witness the pink fun!