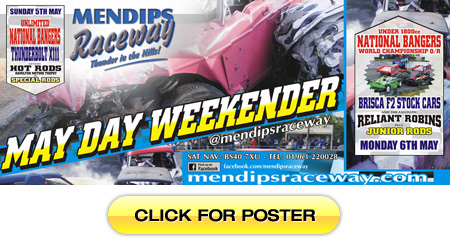 The next two days of action at Mendips Raceway are on May 5th and 6th, and these are the eagerly awaited Unlimited Bangers heading the line up on Sunday in their annual THUNDERBOLT event - and it is how it sounds, when the big cars get crashing!
Monday will be another great event for the superbly fast Formula Two stock cars in bumper clashing action, and all your favourite cars will be racing during the weekend wheel to wheel dicing with the Special Rods, and super fast Hot Rods, roly poly action with the Robins, and another outing for the Juniors.
Both meetings start 1pm - come early and watch the practice!