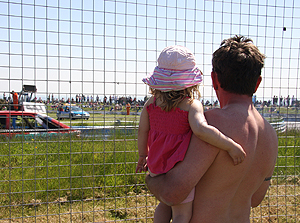 Absolutely glorious weather greeted the first of the Bank Holiday meetings, not a cloud in the sky which really enhanced the spectacle and colour of the day with the BriSCA F2 Stock Cars, Bangers under 1800cc and Reliant Robins making up the programme.
For some extra photos click here
There were 40 F2's present which included a relatively surprise visit from former World and British Champion 152 Mick Sworder and a debut for 24 Jon Palmer, son of Les who raced under the same number around Mendips Raceway the best part of three decades ago.
It was another son of a well known driver who took the second round of the Rookies Reward as 530 Matt Deeble took the victory ahead of 374 Gary Stephens and 126 Jamie Avery.

The two qualifying heats for the days main event saw the first go to 642 Dave Luscombe, albeit only just as his engine went sick with a lap remaining and 677 Chris Roots was alongside him as they crossed the line. Heat two saw 886 Chris Bradbury continue his form by taking the win.
The consolation was won by 105 Ross Rowe for his first vi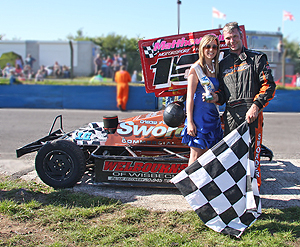 ctory of the year.
The Final was lead by 710 Brett Townsend until Deeble took up the running, but oil laid down by a broken half shaft from Luscombe triggered off a pile up which brought out the yellow flags. Deeble continued to lead after the re-start, but Bradbury quickly picked his way through to the front to take over and went on to take a comfortable victory to successfully defend the Marion Bennett Trophy. Roots came through well too to make it up to second and Deeble held on for third. After having a quiet day by his own standards, Sworder really came to life in the Grand National and took the 152 car to a convincing win.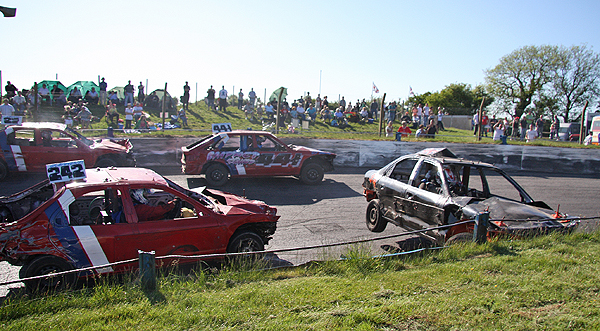 31 under 1800cc Bangers and once again an interesting array of drivers, including big name Midnight Runners stars 190 Steve Bailey and 208 Jimmy Randall. Whilst the Ford Mondeo was the chosen weapon there were a few other makes and models too. The opening laps of the first heat did see the most action of the day, with a lot of it appearing to centre around the purple and white cars and it ended with 93 Simon Holley shaken, thankfully exiting ok.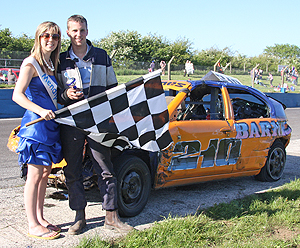 198 Marcus Goldsmith went on to hold off 458 Kenny Dalton to take the win and he was clear in heat two as well, until gremlins struck and Bailey went through to lead and go on to win. He was a non-starter in the Final and once again it came down to a battle between Goldsmith and 458 Dalton, with the former West of England champion holding off 458 all the way to the flag whilst 208 Randall made it through for third place. Goldsmith completed his hat-trick in the Allcomers and then came the destruction derby. Some heavy hits were traded until a big one from 44 Steve Griffin on 58 Martin Dalton left him shaken and these two taken from the result as the cause of the red flag, 210 Paul Barnes was declared the winner.
A slight shortfall in Reliant Robin numbers but still a few rollovers, with 159 Katie Jones having the days comical moment as he rolled, set about righting herself only to then flop over on to the left hand side!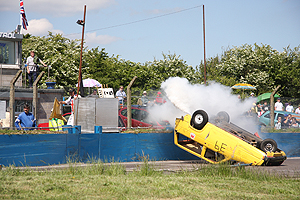 87 Barry Richards won heat one and despite driving a Robin which almost now looks like a three wheeled bike with a roof, 59 Mike Jones was unstoppable in the second heat and the Final where he was followed home by Richards and the other form man on the day 78 Mark Bowskill.
RESULTS - May 24th
Formula Two Stock Cars
Rookies Reward - Adam Deeble 530,374,126,827,838,605,891,14,246,178
Heat 1 - Dave Luscombe 642,677,530,522,641,152,761,116,14,126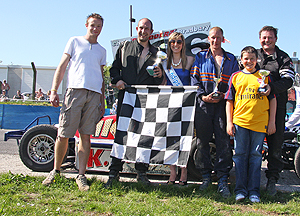 Heat 2 - Chris Bradbury 886,497,812,127,315,838,467,710,605,246
Cons - Ross Rowe 105,676,935,783,509,126,891,752,827,544
Final - Chris Bradbury 886,677,530,315,761,14,522,509,105,152
G.N. - Mick Sworder 152,935,677,530,783,497,522,467,116,605
Reliant Robins :-
Heat 1 - Barry Richards 87,59,78,658,58,250,48,24
Heat 2 - Mike Jones 59,78,87,48,58,658,250,21
Final - Mike Jones 59,87,78,48,58,658,250,24,159,39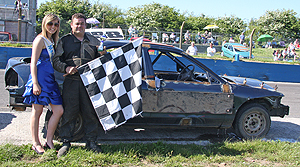 Bangers :-
Heat 1 - Marcus Goldsmith 198,458,176,208,58,190,363,404
Heat 2 - Steve Bailey 190,208,458,210,58,363,49,404,441,198
Final - Marcus Goldsmith 198,458,208,44,58,441,404,149,363,210
A/C - Marcus Goldsmith 198,458,58,44,67,210,176,441,149,242
DD - Paul Barnes 210
After a scorching Sunday, Monday dawned gloomy and amp, but this did not put off a good Bank Holiday Crowd who held faith as the weather steadily improved, and provided some excellent racing from the four formulae in attendance.
It did not start too well for Minirod driver Natasha Howe, who was rescued from her car after a heavy crash in Heat One, but was later pronounced sore but sound after a trip to Weston hospital. Mason Thomas (79) continued his run of good form with a win in Heat one, and Sam May(501) in Heat two, followed home again by Dan Steeds (796)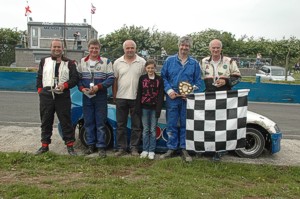 After a black cross warning in his heat, Tredegar driver Shane Jennings took his first win in the formula in the consolation, and after a half way crash in the final, Aaron Charles(7) led home a high speed red top train in the final, with Jack Stuckey (23) and Steve Sayer (60) the placemen.
In the Special Rods, John Major (42) took the Final, followed home by Marcus Goldsmith (198) and Richard Howard (47), as the start men reassereted their authority after a number of low grade wins lately. Blue graders Dene Howard(41) and Robin Bath (25) took the heats, but ended up in a controversial clash between the two in the Final which led to Bath being disqualified.
Fifteen unlimited Bangers arrioved seeking World Championship Qualifying points, and Top Tin awards were awarded to Martin Dalton (58) for a fresh Mk2 Estate, Scott Weldon (517) who had a fresh XJ40, and Dan Chiplen (107) for a M2 saloon.
The action was there from the off, with some good crashing and racing, but Weldon was the star of the show, winning both heats, taking third in the Final, second in the allcomers and then winning the Destruction Derby!
Heats
May 25th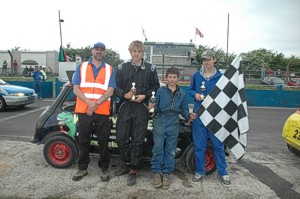 Minirods:-
Heat 1 - Mason Thomas 79,60,32,7,21,61,16,121
Heat 2 - Sam May 501,796,22,43,404,9,44
Cons - Alan Cambridge 173,60,83,136
Final - Aaron Charles 7,23,60,22,43,11,79,9,21,61
Bangers:-
Heat 1 - Scott Weldon 517,404,107,44,136,198,363,364,58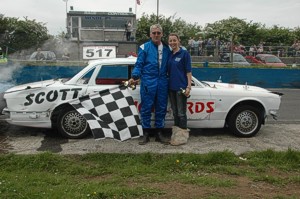 Heat 2 - Scott Weldon 517,404,44,107,58
Final - Martin Dalton 58,404,517,107,44,364,210
A/C - Rob Mills 404,517,58,44,210,363,364
DD - Scott Weldon 517
Hot Rods:-
Heat 1 - Wilson Hamilton 904,18,775,205,76,117,88,26,24,35
Heat 2 - Wilson Hamilton 904,117,26,88,205,18,34,35
Final - Wilson Hamilton 904,18,205,88,26,117,55,35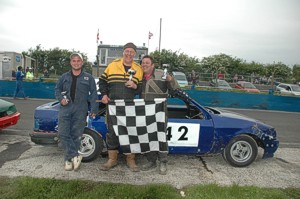 Special Rods:-
Heat 1 - Dene Howard 41,42,198,47,45,48,407,6
Heat 2 - Robin Bath 25,993,23,10,144,122,17,43
Cons - Alan Cambridge 173,60,83,136
Final - John Major 42,198,47,173,122,23,45,407,144,993