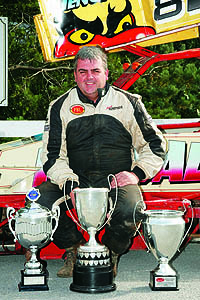 We are pleased to announce that Brisca F2 stock car World Champion Mark Simpson (871) will be honouring his promise to the fans to visit every Brisca f2 track in the UK during his reign as World Champion, by racing at Mendips Raceway on Sunday August 26th.
Mark, who hails from Skegness in Lincolnshire, has had terrible luck, often known as the curse of the gold roof, during 2012, with a broken wrist, and endless car and engine problems, but he is still smiling and determined to see the season out.
Mark won the title at Kings Lynn in September 2011, when a freak rainstorm turned the shale circuit into a mudbath, and while he started at the very back of the 36 car field, he was at the front after 25 laps, in a race that had very few finishers.
We welcome Mark to Mendips, and sincerely hope that he enjoys his visit.