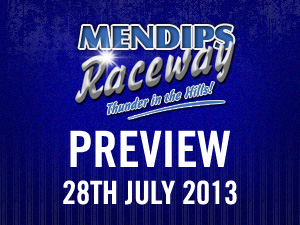 Mendips Raceway will be back in action this Sunday afternoon with our traditional end of July date featuring the return of the popular Banger team racing, the BriSCA F2's for a bit of a reccee ahead of next Sunday and the first of what is a summer mini-series for the all Sierra Special Rods, all with a poignant theme as we will be supporting cancer research, wearing as much pink as possible, raising as much money as possible, getting underway with the annual charity bike ride around the raceway and in the racing we will be remembering two of our good friends who were taken from us by the disease, 'Filo' Phil Cleverley in the Bangers and Lesley Maidment in the F2 Stock Cars, where the Pink Ribbon Trophy will be raced for on the feature Final.
For 886 Chris Bradbury this has been his stomping ground for some time now, he is the track champion five years in a row and above all that, is undefeated in Finals this year having won all four so far in season 2013, and took his first 50 point maximum here last month, which has been the only one by anyone nationally.  He will be looking to add to his Final tally again, when he will be defending the Pink Ribbon.  It will also be the fourth round of this year's Rookies Reward series which last time saw a first win for former Banger driver 519 John Scorse, who will race as a white grade for the last time for the time being today as he will rise to yellow for next weekend.  He could be one to watch all weekend, whilst there are some quick lower graded drivers too and 935 Nathan Maidment will be looking for his first Final of the year, in a race that needless to say means so much.  Expect fast and furious racing as ever from the formula that has raced each and every season here at the raceway since we opened in 1969.
Filo's Crashmania does have a small change this year in that it is for the Rookie Bangers rather than the National Bangers as in previous occasions.  There will not be an overt difference, indeed as expected we have a very good entry of cars booked in with 15 teams of four all vying for the trophy at the end of the afternoon.  The Rookie Bangers are not for newcomers per se, just lesser spec in terms of the build, no very hard hits allowed and this puts the emphasis much more on the fun element.  A few of those whom we see in the Nationals, such as current points leader 54 Tom Davey will be here, fresh from his great win in British Beef last month.   It is very hard to pick a winning team, but amongst the favourites will be the 'Head Hunters', 'All Blacks' – who have won this before and the 'Bod Squad'.   Or will there be a surprise?
Last but not least the Special Rods will be raring to go having not been on track since the Spring Bank Holiday Monday meeting.  122 Joe Rowe took the Final win last time whilst in the points it is very close at the top with 47 Richard Howard, 18 Russ Colenut and 3 Simon Harraway within six points of each other.  That is in the season long points that will conclude at the very last meeting of the year in October, but today will see the first of the three round summer series which will conclude over the two days of the August Bank Holiday weekend.  So a clean slate for some who have found themselves left behind in the grading points, and for those at the front a chance to make a good season even better.
Pre meeting entertainment will include that afore mentioned bike race, which hopefully will not be accompanied by a thunder storm this year (which obviously took our motto to the extreme) and then there will be the traditional grand parade ahead of a busy programme of racing.