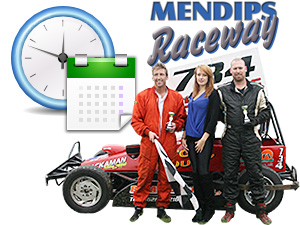 We are pleased to announce our race dates for 2014, and they are fully detailed on our Race Dates page here.
There are some superb meetings to look forward to, including our first Banger Van race for many years, which is already attracting good interest, and at drivers request, we have scheduled a 1400cc National Banger meeting, which is also a World Championship qualifier, and changed the specs for our final qualifier in September to Unlimited bangers.
For F2 fans, we stage the Brisca f2 Benevolent Fund trophy-which has a long history right back to 1979, and this will take place on the same day as our white and yellow Rookies Reward series Final, on October 5th. The season will open, as always, with the World Championship Qualifying round on Easter Sunday, April 20th, which this year is sponsored by Shocktec.
National Hot Rods are back, supported by Tor Trucks and Anderson Racing engines, on September 21st, after their sensation return in 2013, for another World Qualifying Round. We are pleased that Shocktec have sponsored one of the domestic Hot Rod meetings, and there should be more cars on track this year.
For lovers of old stock cars, the 1950s cars will be racing over both days at the end of June. On Saturday night they will be supporting the annual British Beef meeting, and on Sunday, the hugely successful Old Skool unlimited banger meeting. With fixtures being rationalised a bit for 2014, the Junior heritage stock cars move to Easter Monday to avoid a weekend clash with Hednesford.
Special Rods Summer Series is back for a second season, supported by Somerset Surfacing. This innovation for 2013 was much enjoyed by drivers and ensured some really nice trophies made their way down the grades.
We are also taking part in the Robins Midland Mayhem series of event this year, shared between Birmingham Hednesford and Grimley Raceways, so we hope to see some visiting drivers for our two rounds in May
Practice Day is Saturday March 1st, and first meeting on March 30th features the brilliant Micro Bangers.