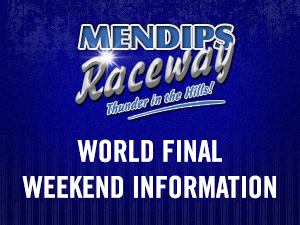 Weekend Schedule!
Tickets are still available on the gate.
Friday
There is practice from 2pm-4pm, gates open at 12:30am.
Saturday:
Pit Gates open at 10:30am - Turnstiles open at 1:30pm
Entertainment will proceed from 2:30pm onwards, including the Stox Radio show, Live Driver interviews, The Mendips Museum Parade and interviews and a live concert from the Marching Band.
Race Meeting starts at 5pm, race order as follows:
Event 1 Overseas Time Trials
Event 2 – CONSOLATION SEMI FINAL sponsored by James Rygor SNAP-ON 16 laps
First six to World Final
Event 3 – Brisca F2 Stock Cars HEAT ONE 16 Laps
Sponsored by Merv and Mary Maggs
Event 4 – BRISCA F2 HERITAGE GOLD CUP Sponsored by Neil Truran Motorsport 16 Laps
Event 5-
The 2018 BriSCA FORMULA 2 CHAMPIONSHIP OF THE WORLD sponsored by MILLS ENGINEERING, in association with YOKOHAMA and POLLEYSPORT
EVENT 6 - Heritage F2 Heat 1 12 Laps
EVENT 7 – Brisca F2 Stock Cars CONSOLATION 1 16 Laps
EVENT 8 – Brisca F2 Stock Cars CONSOLATION 2 (if required) 16 Laps
EVENT 9 – HERITAGE F2 Heat 2 12 Laps
EVENT 10 – Brisca F2 Stock Cars GRAND FINAL – 20 Laps
For the ALAN BENSON MEMORIAL TROPHY 2017 winner Gordon Moodie (7)
EVENT 11 – HERITAGE F2 Grand Final 16 Laps
EVENT 12 – Brisca F2 Grand National 16 Laps
for the O'ER THE BORDER TROPHY
SUNDAY -
Pit Gate opens 10:30 am, Turnstiles 11am.
Meeting Starts at 1pm.
The Mendips Museum
Turn back the clock to see the cars and stars of world finals gone!
We are aiming to have a selection of heritage and vintage world final winners on display in the Mendips Museum, where the sights and sounds of racing of yesteryears are being played out.
There is going to be a car from each of the past 5 previous decades on display. World winning cars and replicas, posters and paraphernalia from those eras with the big names and the history makers.
Starting with
FREQUENTLY ASKED QUESTIONS
We've had quite a few FAQ's to discuss via social media, so here in bulletpoint form is the answers to your questions….
I've not received my tickets yet.
Tickets are bespoke, so may get a delay. Rest assured, as long as you can provide your Paypal proof of purchase – electronically or hard copy, that should be suffice.
Can I Camp and how much is it?
Camping is available from Friday night with a few facilities, at £20 per night on the day or they can be bought in advance from the website at the discounted rate of £15.
Bristol doesn't have lights does it? How are you going to have a night meeting?
We do! Newly installed for 2018 – these work superbly!
What are the disabled parking options?
There are a very limited amount of trackside disabled entry. The usual car park will be used as the camping area and there will be a designated area in the car park as close as possible to the turnstiles. Once inside, the disabled have a platform to view the meeting from.
Can I bring a chair to sit on?
Of course!
What about sandwiches?
Bring what you like to eat – however catering is available!
Is there shelter?
Yes there is shelter on the car park bend. It can get full rather quickly
What time do gates open?
1pm on the Saturday
Can we watch practice on Friday.?
Yes.