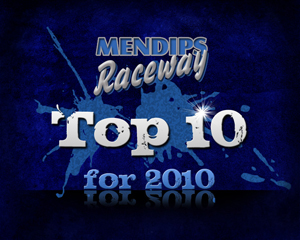 Here's your chance to see the best top 10 Mendips Raceway events of 2010 and to tell us which one was your favourite!
In the run up to our annual Presentation Evening in February, we asked our commentators to let us know which races or events were their favourites from the year at Mendips Raceway.
Below are their top 10 choices along with video links to see and hear the action taking place.  We are interested to know which event is your favourite.
How to browse the Top 10...
Click the left and right hand images to scroll through the 10 events in the carousel below - click the middle image to view the video.  Viewers on slower connections are advised to pause the videos while they download then restart them.
Let us know your favourite by clicking your choice on the poll opposite!
Voting is restricted to one vote per computer per day.