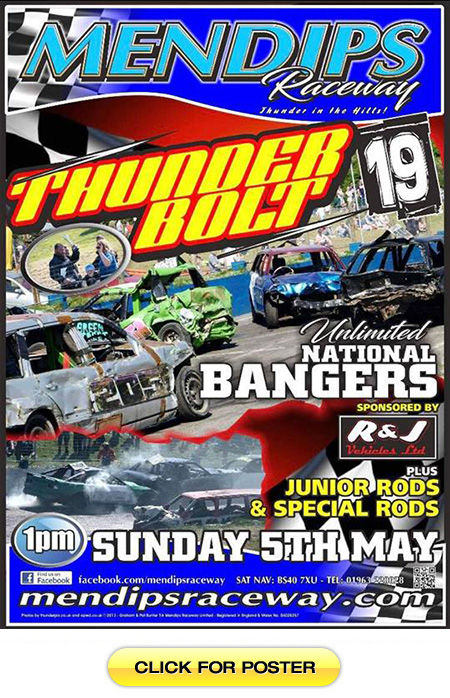 Booking List: 1/5/19
THUNDERBOLT 19 – UNLIMITED BANGERS Well what can be said about last year's return to full contact, Thunderbolt 18 was to many Mendips regulars and banger aficionados one of the meetings of the season. The neigh sayers who had written off the Mendips Banger scene as dead were rudely awoken as the big names came to play unannounced! And they delivered one of the best banger meetings for some time here at Mendips. Hard hits, handshakes, big wrecks and big smiles. A brutal meeting Last time, Steve "Pikey" Bailey (190) was triumphant in the main race but the talk of the show was the hits. Whether it was Splat (228) getting blown up down the straight, or the team war between the Runners and the DWO or the spectacular 7 car jacking train in the allcomers Onto this year... there is a £2k prize pot up for grabs, with awards for Wreck of the Day, Entertainer Awards, so its not just a race. Wanton destruction is actively sought and applauded! Bookingswise – there is a veritable who's who from the South. Regular Mendips racers Big Mac (440) and Chas Randall (333) have done well away from home, and Mendips regulars We thank our sponsors R and J Vehicles Ltd - Exporters of cars, vans and 4x4s. This is the first of 3 big banger meetings for us here. The BBA English is the next in June, and then the Arena PRI World – the oldest of the World titles moves to Mendips on August Bank Holiday.
BRISCA F2 After the stellar field, close finishes and last benders that befell the world championship qualifying round, it's matters more domestic for BriSCA F2, with new grades nationally playing a major part in proceedings. Some of our locals, like Becky Pearce (660) have been upgraded for the first times, whilst unlucky folk like Justin Fisher (315) drop down a grade. Last time out, it was Skegness Red Top James Riggall (527) who took top honours, with national white top sensation David Shearing (564) taking a win also. World Champ, Gordon Moodie (7) walked away with a heat win and a second in the GN and dealing with the ongoing feud with RonJon Palmer (24) Locally there was success for former track champion Chris Mikulla (522) and Paul Rice (890).
JUNIOR RODS The stars of tomorrow had a somewhat stormy day last time out with the scrutineers, steward and clerk of the course dishing out some penalties to all and sundry, which means a few of the regulars will be missing due to technical infringements, and a stern talking to with regard to yellow flag protocol. Aside from this, it looked as though we were going to have another Lewis Allan (311) lock out. However Josh Weare (36), now the senior citizen of the Junior Rod scene took the heat along with Thomas Weeks just to prove that the whipper snapper class of 19 who's boss. Ava Hawkins took a magnificent win in the final... girl power back in town.... be afraid boys
SPECIAL RODS Another double header for the specials, last time out it was almost a white grade lock out, with Ash Worthington (144) and Brad Worthington (21) taking the honours over the weekend, along with Aaron Loader (362) on the Sunday. With an instant regrading for the Monday, these guys found themselves a bit further back with a blue roof. This allowed Brad Hunt (775) to take a hit and final double. With Dene Howard (41) the only higher graded winner over the weekend and a further regrading the field is wide open. Jim Cannon's (135) terrible Easter has seen him opportune a drop to blue and will be very hard to catch.
ROBINS This time for the wibbly wobbly wonders it is a fibreglass frenzy as they take to the track with a friend in tow as it is the annual Robin Caravan Race. Robins by formula, Robbins by name as Lee Robbins (17) took top honours in the season opener and whilst it was relatively tame in terms of rolls, we were treated to some spectacular ones, mostly from Matt Caple (518) the last causing him to get treated by the medics. We also saw the return of lady racer Stacey Howe (119) and she was joined by ex Ministox'er Gemma Robbins (917) who joined her dad in victory lane in the final. The highlight will be the caravan race, if it is anything like last years it was ultra destructive. Our race manager Jack Bunter went out in it last year and ended up getting picked on by a few, I wonder why????
BACK TO BASICS Find some old dross, rip it, strip it, stick a cage in and race it! The simplest and purest form of banger racing is always good fun. This is for under 1800s, so look forward to seeing some utter trash on track for one last blast…. A healthy booking list sees the likes of The r&J team in the Beasleys and Jason Moore as well as Special Rod points champion 701 Ben Brice.
NEXT TIME: Another bank holiday of fun and frolics awaits, with the highlight being the first ever running of 4x4 Bangers and the Robins Crazy Day! Til then…. Cheers 'n' gone Jonny
Sunday: Thunderbolt 19/ Junior Rods/ Special Rods
Unlimited Bangers
7 Jamie Charles
27 Dean Quinn
67 Rickie Beasley
77 Patxi Beasley
91 Sam Bartlett
92 Liam Bartlett
129 Lee Dalton
162 Brent Shaw
172 Bernie
186 Billy Slay Maker
239 Steve Carter
240 Rob Setters
241 Liam Cracknell
246 Aston Burt
252 Boogie
256 Jamie Turner
262 Roona
284 James Head
323 Dean Kelly
333 Charlie Randell
349 James Lightbulb Guppy
382 Danny Hunt
440 Macauley Mills
449 Will Guppy
502 Kai May
624 Liam Lossy Jnr Hyde
714 Paul Smaldon
739 Jason Moore
777 Ricky Daunton
787 Marc Key
840 Steve Sheppard
907 Cameron Bradford
988 Billy Dennison
Special Rods
7 Will Harraway
21 Brad Worthington
41 Dene Howard
43 Andy Howard
44 Sam Howard
46 Angie Harris
53 Angus Hawkins
108 Adam Headland
120 Andy Latimer
135 Jim Cannon
144 Ash Worthington
175 Kevin Oliver
181 Ian Mclaren
266 Micky Ford
362 Aaron Loader
364 Darren Feltham
556 Stuart Garland
644 Wayne Thompson
700 Les Brice
701 Ben Brice
711 Matt Gregory
720 Dan Latimer
775 Brad Hunt
993 Darren Foss
Junior Rods
8 George Jenkins
11 Jake Devine
26 Harry Meliville
28 Ava Hawkins
30 Finlay Holloway
36 Josh Weare
41 Daniel Young
75 Jack Buckingham
77 Jacob Filer
92 Abi Southgate
100 Thomas Weeks
149 Ieuan Preston
176 Maddy Giambaressi
214 Jude Manley
236 Alfie Brimble
258 Riley Brimble
610 Alfie Murray
856 Jamie Cocks
Monday May 6th 2019
F2
87 Paul Weekes
91 Harrison Bryant
111 Lewis Geach
126 Jamie Avery
127 Matt Stoneman
222 Adrian Watts
275 Dale Edwards
315 Justin Fisher
325 Ryan Sheehan
398 Ian England
464 Matt Linfield
517 Harley Cornock
522 Chris Mikulla
539 Stevie Hartnett
560 Luke Wrench
572 James Lindsay
660 Becky Pearce
667 Tommy Farrell
844 Jack Prosser
895 Ben Goddard
976 Dan Kent
979 Paul Moss
Robins
26 Russell Gillingham
55 Alan Machin
99 Ryan Hall
101 Gordon Montram
119 Stacey Howe
128 Jack Bunter
220 Mike Stephens
364 Darren Feltham
595 Ben Wall
Special Rods
7 Will Harraway
21 Brad Worthington
41 Dene Howard
43 Andy Howard
44 Sam Howard
46 Angie Harris
53 Angus Hawkins
108 Adam Headland
120 Andy Latimer
135 Jim Cannon
144 Ash Worthington
175 Kevin Oliver
181 Ian Mclaren
266 Micky Ford
362 Aaron Loader
364 Darren Feltham
556 Stuart Garland
644 Wayne Thompson
700 Les Brice
701 Ben Brice
711 Matt Gregory
720 Dan Latimer
775 Brad Hunt
993 Darren Foss
B2B
6 Danny Greening
16 Tom Bowyer
17 Charlie Edgecombe
23 Clive Crockford
61 Beth Stevenson
67 Rickie Beasley
77 Patch Beasley
99 Ryan Hall
126 Darren Wilis
129 Lee Dalton
154 Joe Odhams
174 Ben Sid Taylor
202 Lisa Stevenson
211 Adrian Coles
298 Dave Greening
410 Dan Galley
455 Shane Kennard
511 Pip Carter
595 Ben Wall
701 Ben Brice
739 Jason Moore
742 Morgan Galley
773 Glyn Trott
775 Brad Hunt
999 James Puckett
{youtube}kSmvuOp5298{/youtube}