The first of the two meetings over the Spring Bank Holiday weekend was a bit of a blustery affair, but was never the less dry and there was plenty of on track action from the BriSCA F2 Stock Cars, National Bangers and Reliant Robins.
The Bangers were in under 1800cc form and in good numbers with a trio of newcomers to Mendips Raceway and a few visiting drivers and long distance travellers from Cornwall too.  There seemed to be plenty of scores to be settled with big hits going in, especially in the two heats.
The first of them saw a red flag for 270 Shaun Baker who took a big one on the home straight and when it was re-started 40 Pete Stanley passed long-time leader 224 Dale Edwards with a lap to run.  191 Ashley Kemble and 341 Andrew Jones put in some big hits in the second heat with the latter especially on 15 Ben Tovey which left him pretty winded whilst 891 Darren Wade had a run-in with 363 Sam Trim, for which Wade retaliated with an attack across and on the centre which resulted in a suspension from racing.  40 Stanley went on to take his second win.  He was an early casualty in the Final though, as was 55 Alan Machin who required assistance from his car.  452 Anthony Sleeman lead the re-start, but was held up behind a slower car and 790 Dominic Gumbleton took over.  Having been runner up in both the previous races he went on to win by over half a lap.  44 Steve Griffin was second and 58 Martin Dalton third.
The Allcomers saw victory for 44 Griffin.  He then took a large T-bone from 341 Jones in the Destruction Derby which caused it to be stopped and then in what turned out to be a pretty short and sharp one it ended up being a dead-heat between 24 James Cliff and 32 Daniel Cliff.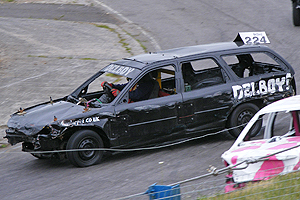 With a clashing fixture at St Day taking several regulars away, there was always going to be a lower than average entry and thus the 19 car attendance was okay, and included several long distance travellers, one of them being 658 Dean Mason from Lancaster who was a big winner at the track during the mid-1990's.  The white and yellow graded 'Rookies Reward' started the day off and 544 James Rogers just held off 464 Matt Linfield for the win.  The first heat saw a big end over end rollover for 776 Liam Cornish and 886 Chris Bradbury passed Linfield for the win in the closing stages.  127 Matt Stoneman was first across the line in heat two, but was docked two places for jumping the start which promoted Bradbury to his second win of the afternoon.   The Marion Bennett Trophy was lead away and for some time by 544 Rogers until he was passed by 53 Phil Mann.  Although both 768 Tom Adcroft and Bradbury reeled him in towards the end, the Lancashire based driver held on for his first ever Final win.  Bradbury made second and Adcroft was third.
With a few Reliant Robin regulars racing in the Isle of Man, numbers were slightly down for 'Crazy Day'.  The first race was run in anti-clockwise direction and just as in the corresponding race last year, 3 Dan Thythridge proved to be the master of it and took the win.  The ramp race added to the fun, especially with 162 Mike Cocks trying the first part of the race in reverse!  After recovering from an early roll 499 Lee Charles took the win.  It was 'normal' racing for the Final, if a fibreglass three wheeled vehicle can be classed as such in any case?!  It came down to a good battle between 333 Mark Neville, 499 Charles and 437 Danny Withers which came out in favour of Neville.

RESULTS - 29.05.11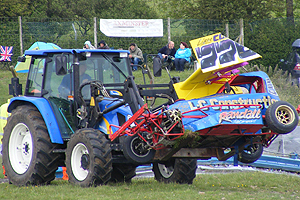 F2:-
Rookies Reward - James Rogers 544,464,53,305,14,719,245
Heat 1 - Chris Bradbury 886,464,53,783,921,522,544,189,14,768
Heat 2 - Chris Bradbury 886,522,127,783,464,921,53,544,189,658
Final - Phil Mann 53,886,768,544,127,783,189,522,921,935
G.N. - Chris Bradbury 886,783,522,544,921,305,768,935,14,189
Bangers:-
Heat 1 - Pete Stanley 40,790,224,517,15,27,129,363
Heat 2 - Pete Stanley 40,790,224,129,49,908
G.F. - Dominic Gumbleton 790,44,58,49,162,452,908
A/C - Steve Griffin 44,224,58,162,908
DD - James Cliff 24 - Daniel Cliff 32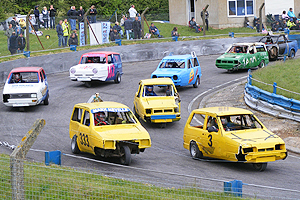 Robins:-
Heat 1 - Dan Tytheridge 3,333,499,9,111,305,364,162,437,33
Heat 2 - Lee Charles 499,333,9,33,305,162
Final - Mark Neville 333,499,437,162,9,305,111
View and Tag the Mendips Raceway Photo Gallery on FACEBOOK


29th May 2011 - CLICK HERE to see the full set in a slideshow at flickr.com
With thanks to ThunderPix
and Andy Chant