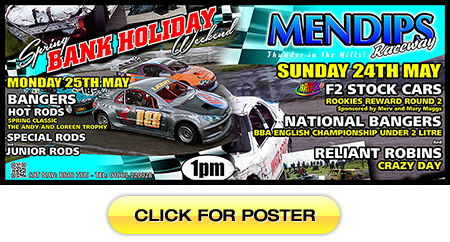 Mendips Raceway will be back in action this coming weekend and we will have two great meetings with something for everyone, as ever, over both Sunday and Bank Holiday Monday.
On Sunday, the BriSCA F2 Stock Cars return after their previous outing on Bank Holiday Monday and we will have the second round of the Rookies Reward for the white and yellow grade drivers which last time saw a first win for 828 Julian Coombes and he will be looking to add to that this time and we thank our long-time friends Merv and Mary Maggs for their sponsorship on this second round.  It was 2013 World Champion 783 James Rygor who took the Final win and he will be back this time as he starts to emerge as a likely contender for the track championship points.  However, with rapid blue graded drivers such as 83 Sy Harraway and 522 Chris Mikulla ahead of him it will not be an easy run.  
For the National Bangers it will be one of their biggest dates of the season anywhere, with the 2015 running of the English Championship, one of the titles that we are on a rota with other ORCi promoters with to stage once every fourth year.  11 months ago it was won by 382 Jack Foster at Buxton Raceway and he is set to make the journey down from Nottinghamshire to defend the title. He will face opposition though with runner-up last year 717 Jack Tuffin aiming to be here and then there are those who are more closely based and race here more regularly such as reigning points champion 54 Tom Davey and the like of 162 Brett Ellacott and 190 Steve Bailey as well as the current points leader here, 67 Ricky Beasley – amongst a whole host of others. 
The planned format is a last chance race ahead of the championship race and then an allcomers ahead of a destruction derby which will have £100 prize money.  The Reliant Robins will be with us on Sunday, for the fourth running of 'Crazy Day' to add some extra fun into the three wheelers, not that things are not crazy in the 'normal' meetings with the entertainers league running alongside the standard points. The extra events will be announced at the start of the meeting.  Last time it was points champion 304 Tim Weare who shoved 49 Liam Boden wide to win the Final.  
Bank Holiday Monday will see a four formula spectacular which adds up to lots of cars and races.  After the National Bangers on Sunday, it will be a return to the domestic Banger class (formally known as 'Rookie' Bangers) and they were in good form on May Day, especially the "Green Team" who swept all before them.  World Champion in this particular code 113 Chris Jeanes had a heat and Final double, his brother 133 Jody won a heat and 743 Jake Bond recorded his first win in the other before the three of made up the trophy positions in the Final.  Thus, assuming present, these could well be the ones to beat again this time.  The Hot Rods had very mixed weather and associated track conditions last time out and saw 718 Colin White in his stride with two wins and 258 James Griggs the other, who is shaping up to look like he could be a challenger for the overall points as the season progresses and this meeting could be pivotal towards that.
In the all Sierra Special Rods, the racing remains close and competitive and there has been a variety of winners so far.  426 Russ Colenut remains the yardstick and he was a heat winner last time with 700 Les Brice the victor of the other.  But, in the Final they could get hold of 364 Darren Feltham who took a popular win chased home by Colenut and Brice.  As ever, there is every chance a lower graded driver could get away again this time. 
Last, but by no means least the Junior Rods are back here at Mendips Raceway for the first time since Easter Monday.  After the opening meeting in March was dominated by 300 Charlie Ayles it was easy to wonder if he could be beaten all year.  After he won the first heat last time it looked like it could be business continuing but it never went his way after that.  108 Adam Headland took his first win in heat two and 34 Cameron McColm heat three before joint points champion 700 Ben Brice got things going for himself taking the Final ahead of 66 Becky Pearce and Headland.  Therefore it could be wide open for the season long points after all, and much like the Hot Rods, this meeting could go a long way to pointing the route that the remainder could go.
Both meetings get underway at 1.00pm!