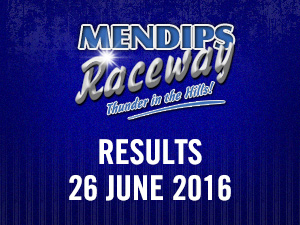 Day 2 for many, and a few with sore heads from the apres stox the night before were greeted with weather that turned for the worse as the meeting progressed. Well, it was Glastonbury weekend after all! With plenty of bangers in attendance for the Graham Salter Trophy with drivers from all over the country coming to play under Old Skool rules.               
3 busy heats was the order of the day to start with, with Kai May (502), Buddy James (262) and RIchard Sparks (247) taking the wins. With nearly 50 cars requiring the consolation, the decision was made to split them into 2, with Andy Nutley(184) and Ricky Beasley (67) taking the chequered.
The final was run in near monsoon conditions and it looked like it was going to be a three horse race between heat winners James and Sparks, and 2015 Salter Tribute meeting winner Danny Hunt (382), as the laps progressed, 2 battles developed for the lead between Hunt and Sparks, and James and Paul Smaldon (714). Sparks crossed the line first but Hunt was awarded the win, as Sparks was docked two places for a spot of afters, which the steward deemed not in the spirit. Handshakes all round
With the weather getting progressively worse, and the infamous Mendips Mist descending the decision was made to drop an allcomers. This brought a busy track of which Stu "Florence" Nightingale (179) came out victorious. Then the DD was run in even worse conditions where visibility was down to a few feet, but plenty of competitors willing to go wading into the unknown. When the mist briefly lifted it was No Show (714) who emerged victorious. Another banger meeting run in good spirits!                               
The Junior Rods were again in good form, albeit a little bit naughty, with plenty of dockings for contact on what was tricky conditions for the youngsters. Jacob Anderson (285) took full advantage of the red top scrap behind him to take heat 1, however disaster befell Anderson, early in Heat 2 as he was an early casualty, curtailing his proceedings. Charlie Ayles (300) wasted no time in taking heat 2, the knockabout race he had with his grandad, dad and uncles probably helped the previous night! Charlie Pearce (88) then took full advantage of some misdemeanours by his peers to take heat 3, after reeling in Jack Sear (854) with 2 to go. However Cornishman Sear was not to be beaten in the final having only competed on tarmac once before, holding to win in heavy rain.
The big noise of the Heritage Formula 1 Stock Cars came to play with half a dozen cars invoking memories of days gone by, with some replicas near enough to the tee. Preston's Martin Makin (244) took his Jim Esau car to victory in heat 1, before Johnny Painter (37) found himself happiest in the challenging conditions, winning by a country mile in both the remaining races.
Johnny Hoare
{module Facebook slideshow - 26June2016Meeting}

Click Here to View and Tag the full gallery on Facebook
Junior Rods:-
Heat 1 – Jacob Anderson 285,300,66,854,100,108,730
Heat 2 – Charlie Ayles 300,77,88,36,108,225,100,35
Heat 3 – Charlie Pearce 88,376,854,36,66,225,29,77,101,75
Final – Jack Sear 854,88,108,300,77,66,376,100,35,101
Heritage F1 Stock Cars:-
Heat 1 – Martin Makin 244,212,37,274,55,3
Heat 2 – Johnny Painter 37,244,3,55,274,212
Final – Johnny Painter 37,274,244,212,55,3
Bangers:-
Heat 1 – Kai May 502,169,517,3,739,270,231,363,473,564
Heat 2 – Buddy James 262,528,714,122,197,778,184,28,70,27
Heat 3 – Richard Sparks 247,702,24,258,185,119,411,382,371,362
Cons 1 – Andy Nutley 184,797,701,440,701,49,999,262,878
Cons 2 – Ricky Beasley 67,27,290,382,28,198,363,247,371,300
Final –Danny Hunt 382,262,247,714,701,517,197,797,24,258
A/C – Florence 179,5,231,313,42,262,702,371,517,262
DD – Paul Smaldon 714