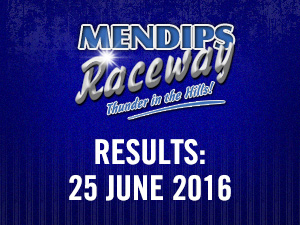 Mendips Saturday 25 June 2016
The rain in the afternoon cleared out and left an overcast but dry evening.
Such was the massive entry for this farewell meeting for Jason Ayles  that the start time was put back to 4pm.
The first event of the evening was a very special race for the Ayles family on the retirement of Jason Ayles (315). Taking part were Dave Ayles (the orginal 300 and now 79 years of age!), sons Jon (300) Jason (315), Greg and Colin  and grandsons Jack (310) and Charlie(300), together with the Allen brothers Joey(371) and Danny (311) and Scott Mowlam (396). A superb sight –all of those familiar Wallies cars in blue and red, and although the plan was for Dave to win, no one told Danny Allen, who took the flag! Afterwards Jason was presented with a signed framed photograph to commemorate the occasion.
In the Back to Basics Bangers 76 cars turned up for the Jason Ayles Farwell meeting, including 439 Danny Sutton from Great Yarmouth who raced on both days. There was a good mix of cars including Honda Civics, Ford Sierras Mk3 Escorts and a few Pumas, and Fiesta, and Capri, Vauxhall Astra's, Cavalier's, and BMW's, and a Volvo 440, and people carrier's and 215 Jack Holmes had a Lada Riva, and 197 Peter Dodge had a A60, and other cars. The cars were split into three heats. The 1st heat was the most lively of the three heat's on the 1st lap 5 cars crashed on the pit bend and amongst the knocks and spins, 9 Mavis got spun hard into the inner marker tyre, 360 Jack Reynolds went onto take the win, from 564 Mark Cooper. The  2nd heat started quiet but then livened up a bit, amongst the knocks and spins 20 Sam King went for a wild ride around the inner marker tyre and nearly rolled!!  452 Adam Eyles was spun out and was collected head on by 40 Pete Stanley, and Stanley was jacked up by 517 and Weldon was jacked up by 55 Alan Machin. 258 Jason Hughes went on to take the win from 371 Joe Allen. In the 3rd heat 404 Rob Mills managed to get from 4th to 1st, and 311 Danny Allen competed a full rollover, with 3 laps left. R.Mills led the re-start, then 396 Scott Mowlam, 262 Boogie, and 246 Aston Burt had a coming together, then A.Burt spun and was collected head on by 418 Ben Edwards. R.Mills went on to win from Boogie
As there were about 54 cars for the Consolation Race the cars were split into two separate consolation races. In the 1st Consolation amongst the knocks and spins there was a 3 car train, and the race had to be stopped for 440 Macauley Mills who had a small fire, 700 Les Brice led the re-start for a while, then 241 Liam Cracknell spun Brice out to take the lead then on to win from 363 Sam Trim, then 221 John Paul. In the 2nd Consolation, 133 Jody Jeanes took a flag to flag victory, and amongst the knocks and spins, Edwards was on the receiving end of a lot of hits, and 244 Ian Frampton managed to go along on two wheels then went back down to all 4! Jeanes took the win from 444 Mark Loader, then 707 Aaron Charles. 32 Cars Qualified for the Final R.Mills took the early lead from 760 Joey Reynolds, there was a lot of action on the turnstyle bend and there was a small pile up on the pit bend, and Cracknell managed to get in to the lead, then there was a Red Flag for a wheel off. Only 15 cars were left running for the re-start which was led by Cracknell. Jack Reynolds jacked up Cooper, then Jack Reynolds went on to jack up 300 Jon Ayles, in the last few laps 120 tried to push Cracknell wide but Cracknell managed to hang on to take the win with 120 Andy Latimer taking 2nd, from 775 Brad Hunt. Over 40 cars came out for a very lively D/D with a lot of big hits going on around the track and a massive pile up on the turnstyle bend, Holmes, 360 Jack Reynolds, and 260 Keith Reynolds were the last three cars running with them all having a few head on, and T-Bones, Holmes car eventually died. With the Reynolds car's still having head on the race was declared as 260 Keith Reynolds the winner as his car had a bit more life in it!
The Mascars were in attendance for their annual run out at Mendips. The first race went to the form book with Scottish Champion and man in form 18 Olly Faller, who took up the running early on, and wasn't caught.
There were 11 cars out for the 2nd Race 25 Robin Bath took the early lead from 16 Nathan Nicholls then, 11 Juli Stanford, 24 Lawrence Bath tried to go round the outside of Stanford, and Stanford left a gap on his inside and 18 Olly Faller and 21 Karl Baker nipped up his inside for 3rd, and 4th. Stanford then found a way past Faller, and Baker to retake 3rd. R.Bath went on to win from Nicholls, then Stanford. 10 cars made it out for the Final Nicholls went from 6th on the grid in to the lead from R.Bath then Stanford, L.Bath tried to nip up the inside of Stanford and accidently spun him out, 42 Andy Williams, and 65 Mark Carnwell had a tank slapper Carnwell hung on and Williams spun out, and 05 Andy Hartwell had an argument with the platting!! Nicholls went on to win, and L.Bath crossed the line 2nd but was docked 3 places for contact, giving, R.Bath 2nd, from, Carnwell, then Faller.
Half a dozen Hot Rods were in attendance for the Parkhouse Trophy. Heat 1 saw 258 James Griggs and 788 Mark Shelper tussle it out, and it was the former who took the win.
There were 6 Hot Rods out for the 2nd Heat 578 Rick Lee took a flag to flag victory 536 Jeff Johnson went round the outside of 17 Paul Tossell for 2nd closely followed by 117 Dave Tossell, 788 Mark Shelper, and 258 James Griggs. Shelper spun out in front of Griggs, Lee went onto take the win from Johnson, then D.Tossell. 6 cars also made it out for the Final Griggs took a flag to flag victory, and as soon as the green flag dropped Shelper nipped up the inside of Lee to take 4th,  and Griggs led from pole followed by Johnson, then D.Tossell, then Lee's car went sick forcing him to retire, then Johnson had a tank slapper when going round the outside of a backmarker letting D.Tossell, and Shelper past, then when Shelper tried going round the outside of Tossell he couldn't make it stick and Johnson got up his inside, and Johnson and Shelper spent a few laps side-by-side then Shelper dropped back down to 4th Griggs went onto win from D.Tossell, then Johnson.
In the Reliant Robins Race 304 Tim Weare took a hatrick of wins.
In the 1st Heat, with several robins starting to look at little worse for wear after a season of racing, the numbers were a little on the sketchy side. With a
In the 2nd Heat 15 Robins made it out 437 Cliff Worthington relieved 333 Tom Mannell of the early lead and 17 Peter Hurd completed a full rollover causing a stoppage. Worthington led the re-start from Mannell, then 26 Russ Gillingham, then Weare(from last on the grid), Weare quickly got into the lead but Worthington tried to tip Weare over but he ended up in the wall requiring a red flag, Weare took the win from, 3 Dan Tytheridge, then R.Gillingham. The Entertainer Award went to Hurd. 10 Robins came out for the Final 42 Jack Chapman rolled causing the 1st stoppage. Tytheridge led the re-start and built up a big lead, then R.Gillingham got put on his side for the 2nd stoppage. Tytheridge again led the re-start, the 24 George Gillingham put Mannell on his side. Tytheridge again led the re-start with Weare now up to 2nd from (last on the grid). Weare found a way past Tytheridge to take the lead then on to win from, Tytheridge, then 100 Jerry Weeks, then Weare rolled himself and took the Entertainers award.
Barry G
{module Facebook slideshow - 25-June-2016}

Click Here to View and Tag the full gallery on Facebook
Hot Rods:-
Heat 1 – James Griggs 258,788,117,536,17,578
Heat 2 – Rick Lee 578,536,117,258,17,788
Final – James Griggs 258,117,536,788,17
MASCARS:-
Heat 1 – Olly Faller 18,42,21,65,14,24,11,5,16,25
Heat 2 – Robin Bath 25,16,18,21,65,24,11,42,5,93
Final – Nathan Nicholls 16,25,65,18,24,11,42,21,93,5
Back To Basics Bangers:-
Heat 1 – Jack Reynolds 360,564,246,80,252,18,760,172,260,707
Heat 2 – Jason Hughes 258,371,199,362,129,202,384,775,256,830
Heat 3 – Rob Mills 404,262,5,120,228,446,7,184,739,215
Cons 1 – Liam Cracknell 241,363,221,190,162,840,9,215,452,310
Cons 2 – Cacky 133,444,707,260,330,323,439,710,517,797
Final –Liam Cracknell 241,120,775,252,80,710,360,228,221
DD – Keith Reynolds 260