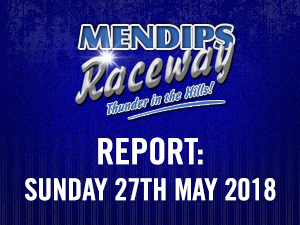 REPORT Sunday May 27th 2018
Sunday started with the infamous Mendip Mist, and a delayed start. However, once the sun burnt through it was an incredibly pleasant day.
BriSCA F2's
F2 Newly Crowned Benevolent Fund Champ Luke Wrench (560) led a field of 20 cars, which meant the "all in" format was deployed. Third generation yellow top Tommy Farrell (667) took heat 1, with blue grade calling next week.
The second heat started with Becky Pearce (660) and Dan Kent (976) led for 3 quarters of the race before Chris Mikulla (522) took over.
The final was a similar affair, Pearce from Kent, however Kent sped away to a decent lead. As the boards came out, Wrench took his chance and passed the white top. A late caution for Justin Fisher (315) who was stricken on the pit bend winded, a one lap shoot out ensued, Wrench took the win, Kent held on for a career best 2nd and Matt Stoneman (127) pipped Steve Gilbert (542) for third.
Come the GN, Ben Goddard (895) held to the penultimate lap and Stoneman took the win.
UNLIMITED OLD SKOOL BANGERS WORLD FINAL
With numerous Unlimited Banger events on, sadly it was no surprise that the numbers were down for the third running of the Unlimited Old Skool World Final. 2 all in heats and publicly drawn final was the order of the day.
Race 1 saw reigning champ Johnny James (362) speed away, however it was deemed too speedy, and was docked for an advantageous start, which saw traveller Jack Deacon (103) inherit the win.
Race 2 saw at the end in a game of cat and mouse, but James (362) held on for the win from Ricky Beasley (67).
15 cars made the old skool final, and Beasley get in front and stay in front in his "heritage" Granada estate, the very vehicle that the Old Skoolkids learnt their race craft with! Beasley took the win from Richard Coaker (185) who drew the back of the grid and defending champ James taking third.
In the allcomers, James led but Coaker took the win, however a teasy incident with Ben Brice (701) and Cameron McColm (134) put an unsavoury end to proceedings.
JUNIOR RODS
The Junior Rods were also in good number. Ryan Worthington (437) led the early laps before the form man Thomas Weeks (100) took over, from Welsh based driver Ieuan Preston (149). After some untidy starts, Ewan Gumbleton (190) went into a lead with Weeks in second in heat 2.
The third heat saw Charlie Johns (35) lead, but Gumbleton took over for another win. With a few spits and spots at the start of the final, which paid to Weeks chances, and many drivers getting involved. Gumbleton got into the lead and that was the way it stayed, with Josh Weare (36) and Preston taking the podium places. A maximum score for Gumbleton and a very good day for him!
{module Facebook slideshow - 27-May-2018}

Click Here to View and Tag the full gallery on Facebook
RESULTS 27.05.18
Junior Rods:-
Heat 1 – Thomas Weeks 100,149,11,437,36,75,28,856,236,26
Heat 2 – Ewan Gumbleton 190,100,149,36,35,77,26,599,176,214
Heat 3 – Ewan Gumbleton 190,35,599,11,75,28,856,214,29,30
Final – Ewan Gumbleton 190,36,149,35,28,26,75,856,176,100
F2:-
Heat 1 – Tommy Farrell 667,522,895,935,761,542,127,560,458,315
Heat 2 – Chris Mikulla 522,761,667,127,542,935,560,438,895,468
Final – Luke Wrench 560,976,127,542,667,468,979,438,895,517
G.N. – Matt Stoneman 127,895,542,522,468,979,976,111,560
Old Skool Bangers:-
Heat 1 – Jack Deacon 103,67,362,440,27,262,954,739,134,77
Heat 2 – Johnny James 362,67,185,440,27,624
Final – Rickie Beasley 67,185,362,440,103,744,27,262,739,714
A/C – Richard Croaker 185,701,362,67,440