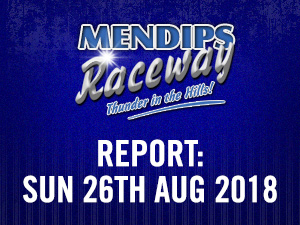 A vile scene awaited racegoers as heavy rain and thick fog descended onto the Mendip Hills for Sunday's offering of racing. Puddles and limited visibility made the conditions very challenging indeed BRISCA F2 With the weather making the decision for many to stay at home, it was delightful to have 30 cars in the pits for a full format of racing, with many racers taking the opportunity to get their eyes in ready for the World Final. A full format was deployed. Stuart Moss (876) led a yellow top charge in heat 1, able supported by Mike Rice (438), however it was to be a literal early bath for National and track champion Gordon Moodie (7) whose car drowned in the large puddle on the apex of the pit bend. Come the second heat and the visibility was even worse. Mike Cocks (762) led the way when at halfway Ben Goddard (895) took over. As the lap boards came out, and the mist descended further, Steve Gilbert (542) took the win. With plenty of big name casualties the consolation seemed to over subscribed with red tops than usual. Adam Rubery (700) eventually becoming victorious at the end of it. Come the final, the conditions were the worst of the day. The first attempt to get the race saw John Brereton (948) and Harrison Bryant (91) come together down the home straight, with former needing medical attention. Attempt 2, and the second verse was same as the first, with this time Stuart Moss (876) and Joe Marquand (689) coming together, with Marquand coming to grieve in the inner tyre wall. With two big incidents, the decision was made to abandon the meeting.
BANGERS Unlimited Back 2 Basics was the order of the day with some rare cars from the Parrys of the Bilge Brigade, including an X Type Jag, which had been left on a golf course driving range as target practice, and a Saab 9000. In the first race, Lee Dalton (129) was victorious in heat 1, and come the 2nd heat, a career first win for Mike Parry (328). Like the proverbial bus, the next win wasn't too far away, as Parry went on to take the win.
JUNIOR RODS Another dominant display for Ewan Gumbleton (190) in his two heats, and Tom Weekes (100) took the other heat – the only other race that day.
RESULTS 26.08.18
F2:-
Heat 1 – Stuart Moss 876,438,315,111,101,251,979,905,127,517
Heat 2 – Steve Gilbert 542,895,689,468,667,560,852,762,700,948
Cons – Adam Rubery 190,77,36,599,236,437,8,11,28
Final – Cancelled
GN – Cancelled
Junior Rods:-
Heat 1 – Ewan Gumbleton 190,11,100,75,149,176,28,26,30,111
Heat 2 – Thomas Weeks 100,36,75,599,236,77,8,149,437,26
Heat 3 – Ewan Gumbleton 190,77,36,599,236,437,8,11,28
Final – Cancelled
Bangers:-
Heat 1 – Lee Dalton 129,246,150,192,404,278,328,777,185,58
Heat 2 – Mike Parry 328,129,58,150,246,771,358,775,440,777
Final – Mike Parry 328,58,404,129,358,775,278,777,246,192
DD – Ricky Daunton 777