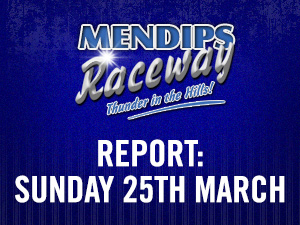 MICRO BANGERS
With the England/Wales rescheduled for Easter Sunday, and with other meetings for some of the visiting drivers, meant a slight dip in numbers, but action was still good! Recent Junior Rod Alumnus, Cameron MacColm (134) taking the win from Aaron Charles (77). Boogie (252) was victorious in Heat 2 - holding off Big Mac Mills (440). The Consolation was a brutal affair with only 4 finishers with Harry Thompson (956) taking the win. Come the Micro Massacre final - it became a battle between Old Skool World Champ Johnnie James (362), Dean Quinn (27), Charles and Boogie. James took the title in his Micra, from the ever smiling Quinn, and last year's winner Charles maintaining a podium in 3rd. In the allcomers, McColm and Quinn contested a fine inter Team Impact battle and it was the youngster that got the better of them.
18 cars contested a fine DD with Big Mac (440) continuing his fine DD form and Jonny James (362) out-surviving them all to become the winner.
JUNIOR RODS
With lots of new drivers, the Class of 2018 certainly looks like a fine vintage.
Thomas Weeks (100) who scored a near maximum win with 2 heats wins and a 2nd in the final. Maddie Giambaresi (176) got some excellent places and Jake Devine (11) took a heat win. Leah Bennett (26) was perhaps the unluckiest as she crashed with a lap to go in Heat 3 - stumbling across another persons accident. But it was Josh Weare (36) who took the final holding of Weeks in a titanic scrap over the final laps.
SPECIAL RODS
Plenty of new cars and new paint jobs meant the Specials - who were last minute additions to the day - were also in good number too. First race of the season went the way of Dale Edwards (244) at a canter! Dene Howard (41) won a teasy heat 2, which saw a brutal clash between Edwards and 181 on the exit of turn 4. A similar situation happened at the end of heat 3, but Ben Brice (701) and Will Harraway (7) took advantage of the scrap between Howard and Ringwood based driver Holly (590). Come the final, a slightly less beautiful looking Edwards car sped into the lead, who took the win from veteran Les Brice (700) and 181.... A good afternoons racing all round for the sierras!
{module Facebook slideshow - 2018-05-25March2018}

Click Here to View and Tag the full gallery on Facebook
RESULTS 25.03.18
Junior Rods:-
Heat 1 – Thomas Weeks 100,11,36,190,176,29,26,28,92,17
Heat 2 – Jake Devine 11,36,854,75,29,599,149,236,8,30
Heat 3 – Thomas Weeks 100,190,854,176,75,149,599,236,92
Final – Josh Weare 36,100,190,176,11,29,236,75,599,149
Special Rods:-
Heat 1 – Dale Edwards 244,135,700,43,720,556,7,233,75,364
Heat 2 – Dean Howard 41,135,581,701,120,556,720,6,224,108
Heat 3 – Ben Brice 701,7,233,700,181,43,224,75
Final – Dale Edwards 244,700,181,233,135,701,720,7,43,581
Bangers:-
Heat 1 – Cameron mcColm 134,77,27,242,160,349,74
Heat 2 – Boogie 252,440,362,284,519
Cons – Harry Thompson 956,333,199,775
Final – Johnny James 362,27,77,252,333,440,284,74,199
A/C – Cameron McColm 134,27,77,362,440,333,956,519,284,242
DD – Johnny James 362