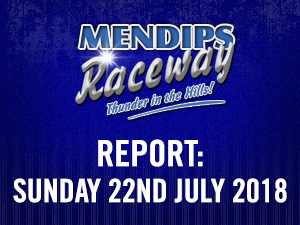 Another glorious summers day at Mendips for a day of fundraising that raised a massive £1153 for Cancer Research and fun racing!
F2
A surprising 29 cars turned up for the annual Pink Ribbon Trophy, despite being in a busy period. Heat 1 was won by Lee Morgan (745) who took over at halfway from Shane Hector (528). Heat 2 saw Becky Pearce(660) lead away the pack, persued by Ben Goddard (895), However, it was Adam Rubery (700) who took the lead with 4 to go. Hector then took a consolation. With defending champion Paul Butcher now retired, it was his duty to lead the final away on a ceremonial warm up lap. Come the green, Harley Cornock (517) sped into the distance, who was caught around halfway by Goddard, who in turn was caught by Adam Rubery (700). Come the last lap, there was a goru of backmarkers which halted Rubery's progress and allowed a last bend assault for Neil Hooper (676), However, a drag race to the line was unsuccessful and the Midlander took the win.
The Grand National saw Cornock lead again, and Morgan take over and take a second win of the day, holding off a spirited charge from Justin Fisher.
SPECIAL RODS
Another good field of the non contact racers. Heat onw was led away by Tim Bristow (6) before halfway Dene Howard (41) took over. Angie Harris (46) spun on the bottom turn, making things tricky to negotiate. Howard sped away onto a lead, however on the penultimate lap a coming together between Bristow and Wallace (581) gave a spectacular finish!
Heat 2 saw Andy Latimer (120) speed away into the distance, however a late caution for the three wheeled Ian McLaren (181) saw his gap eroded. Heat 3 saw no such problem for Latimer as he took a flag to flag win. He then held to supersize his win with a win in the final, after losing a fair gap which allowed a last lap attack from Will Harraway (7).
GN time, and Darren Feltham sped away to a good lead, which saw Will Harraway (7) take a fair bit of damage.
BANGERS
In Heat 1, it was a right pair of Charlie's as Messrs Ayres and Randall took a 1-2 for the Blue Stars
A roll for 313, but early trades were between Cam McColm (134) and Harry Thompson (956), but MColm took a faultless win.
Heat 3 saw some frantic laps, and Beric (580) led the race until his spin caused a massive track blockage. Randall then sped away to a frantic race which saw a massive jacking train continue. 3 finished.
The Final saw a similar situation for Randall and Ayles, with a stoppage for Michaela Warr (894) who rolled. But Randall wasn't be stopped and the Charlies secured the Filo Crashmania for 2018.
Ayles also won the Spirit of Filo award.
Bevan Bailey (313 ) and 435 won the DD.
{loadmodule mod_djimageslider,Facebook slideshow - 22 July 2018}

Click Here to View and Tag the full gallery on Facebook
RESULTS – 22.07.18
F2:-
Heat 1 – Lee Morgan 745,542,381,667,761,315,111,328,53,517
Heat 2 – Adam Rubery 700,676,895,127,522,438,979,418,325,976
Cons – Shane Hector 528,517,325,762,53,660,639,976
Final – Adam Rubery 700,676,127,895,381,667,418,745,328,315
G.N. – Lee Morgan 745,315,676,127,528,381,979,667,325,700
Special Rods:-
Heat 1 – Dene Howard 41,266,720,43,7,711,135,233,108
Heat 2 – Andy Latimer 120,41,701,993,720,266,364,81,244,224
Heat 3 – Andy Latimer 120,701,6,993,364,711,581,7,135,43
Final – Andy Latimer 120,7,700,993,135,266,701,581,364,41
G.N. – Darren Feltham 364,581,993,43,720,700,701,711,7,120
Bangers:-
Filo's Crashmania Teams
Heat 1 – Charlie Ayles 308,333,956,440,775,91,720,121,111
Heat 2 – Cameron McColm 134,308,284,91,81,775,720
Heat 3 – Charlie Randell 333,666,81
Final – Charlie Randell 333,308,666,121,742,488,111
DD – Bevan Bailey 313 – 435
Team Winners Blue Stars-Charlie Randell 333, Charlie Ayles 308, Pops Bugler 81, Macauley Mills 440