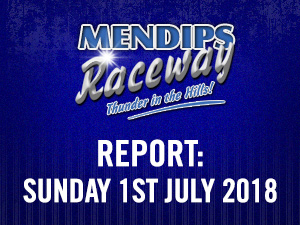 Sunday saw the sunshine continue, however a few spits and spots turned into the rain which befell the last race of the day
OLD SKOOL BANGERS – GRAHAM SALTER TRIBUTE
A disappointing amount of cars were available for the annual Graham Salter Tribute, and a straight all in format came about. Rickie Beasley (67) took out his World Winning Granny again to play in the old skool meeting. Patch Beasley came out with a cheeky Jag, with Noddy coming out with a lovely Volvo. In the first race it was Rickie who took the win from Richard Coaker (185). Come the second heat, the roles were reversed. The final ended up being attritional with only 4 finishers, but Coaker was victorious again, from Beasley again.
In a 3 car wet DD, it was Big Mac (440) who took on the Beasleys, but with plenty of big hits, Big Mac came out victorious for the second time in a row.
HERITAGE FORMULA 1
A Magnificent seven of the 1960's V8 Jalopies teared up the raceway, back to the halcyon days of the 1960's. Some of more "newer" styles took full advantage with the tight Mendips track. Lee Fairman (274) took the win in both the heats.
However, the late 60's model of Andy Tunnha (439) took the feature race, and Fairman took an excellent second.
SPECIAL RODS
Another fantastic showing of 28 cars for the budget non contact formula, and where the stars of the show again. It was a blue top show, as Jordan Clark (233) took the first heat from Ian McLaren (181). The second saw a controversial end as Tim Bristow (6) crossed the line first but was docked for deliberate contact, during his race long scrap with Andy Latimer (120). Jim Cannon (135) inherited the win. Latimer made amends in the consolation taking a flag to flag win. Come the final, it was the blue tops again speeding away, however, it was McLaren who took the win from Clark, and Micky Ford (266) took third. With the amount of cars, the decision was made to run two grand nationals, with a Latimer sibling double completed with Dan (720) taking the first GN. The second GN went the way of Ben Brice (701) from Darren Foss (993)
{loadmodule mod_djimageslider,Facebook slideshow - 2018-07-01}

Click Here to View and Tag the full gallery on Facebook
RESULTS – 01.07.18
Heritage F1 Stock Cars:-
Heat 1 – Lee Fairman 274,375,439,113,337,135,22
Heat 2 – Lee Fairman 274,439,375,113,337,135,22
Final – Andy Tunnha 439,274,113,375,337,22
Special Rods:-
Heat 1 – Jordan Clark 233,181,720,556,43,7,700,53,335,108
Heat 2 – Jim Cannon 135,701,6,266,612,244,224,775,711,46
Consolation-120 Andy Latimer, 335, 46, 108
Final – Ian McLaren 181,233,266,775,224,720,244,7,43,700
GN (1) – Dan Latimer 720,7,233,335,43,700,581,181,364,108
GN (2) – Ben Brice 701,993,46,711,224,266
Bangers:-
Race 1 – Rickie Beasley 67,185,731,473,228,440,77
Race 2 – Richard Coaker 185,67,744,775,473,440,77,349
Final – Richard Coaker 185,67,349,473
DD – Macauley Mills 440