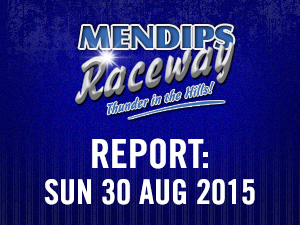 The first day of the two day's racing over the Bank Holiday weekend was greeted with grey skies and intermittent rain to begin with, but as promised it did ease and then cleared up and those who did brave the elements, which was a decent number were treated to a good afternoon of racing from the BriSCA F2 Stock Cars, National Bangers and Junior Rods.
A slightly disappointing entry of F2 Stock Cars, standing at 22 cars but never the less it included a couple of long distance travelling Superstars in 606 Andrew Palmer and a surprise visit from reigning World Champion 1 George MacMillan, who raced at Cowdenbeath in Scotland the previous evening, in what is now quite a furious battle for the silver roof with fellow Scot 647 Chris Burgoyne.  In the very conditions of heat one, a big early lead for 464 Matt Linfield was eroded when 528 Shane Hector had a hefty meeting with an inner marker tyre which necessitated a yellow flag.  606 Palmer, who is a master of the wet took the lead soon after the re-start and went on to win.  Heat two saw 783 James Rygor come through to win and then in heat three 890 Paul Rice won by a comfortable margin.  The annual Marion Bennet Trophy saw the track dry and it was Linfield who set the early pace until a tangle up between 315 Justin Fisher and 740 Neil Langworthy left both cars hooked together across the track.  Linfield continued to lead after the re-start, but was soon passed by 522 Chris Mikulla.  The former star men then never looked back on his way to the win, to regain his star grade status.  542 Steve Gilbert held off 676 Neil Hooper for the trophy places.  The Grand National featured a large crash involving several on the home straight after 851 Gary Smith spun and was collected several times.  Thankfully all were okay.  After a mixed afternoon, MacMillan passed Gilbert for the lead and went on to take the victory, whilst Rygor's second place and consistent scoring all afternoon saw him retain his track championship points lead, but for the first time in several years it is set to go down to the wire at the last meeting for the F2's next month and a four way fight for honours.
The National Bangers were in under 1400cc, and World Championship qualifying round points up for grabs and it was a format that clearly worked, with 32 cars present and healthy number of them coming from the south coast.   There was a good mix of racing and action and the interest in those World Final places bubbling away nicely.   262 Rob 'Roona' Buglar won the first heat by such a margin the only car he didn't lap was brother 252 Steve 'Boogie' in second place.  The second heat saw 262 Roona initially awarded the win.  However, on subsequent Steward's enquiry 40 Pete Stanley has been declared the winner.   In this race, 739 Jason Moore saw his World points take a hit, literally from 252 Boogie.  329 Kevin Ealson was the early leader in the Final until passed by 440 Mac Mills who at one time looked to have an unassailable lead.  But 262 Roona hunted him down and passed him with several laps to spare on his way to victory.  Mills was never the less happy with second and 517 Scott Weldon was third.  The Allcomers saw Ealson take the win which then went into the Destruction Derby.  It was a relatively short sharp one, and just as it looked like 252 Buglar had outlasted them all, 517 Weldon got going and stopped 252 to round out with the win.
23 Junior Rods was a pleasing entry, and with numbers continuing to rise, a move back towards the split heats and qualifiers only Final is starting to look a possibility.  In the very wet opening heat 66 Becky Pearce won by a long way and then in heat two, equally as wet 300 Charlie Ayles came through from the back to ultimately win by a long way too.  285 Jacob Anderson opened out a good lead in heat three, but a pile up on the bottom bend brought out the yellow flags and closed the gaps up.  190 Ewan Gumbleton challenged Anderson after the re-start and in a canny move, managed to get on the inside of him on the last lap to take the win.  The large field for the Final, now in the dry track conditions, was headed off by 911 Rhys Burgess-Seabourne, who had been showing well all afternoon and he opened out a good sized lead.  This was whittled down quickly though by 285 Anderson.  However, in an almost carbon copy coming together to the previous race 281 Sarah Pearce, 376 Dan Kent and others all came together on the bottom bend to bring out the yellow flags.  Burgess-Seabourne lost out to Anderson after the re-start who then pulled clear on his way to victory whilst 911 Rhys held on for a good second and 30 Joe Capel made third.  The Junior Rod points too, remain headed by 300 Ayles, just as they have since March but it is going to be all decided in the final meeting of their year in October.
{module Facebook slideshow - 30August2015}

Click Here to View and Tag the full gallery on Facebook
Junior Rods:-
Heat 1 - Becky Pearce 66,224,644,99,300,225,30,26,35,101
Heat 2 - Charlie Ayles 300,911,190,35,99,376,108,36,30,101
Heat 3 - Ewan Gumbleton 190,285,911,224,225,36,75,88,100,111
Final - Jacob Anderson 285,911,30,190,300,224,66,108,35,36
F2:-
Heat 1 - Andrew Palmer 606,783,464,890,100,254,468,189,328,460
Heat 2 - James Rygor 783,676,542,126,464,522,740,315,100,83
Heat 3 - 890,522,189,606,542,476,83,111,740,529
G.F. - Chris Mikulla 522,542,676,783,476,890,606,126,189,464
G.N. - George McMillan 100,783,676,542,476,522,890,468,460,529
Bangers:-
Heat 1 - Rob Buglar 262,252,505,27,256,251,517,113,7,440
Heat 2 - Pete Stanley 40, 262,129,252,256,517,7,251,329,440
Final - Rob Buglar 262,440,517,252,7,69,710
A/C - Kevin Ealson 329,251,262,517,252,440
DD - Scott Weldon 517