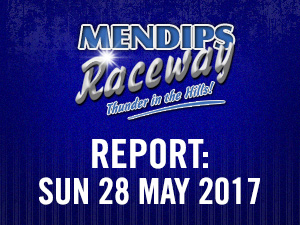 A day that started with sunshine ended with spits and spots of rain as the Junior Rods and BriSCA F2 played support to the Unlimited Bangers who had their Old Skool World Final.
BriSCA F2
27 cars turned up for the last meeting before the British. There was a track debut for early season sensation Jonathan Hadsfield (142), and Gordon Moodie (7) was back to maintain his 100% attendance record. Each racer raced 2 out of the 3 heats, and in heat 1, and early lead for Mike Cocks (762) caused calamity, as he spun into the turnstile bend, causing a massive pileup behind which wiped out half the field. Come the restart Julian Coombes (828) led them away, but it was a faultless win for Gordon Moodie (7).
Heat 2 saw the white graded star of the last meeting Ben Goddard (895) sped away to an early lead, however Nathan Maidment (935) took the win. It was a similar story in heat 3 as Goddard led away Maidment, who took the chequered flag for the second time.
Come the all in final, an early stoppage in the final saw Moodie take advantage of it. Moodie took a textbook win for him – a second In as many meetings and now takes his place as a probable favourite for the British. Adam Rubery (700) and James Riggall (527) completed the podium. Riggall then followed up his 3rd with a devastating win in the GN after ruthlessly dispensing with long time leader Paul Butcher (189).
UNLIMITED BANGER OLD SKOOL WORLD FINAL
The big day had come for the Unlimted Bangers as their Old Skool World Final came along. With just over 40 cars, the traditional Semi Final and Final format complete with public draw. Ryan Sparks (246) took the first semi final and drove away from the pack, with last year's runner up Johnnie James (362) taking second.
The second semi, was a similar affair. Former Saloon Stock champion Danny Hunt (382) took heat number 2 from Roona (262) and defending champion Buddy James (62). Come the last chance, and only 4 places up for grabs, veteran Steve Hunt (282) took over for the first laps, and it looked like he was going to take the win, however he got caught up with backmarking traffic, allowing Scott Weldon (517) to take the win.
Then it was final time, and it was a battle royale. Danny Hunt (382) was the early leader, with Buddy James (62) and Richard Coaker (185) who battled out the opening laps. The trio became a quadruple as Johnnie James (362) joined in to. When the boards came out it was Buddy from Coaker then Johnnie, and Danny Hunt, a distant fourth, Johnnie then swooped past and got a 3 car length lead from Buddy. A reverse of the podium from last years as Johnnie took top honours from Buddy, with Coaker taking home 3rd.
In the Allcomers, Richard Beere (254) took the Thunderbolt winning car of son Jamie to victory from Nick Courtier (114) in a result that could have happened at any time in the 1990's! The 4 car DD saw Roona (262) put a critical hit on Lossy Jnr (624) after a spot of aggressive tyre squealing
JUNIOR RODS
A good showing from the Junior Rods – with Jack Buckingham (25) taking 2 heats in his tiger styled Mini. The remaining heat saw Lewis White (599) cross the line first, but was docked for blocking and contact, Danny "Dent" Kent (376) inheriting the win. Come the final, the 16 top scorers treated us to some great racing – Buckingham led them off, and it was Ewan Gumbleton (190) who broke from the star grade scrap, as he took the win from Josh Weare (36) and Jacob Anderson (285).
F2:-
Heat 1 – Gordon Moodie 7,542,828,111,142,516,719
Heat 2 – Nathan Maidment 935,542,606,38,890,895,468,142,189,527
Heat 3 – Nathan Maidment 935,606,7,468,700,895,476,189,111,527
G.F. – Gordon Moodie 7,700,527,606,890,468,189,828,142,935
G.N. – 527 James Rigall,38,7,606,890,542,142,111,174,516
Junior Rods:-
Heat 1 – Jack Buckingham 75,149,100,34,854,88,285,36,11,53
Heat 2 – Jack Buckingham 75,376,149,285,36,190,53,35,599,77
Heat 3 – Daniel Kent 376,854,599,190,34,11,29,35,88,111
G.F. – Ewan Gumbleton 190,36,285,854,376,75,599,11,149,100
Old Skool Bangers:-
Semi 1 – Ryan Sparks 246,362,185,254,114,440,27,278,148,333,314,363
Semi 2 – Danny Hunt 382,262,62,701,232,284,624,228,146
Last Chance – Scott Weldon 517,912,282,129
Final – Johnny James 362,62,185,382,282,246,114,254,440,232
A/C – Richard Beare 254,114,744,262,362,185,278,244,912,440
DD – Roona 262