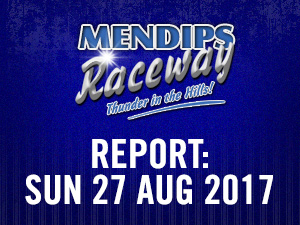 Sunshine befell the last holiday Sunday of the year, with a busy grid of bangers, Junior rods and F2's and we were on a roll…. literally
BriSCA F2
A disappointing showing from the F2's saw only 19 cars take to the track. With all the star drivers in World Final mode. That all being, it was a time for the lower graders to shine – and that they did in spades. Fresh from his maiden win at the last time out, Ben Goddard (895) took another win in the first heat. Not to be outdone in heat 2, recent local form man Lee Morgan (745) took another yellow graded win. Come the final, it became a battle between yellows and blues as Morgan sped away. With the lap boards coming out, the scrapping blues of Nathan Maidment (935), Steve Gilbert (542) and Chris Mikulla (522) charged down the yellow top, however it was too little too late, as Morgan sped to his first ever final win. A return for blue for Morgan who was clearly delighted. Come the GN, it had a spectacular start, as Julian Coombes' (828) back straight tank slapper caused calamity which saw Coombes being a resting place for a sideways Paul Butcher (189) on the exit of turn 4. After the restart, it became another blue top battle with Steve Gilbert (542) taking the win.
JUNIOR RODS
Last one in the school holidays for the youngsters, and whether it was the impending doom of  going back to school, or the hot weather, it was a fairly fractious and teasy day for the Juniors. Heat 1 went the way of Jake Devine (11). Dockings went down further afield for jump starts and contact, and was a similar story in heat 2, with Josh Weare (36) crossing the line first, however was docked for the jump start. This promoted Jacob Anderson (285) to the win. Heat 3 looked if Taylor Sealy (730) and Jake Devine (11) were going to contest the win, however a scary roll for Millie Ruby (111) brought out caution. Come the restart there was oil on the top corner which saw both Sealy and Devine fall foul of it, allowing Danny Kent (376) to take the win. In the final, there were more rolls. This time, Thomas Weeks (100) got out of shape on the main straight, which flipped Ewan Gumbleton (190) on to his roof, and then as a result of that, Jaz McArdle (29) also ended up on her roof. Jacob Filer (77) held off Jake Devine (11) and Jacob Anderson (285) to complete an all Jake top 3.
U1400cc BANGERS
Following the excellent Filo's Crashmania meeting last time out, it was out and out contact.  A brutal heat 1 saw many start, a rollover, jacking trains and stacking up, so it was little surprise only 5 finished! Aaron Charles (17) took the win. Heat 2 was a more sedate affair in comparison, but not by much. It looked like it was going to be a win for Charlie Pearce (333) who closing in the lead, before wading into the back of Jamie Charles (7). This allowed Roona (262) to take the win. Grand final time saw recent Junior Rod Graduate Cameron McColm (134), showing that he knows how to drive a 1400! However, the youngster saw off the challenge of Roona on the last bend, pipping him on the line. In the DD not many took the opportunity, but Aaron Charles (17) got the king of crash title come the end.
F2:-
Heat 1 – Ben Goddard 895,935,522,542,476,783,745,189,762,828
Heat 2 – Lee Morgan 745,542,935,476,700,828,526,783,189,890
Final – Lee Morgan 745,935,542,522,700,476,783,526,828,895
G.N. – Steve Gilbert 542,700,522,783,935,979,745,526,890,762
Junior Rods:-
Heat 1 – Jake Devine 11,285,854,53,730,29,8,36,149,77
Heat 2 – Jacob Anderson 285,53,36,190,376,599,77,28,176,149
Heat 3 – Daniel Kent 376,190,100,29,11,75,599,176
Final – Jacob Filer 77,11,285,75,376,854,176,53,36
Bangers:-
Heat 1 – Aaron Charles 17,262,221,362,720
Heat 2 -  Roona 262,362,221,440,616,134
Final – Cameron McColm 134,262,17,440,62,362,616,55
DD – Aaron Charles 17