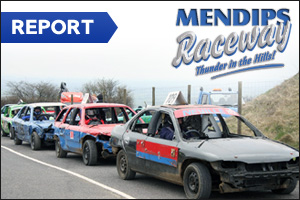 Eighty drivers spread over seven formulae turned out on Practice Day at the Raceway. It was a cold but gloriously sunny day-a portent for the 2013 season no doubt-, and there were several new and rebuilt cars to inspect.
First off was the new RCE F2 stock car of Chris Mikulla(522) which went as well as it looked, and after a couple of shakedown sessions, Chris was off to Cornwall for racing the following day. Two new local drivers were also having their first outings-John Scorse(519) from Cheddar, using his dad's number from way back was at the wheel of the former Liam Rowe car, and Pat Lines, who raced in the MiniRods many years ago has joined Brisca F2 after some timer in outlaw stock cars.
Also present were the Moss brothers from Cornwall Dan (797|)and Paul(979) with Paul making his adult racing debut the next day, and Jack Bunter, who was having his first session in an F2, built by brother Alan for Mike Cocks(ex762) in 2009. Jack has raced in a Junior formula and hopes to move into F2 when he is sixteen in June.
Twenty assorted National and Rookie bangers were there, ranging from Rob Bevan's (49) World Final Jaguar, through micros, to Mike Cocks ancient Saab 96, which will be raced at some point in Rookies, with Paul Fisher(75) and Tom Davey(54) proving very quick. It was great to see new Hot Rods as well, with Larry Langmead (18),Steve Hunt(282) and incredibly, Mike Norton 9205) all with fresh cars.
More than twenty Special Rods were present, with the best looking new car sported by Tim Weare(304), whilst Russ Colenutt had his rebuilt, car from the Dinner Dance, and Les Brice(700) took part in his first Special Rod event  in the car formerly owned by Marcus Goldsmith(198) and Andy Beaven.(83) Les's son Ben also took part in practice with the Junior Austin A 40 that was previously raced by Dan Steeds(796), and incredibly, Ryan Sparrow(921) also turned up for practice with an A40, both cars showing their father's love of rear wheel drive cars!
There were eight new Junior drivers present, which is the biggest influx for a while, and they were all given as much track time as possible.Finally, the Bath team of Mascars turned in some high speed close formation laps, and there were also three Robins, and a couple of stock rods, to round out the day.
Roll on Easter!
{faceswipe album_id=5/}