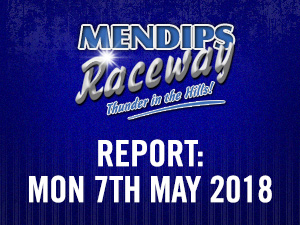 The second part of our May Day Bank Holiday weekend, saw scorching temperatures and a huge holiday crowd as blistering heat was repaid with blistering action on track. BriSCA F2 With it being the last stop on a busy weekend for many drivers, it was unsurprising that there were a few drop outs, but heartening that few extra visitors came too. Back for his second visit this year, Irishman Bradley McKinistry (NI747) was a welcome extra.
With it being the first meeting under new grades, it was little surprise those who dropped took top honours. Chris Mikulla (522) took heat 1 from Black Country blue top Richard Bowyer (761). In the second heat, Bowyer's stablemate, former British Champion, Adam Rubery (700) took full advantage of his blue grade to victory with new superstar Matt Stoneman (127). Paul Moss (979), now down to yellow took the third heat, with Bowyer bridesmaid again.
Come the final, a packed grid promised action, but an early yellow flag, caused a complete restart, and took 8 cars out of the running. Harley Cornock (517) led early, before Paul Moss sped away, and looked on course to win his second final in as many days, until Stoneman perfecting a timely hit on the penultimate bend. Behind bedlam ensued, as Steve Gilbert (542) took third from McKinistry who ended up stranded with the chequered in sight.
The Grand National was another last bend finish with Gilbert getting the better of Moss.
BANGERS
With the Thunderbolt over it was matters more humdrum as the "Rookie" bangers nudge and spun their way around. Heat 1 turned out to be a war of attrition, with a roll, and only four finishers, Lee Dalton (129) crossed the line first but was docked for jumping, promoting Cameron McColm (134).
The second heat was a tamer affair, with Jenzy (100) holding out Big Mac (440). Dean Quinn (27) led the consolation for a fair distance as it turned into a scrap, however Scott Ghey (386) won. A heat and final double was completed as Jenzy took another win.
HOT RODS
An excellent showing of 15 cars with some new names gave a packed grid for the first time in an age. Steve Hunt (282) held off Colin White (718) in race one, where the busy track played into his hands.
In the second heat, the Ginetta based car of Alistair Murray (926) flew into an early lead and also held off White for 2nd.
Come the final, the extra laps were telling as James Griggs (258) and White came to fore. White took the win, and the Andy and Loreen Trophy, from Murray
ROBINS
Whether it was hot weather, or the caravan race, or maybe the opportunity to race Race Manager Jack Bunter (728) there was plenty of cars to race.
Cliff Worthington (437) continued his cracking form in heat 1, heading home Dean Quinn (27). Quinn took the second heat which saw Stacey Howe (119) roll. Quinn was in victory lane again come the final, from Andrew Worthington (504).
Come the caravans, Quinn and his hippy shack caravan were on track. John Quinn (242) was the first through the static parked caravan, and where as the caravans remained intact it proved to be a bruising day for the Robins, with many cars sporting a fair bit of damage. Ultimately it was Dean Quinn who took victory.
The caravan of 728 Jack Bunter, that we offered the chance for spectators to spray on and donate to cancer research ultimately made £156 for the charity, and still didn't get destroyed!
{module Facebook slideshow - 2018-07-7May2018}

Click Here to View and Tag the full gallery on Facebook
Results – 07.05.18
F2:-
Heat 1 – Chris Mikulla 522,761,127,935,747,542,325,895,111,251
Heat 2 – Adam Rubery 700,127,935,979,522,325,468,895,251,745
Heat 3 – Paul Moss 979,761,542,747,700,438,468,111,745,876
Final – Matt Stoneman 127,979.542,111,761,639 745,876,522,660
GN – Steven Gilbert 542,979,468,700,127,111,876,251,517,660
Hot Rods:-
Heat 1 – Steve Hunt 282,718,258,38,788,35,117,57,611,44
Heat 2 – AlistairMurray 926,718,258,282,536,38,44,57,426,117
Final – Colin White 718,258,926,282,611,788,426,117,536,57
Robins:-
Heat 1 – Clifford Worthington 437,27,26,504,304,510,509,25,364,119
Heat 2 – Dean Quinn 27,26,504,304,364,510,509,25,134,119
Final – Dean Quinn 27,504,26,25,364,437,304,134,119,242
Caravans – Dean Quinn 27,134
Bangers:-
Heat 1 – Cameron McColm 134,129,894,784
Heat 2 – Alec Jenner 100,440,956,404,175,771,852,775,773,668
Cons – 386,701,595,362,27,298,826,677,527,284
Final – Alec Jenner 100,956,852,404,701,677,175,129,134,894
Hot Rods
718 Colin White 56
258 James Griggs 52
282 Steve Hunt 41
788 Mark Shelper 34
117 Dave Tossell 26
35 Neil Muddle 18
926 Alistair Murray 18
536 Jeff Johnson 17
38 Phil Parkhouse 16
28 Tim Seafood 13
Rookies
100 Alec Jenner 55
956 Harry Thompson 49
79 Brian Edmund 26
701 Ben Brice 24
134 Cameron McColm 24
340 23
175 Gary Hunt 23
743 Jake Bond 20
775 Brad Hunt 19
784 Henry Murray 18
Robins
504 Andrew Worthington 51
26 Russ Gillingham 50
437 Cliff Worthington 44
27 Dean Quinn 29
509 Matt Dixon 29
25 Kylie Gillingham 19
304 Tim Weare 17
364 Darren Feltham 14
510 Sid Harrison 10
134 Cameron McColm 5
F2 Stockcars
127 Matt Stoneman 69
468 Sam Weston 50
542 Steven Gilbert 45
700 Adam Rubery 42
979 Paul Moss 38
747 Brad Mc Kinstry 36
522 Chris Mikulla 34
101 Kelvyn Marshall 26
111 Lewis Geach 26
801 Jack Cave 24