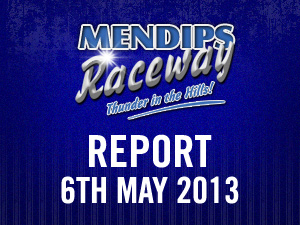 The great Bank Holiday weather continued into Monday and there was a very busy pit area and programme of races with the BriSCA F2 Stock Cars and National Bangers joined by the Junior Rods and Reliant Robins.
The BriSCA F2's had an entry of 35 cars, of which 20 were white or yellow graded and as a consequence there was an additional round to the 'Rookies Reward' this season, and round one was sponsored by Shock-Tec with proprietor Ben Edwards putting up a very impressive prize of a set of Shock Absorbers each for the first white top home and the first yellow grade home.  The race came down to a battle between yellow graded 254 Richard Beere and 464 Matt Linfield, with the latter making a decisive move on the last lap to take the victory whilst 519 John Scorse was the first white through in fourth, and took his prize.    The two half car heats went to 522 Chris Mikulla and 783 James Rygor and then the consolation to Beere.  The Final got off to a spectacular start with a large crash on the top bend that saw 686 Jay Scott on top of 979 Dan Moss' car with several others involved too, to necessitate a complete re-start.  Scorse was the early leader until 954 Jamie Beere led and then dad Richard took over for a few laps all the while being reeled in by star men 676 Neil Hooper and 886 Chris Bradbury.  A decisive move from the latter on the top bend with five laps remaining saw him send both wide and he took the lead and went on to take what was yet another Final for him around Mendips Raceway.   Hooper held on for second and 921 Jack Aldridge came through for third.  The Grand National saw victory for 126 Jamie Avery.
If the National Banger entry had been lower than hoped for on Sunday, to show just how fickle some things can be, the under 1800cc World Championship qualifying round on Monday saw a better than anticipated entry with 31 cars present, including a healthy representation from the south coast.  One of them, 409 Joey Collins took the win in heat one by some margin but suffered an engine blow on the last lap which hampered the rest of his meeting somewhat.   The second heat was much more spectacular with two stoppages, including one for 7 Jamie Charles who'd taken a big hit from 363 Sam Trim.  241 Liam Cracknell went on to take the victory and he looked set to follow it up in the Final too as he was comfortably clear.  However, he threw it away to go in for a big hit on Trim which placed 820 Martyn Perkins into a lead he was never to lose.  There was a mix up in the places behind with several getting involved on the top bend.  Thus 262 Rob Buglar came through for second and 332 Callum Reed was third.  Collins had spent the afternoon changing the engine in his Mondeo and returned for the Allcomers, which he duly won and then in the DD, which was a fairly short and sharp affair 252 Steve Buglar took the victory.
The Junior Rods once again had enough cars for the split heats to be deployed.  The first was won by 203 Charlie Norton and 87 Callum Richards the second by a long way.  16 Dan Milverton took the consolation.  All of which set up for the Final.  61 Beth Stevenson headed the field off as the lone white graded qualifier until she was caught and passed by 24 Sam Crane and for some time in the race there was a girls 1-2-3 as 66 Becky Pearce moved into third.  However, Richards got amongst the battle for second but all of which was well behind Crane who looked set for a comprehensive win.  However that looked set to change when 742 Morgan Galley spun and was collected by Stevenson as the battle for second went past.  With Galley stranded, a yellow flag was called and this eroded Crane's big lead to something a lot less.  Richards was placed in second and duly did challenge and pass at the re-start, but behind them 224 Jordan Edwards crashed and had a problem and this brought the race to a premature end.  In a further quirk of fate, the result had to be taken to the last full completed lap as per the rules of racing and as a consequence this put Crane back in the front as the victor.  Richards had to make do with second and Pearce was third.
19 Reliant Robins put on their usual display of entertainment and action with the extra awards for entertainers.  The first heat saw race leaders 445 Nikki Loader and 78 Mark Bowskill both roll which put 499 Lee Charles in the lead.  Loader bounced back, no pun, to win heat two and then in the Final Bowskill survived a late re-start and hard challenge from Loader to take the win.  644 Mark Thomson was third.
RESULTS - 06.05.13
Junior Rods:-
Heat 1 - Charlie Norton 203,362,24,61,761,66,510,956,376
Heat 2 - Callum Richards 87,25,109,700,224,742,715,30,53
Cons - Dan Milverton 16,273,510,956,376,53,715,30
Final - Sam Crane 24,87,66,362,61,109,761,510,203,700
F2:-
Rookies Reward - Matt Linfield 464,254,14,519,686,526,954,437,613
Heat 1 - Chris Mikulla 522,886,676,464,14,935,890,954,596,979
Heat 2 - James Rygor 783,315,476,921,167,189,797,845,686,328
Cons - Richard Beere 254,126,352,596,835,519,575,686,526,079
G.F - Chris Bradbury 886,676,921,522,783,126,254,954,14,476
G.N - Jamie Avery 126,522,921,954,254,935,315,167,886,189
Robins:-
Heat 1 - Lee Charles 499,644,304,264,267,437,266,270,26
Heat 2 - Nikki Loader 445,78,499,644,267,437,3,304,364,266
Final - Mark Bowskill 78,445,644,499,270,437,304,26,364,119
Bangers:-
Heat 1 - Joey Collins 409,241,252,262,40,62,114,54,27,440
Heat 2 - Liam Cracknell 241,40,62,262,27,54,49,114,252
Final - Martin Perkins 820,262,332,27,54,363,114
A/C - Joey Collins 409,241,820,40,262,252,27,114,329,363
DD - Steve Buglar 252
{faceswipe album_id=10/}