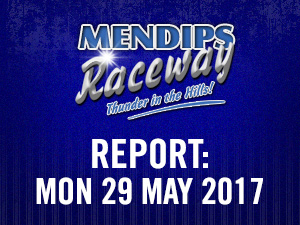 Despite a better weather forecast than the previous day, a dull morning turned to rain by midday and that rain continued on and off throughout the afternoon, with low cloud also affecting visibility for drivers and spectators. Nevertheless a full race programme took place and was completed by 5.15pm, and featured Back to Basics Bangers, Special Rods and the Robins Crazy Day. Another extraordinary performance again from 364 Darren Feltham, who raced in four Robin Races, five Special Rod Races, and three Banger races!
A much better field of 18 Special Rods took part in four all in races, the third of which was designated the Final, and the fourth Grand National with Final winner starting a lap down. The wet first heat went the way of 81 Andy Hawkins, having his first race at Mendips Raceway, with another strong wet weather racer 43 Andy Howard second. 426 Russ Colenutt finished third, and put down a marker for the rest of the afternoon. Dan Latimer 720 in the Zetec powered car recorded its first win in heat two, with 612 Dale Brace second, and Colenutt again third. By the third heat, the track had improved and Colenutt made no mistake and drove to a convincing win, with a surprised and delighted returnee 6 Tim Bristow second and Points Champion 85 Andy Pincott in third. A flag to flag Grand Final was also won by Colenutt, and then he managed a fourth place from the lap down in the Grand National which was won by 701 Ben Brice. Good racing from the Special Rods all day.
Back to Basics Bangers are great entertainment from cars which cost little and can be prepared in a couple of hours. Only safety equipment can be added, with cars racing with original tyres, and all other mechanic components untouched. There was a fantastic team effort from the Raymond family with four identical BMWs, beautifully painted and signwritten, and some other well presented cars among the Weston boys of Brad Hunt and Aaron Loader. The rest were a mixed bunch of all makes and models under 1800cc, with one lone Vauxhall Zafira from 743 Jake Bond, and a peculiar Kia from 262 Roona. 739 Jason Moore won heat one with  his Ford Puma, followed home by 284 Noddy, and returnee 49 Rob Bevan took the second with 314 Jason  Barraclough second. Local hero 363 sam Trim took the consolation, and we were all set for the thirty car Final, which was run at a surprisingly fast pace for the conditions, and looked to be going the way of Bond, until a rollover, and on the restart it was veteran 404 Rob Mills who took it, with 27 Dean Quinn second and even greater veteran 194 Alistair Buchan in third, after the race was called early due to a potential injury to 281 Sarah Pearce, who thankfully was fine after a checkup at A and E. Another good field for the Allcomers, and this was won by 491 Charlie Fullbrook, followed home by the rapid Jake Bond Zafira, which was having a great day, and was then passed on to 784 Henry Murray for the Destruction Derby! In poor visibility, a lot of cashing and banging was heard, and in the end it came down to Murray and Roona-in the clash of the seven seaters, which was won conclusively by Roona, his second DD an two days, and the Kia sparked up in celebration!
Four races for the Robins today, and despite some heavy action all day, almost all survived until the final race-the pairs.  Their firs race was wrong-way-round, well mastered by 26 Russ Gillingham, and followed home by 100 Jerry Weeks, while 135 Jack Mintram on his debut took the entertainer award .The second race was the slalom, where the drivers had to dodge the dumper tyres-well except for Jerry Weeks who managed to squeeze between them, netting him the Entertainers Trophy! 364 Darren Feltham won this one, after passing points Champion 304 Tim Weare, which doesn't happen very often! The third race was a Figure of Eight which was won, after many oohs and aahs from the crowd, by Weare with Russ Gillingham second, while Mintram Junior took his second Entertainers trophy. Finally, it was Pairs, and four took part, but the excellent pairing of our two lady racers, 119 Stacey Howe, and 25 Kylie Gillingham absolutely dominated the race, winning at a canter! A great days racing despite the weather!
{loadmodule mod_djimageslider,Facebook slideshow - Mon 29 May 2017}

Click Here to View and Tag the full gallery on Facebook
Special Rods:-
Heat 1 – Andy Hawkins 81,43,426,720,6,556,85,45,364,304
Heat 2 – Dan Latimer 720,612,426,556,43,85,7,45,81,701
Heat 3 – Russell Colenut 426,6,85,304,720,43,701,612,364,45
Final – Russell Colenut 426,701,304,85,43,7,46,556,364,81
G.N. – Ben Brice 701,7,46,426,556,43,85,993,831,81
Robins:-
Heat 1 – Russ Gillingham 26,100,304,364,101,119,392,510,25,108
Heat 2 – Darren Feltham 364,304,119,26,510,101,392,25,100,135
Fig. 8 – Tim Weare 304,26,392,119,101
Pairs – Kylie Gillingham/Stacey Howe 25/119, 392/26,100/108,304/510
Bangers:-
Heat 1 – Jason Moore 739,284,701,852,150,120,36,775,362,26
Heat 2 – Rob Bevan 49,314,199,364,221,129,27,211,262,404
Cons – Sam Trim 363,743,4,595,440,81,194,281,226,511
Final –Rob Mills 404,27,194,314,150,262,211,129,363,775
A/C – Charlie Fullbrook491,743,363,739,284,404,211,701,771,362
DD – Roona 262