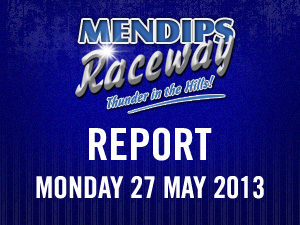 The rain managed to hold off on a dry but very windy afternoon, with Special Rods, Hot Rods, and Unlimited Bangers World Championship Qualifier, and  with  3 Simon Harraway racing in both the Special Rods and the Hot Rods,  12 races being completed by 1645.
There were 15 cars out for the first Special Rod Heat 521 Pip Carter shot into the lead from 2nd with 273 Tom Cambridge slotting in behind from 4th, and 720 Dan Latimer dropping from pole into 3rd, then T.Cambridge got round the outside of Carter to relieve him of the lead! Carter then had about 12 cars breathing down his neck and 700 Les Brice got spat out of the pack down the back straight! 120 Andy Latimer was the first to eventually find a way past Carter, then 440 Steve Griffin managed to get round the outside of A. Latimer to relive him of 2nd place but T.Cambridge was too far ahead to catch! T.Cambridge went onto take the win from Griffin then A.Latimer and 18 Russ Colenutt came home 6th from the back of the grid. There was also 15 cars in the second Heat 386 Adam Ghey got passed 192 Ashley Raymond for the lead. 85 Andy Pincott got on the inside of Raymond spent a few laps side by side with 136 Jason Horseman closely behind (from 8th on the grid) Pincott. Pincott eventually got passed Raymond, then Raymond slipped down the order. Further back they was getting very bunched up and 370 Steve Baker accidently got pushed into Harraway spinning Harraway out of the race. 23 Ross Stuckey got passed 47 Richard Howard in the traffic, and at the half way mark R.Stuckey and R.Howard went round the outside Ghey then Pincott to get into the lead then Pincott dropped down the order. R.Howard then found a way up the inside of Stuckey to relive him of the lead. On the last lap 304 Tim Weare got up the inside of Horseman and just nipped him to the line. R.Howard went onto win from R.Stuckey then Ghey then Weare then Horseman. 14 cars were out for the consolation race 35 Mark Johns took the early lead from Carter, and Harraway was making good progress from 12th on the grid. Further back 46 Angie Harris, 175 Kevin Scammell, 993 Darren Foss and 6 Andy Wadley, were having a good battle, and 173 Alan Cambridge managed to carve his way through them! Harraway then went round the outside of Carter then Johns for the lead. Harraway went onto win from Johns then Carter then A.Cambridge. There were 20 cars in the Final Ghey spun from pole on the first lap giving Pincott the lead and D.Latimer got round the outside of Carter for 2nd and Harraway quickly got into 3rd place. Then T.Cambridge and Carter had a coming together on the turnstile bend leaving Carter in the fence and T.Cambridge stalled on the back straight and was clipped by 210 Paul Barnes, and R.Stuckey ended up facing the wrong way in all the chaos!! Pincott lead the re-start from D.Latimer then Harraway. Whilst Griffin was going round outside of D.Latimer, D.Latimer spun in front of Harraway on the turnstile bend sending Griffin into the fence, leaving D.Latimer stranded the wrong way on the exit of the bend and on the next lap Harraway spun and got stranded facing the wrong way on the middle of the same bend on the inside, making it very difficult to pass on the outside, 43 Andy Howard then clipped D.Latimer. Colenutt then R.Howard eventually managed to pass Pincott on the outside for 2nd and 3rd. 122 Joe Rowe took the win from 12th on the grid, from Colenutt then R.Howard. In The Grand National there were 18 cars with 122 Joe Rowe starting on pole a lap down Harraway and A.Latimer had a coming together and A.Latimer got a black cross and Harraway decided to pay A.Latimer back and spun him round nearly causing a pile up! Latimer and Harraway got summoned to the control box! On the restart T.Cambridge led from Johns then D.Latimer, D.Latimer then did a complete 360 and got stranded and then Wadley spun in front of Griffin and got stranded in the middle of the turnstile bend. T.Cambridge disappeared into the lead and went onto win from Johns then R.Howard and J.Rowe came home in seventh place
There were 9 Hot Rods racing and 282 Steve Hunt got some damage in every race and his car ended with a lot of gaffa tape on it. And the commentator nick named him AKA gaffa tape Hunt!! In the first heat 39 Craig Harris lea from pole, and 718 Colin White passed 258 James Griggs and 205 Mike Norton round the outside, and Hunt not far behind found away passed Griggs then Norton. As White was challenging 3 Simon Harraway, White spun, then Harraway and 55 Alister Lowe had a coming together leaving Harraway facing the wrong way and was collected head on by Hunt which resulted in a stoppage.Harris led the re-start from 125 Mike Hibberd, 18 Larry Langmead, Norton, then Griggs. With 4 laps to go Hibberd pulled off and Harris went on to win from Langmead then Norton. In the second heat Griggs lead from pole with Norton, then Harraway nose to tail behind then Langmead joined the train. Hunt and White went round the outside of Harris then Lowe. Langmead then Harraway went wide letting Hunt then White through to 3rd. Griggs took the win from Norton then Hunt then White. In the Final Norton lead from pole from Griggs. White then Hunt passed Langmead on the inside then they both got round the outside of Harris, then Griggs. Griggs and Hunt spending a while side by side. White then Hunt both struggled to pass Norton round the outside. Further back Harraway and Langmead tried going round the outside of Harris but neither could make it stick and Langmead just pipped Harraway on the line. White took the win from Hunt then Norton.
There were 28 Unlimited National Bangers for the Word Championship Qualifier. The Top Tin awards went to 270 Shaun Baker(slug) in a Volvo estate, and 111 Tom Ruby in a Jaguar
There were a lot of Volvo Estates, and a Volvo Saloon, some Ford Granadas and Cortinas, and Jaguars, 27 Deaan Quinn had a Hearse, and 440 Macauley Mills had a Volvo 740 Limo, and 107 Dan Chiplen had a Yank Tank, and 49 Rob Bevan had a Vauxhall Omega, and 409 Joey Collins was in a very smart Mk 1 Granada.
In the first heat 820 Martyn Perkins led from pole from 517 Scott Weldon. 850 Jamie Wilson was spun and got collected head on and, 112 Mark Wilson got turned heavily into the wall on the exit to the pit bend and was collected by a few other cars, and a lot of drivers was getting spun out at high speed there was a few other skirmishes. Perkins went on to win from Weldon then 62 Buddy James. 24 cars made it out for the second Banger heat Weldon spun pole sitter 329 Kevin Ealson going in to the first corner causing a pile up involving the whole field. Weldon then Ealson was the first to emerge from the pile up and whilst them and a few others waited for a gap to appear before they carried on, 262 Rob Bugler decided to pile in!! A few laps later 27 Dean Quinn helped 409 Joey Collins into the parked cars and was then jacked up by 111 Tom Ruby, and Weldon had to give 820 Martyn Perkins a helping hand through the pile up to make a gap! Weldon went on to take the win from 252 Steve Bugler then Collins then Perkins the only finishers!! 17 cars made it out for the Final which was fairly quiet. 40 Pete Stanley spun Ealson and was collected head on by 246 Aston Burt. Beasley took the win from Collins then Buddy James. 15 cars made it out for the all-comers race into D/D there was a 3 car train involving 107 Dan Chiplen, and 54 Tom Davey, and then Chiplen was then jacked up by Cocks then was jacked up by 114 Liam Lake making another 3 car train! Davey spun Chiplen who was then hit hard by 503 Cliff Worthington. Worthington was then jacked up by Cocks. Buddy James took the win from 241 Liam Cracknell then Collins In the D/D R. Bugler and Cracknell had a head on and were the jacked up by 440 Macauley Mills making Cracknell the filling in the sandwich. The D/D ended with S. Bugler pushing Ruby into a parked car, then S. Bugler was jacked up by Lake, leaving teenager Lake the only car running!
RESULTS - 27.05.13
Hot Rods:-
Heat 1 - Craig Harris 39,18,205,258,718
Heat 2 - James Griggs 258,205,282,718,3,55,18,39
Final - Colin White 718,282,205,258,39,18,3,55
Bangers:-
Heat 1 - Martyn Perkins 820,517,62,409,252,329,54,440,27,246
Heat 2 - Scott Weldon 517,252,329,820
Final - Ritchie Beasley 67,409,62,252,241,49,404,440,40
A/C - Buddy James 62,241,409,67,252,517,404,440
DD - Liam Lake 114
Special Rods:-
Heat 1 - Tom Cambridge 273,440,120,720,122,18,210,41,521,46
Heat 2 - Richard Howard 47,23,386,304,136,85,26,43,173,192
Cons - Simon Harroway 3,35,521,173
Final - Joe Rowe 122,18,47,85,304,41,35,26,173,43
G.N. - Tom Cambridge 273,35,47,440,210,304,122,26,18,43
{faceswipe album_id=12/}