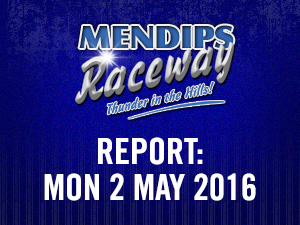 Monday and traditional Mendips Bank Holiday weather befell us, with rain, wind, fog and sunshine, a veritable smorgasbord of elements, made it for tricky and challenging conditions,
BriSCA F2
20 cars took part in the meeting, including visitors Liam Bentham (488), Luke Wrench (560) and reigning English Champion Dave Polley (38). In challenging conditions, Dan Moss (797) took his first win in one of his first appearances of the season, leading home Chris Mikulla (522). A frantic finish befell Heat 2, as wet specialist Lewis Geach (111) took a final lap victory from Nathan Maidment (935) and crossed the line riding the fence up the home straight. The third heat saw Steve Gilbert (542) take the victory from Maidment again, in a much more attritional race with only 8 finishers. The final was the busiest race of the day, with Andy Walker (328) taking up the early running, until Shane Hector (528) took over at around halfway. Hector appeared to be under threat from Mikulla, however Hector held on for a career first final victory with Mikulla and Luke Wrench (560) rounding off the podium. The dry conditions in the Grand National saw Paul Butcher (189) scrap with future son in law Maidment early doors, but it was Butcher who took the win.
Heat 1 – 797,522,126,476,315,828,676,38,189,460
Heat 2 – 111,935,627,542,38,797,328,676,560,528
Heat 3 – 542,935,476,126,627,522,315,560
Final – 528,522,560,189,542,38,126,797,315,111
G.N. – 189,476,676,38,542,315,627,522,935,797
ROOKIE BANGERS
A busy if not controversial day for the Rookie Bangers, Ashley Rice (938) took the win from Mike Rice (138) in the first qualifying heat. The second heat saw Kev Styles (38) inherit the lead from Tom Davey (54) who crashed spectacularly following a head on incident, with Lee (129) and Martin (58) Dalton rounding off the top 3. After crashing out of the earlier heats, Easter Sunday winner Jamie "Cookie" Thomas (70) took the consolation. However neither Rice or Cookie could stop NOddy (284) from taking top honours in the final.
Heat 1 – 938,138,244,701,501,79,49,773,771,34
Heat 2 –38,129,58,189,209,175,154,284,888
Cons – 70,595,527,92,131,69,83
Final – 284,938,70,83,138,244,34,209,154,129
ROBINS
The three wheelers were in exceptional form. Darren Feltham (364) took the opening heat, which concluded in Cliff Worthington (437) scooping the Entertainer award, with a rolling finish! Worthington then took the next heat, but only after Darren Russell (16) multi rolled, and took the Entertainer. The final was a similar affair as Worthington took the win again, and the entertainer was Tom Mannell (333) who got himself involved in quite a pile up and a half! However all eyes were on the Caravan race, which turned into a bit of a "Hare and Hounds" event, with 3 racing caravans and one static lamb to the slaughter down the back straight. Tim Weare (304), Gordon Mintram (101) and Russ Gillingham (26) were towing as the rest of the field chased. Within a lap, Dan Tytheridge (3) and Mannell went through the static caravan. After a spot of jack knifing from Gordon Mintram (101), Feltham sped away to a big lead, until another roll brought out yellows allowing Josh Sale (392) into second. Gillingham was the first caravan home.
{module Facebook slideshow - Mendips Mon 2 May 2016 Meeting}

Click Here to View and Tag the full gallery on Facebook
Robins:-
Heat 1 – Darren Feltham 364,3,304,100,437,26,392,15,119,101
Heat 2 – 437,304,3,26,364,99,119,17,42,16
Final – 437,304,58,3,26,392,364,100,333,99
Caravan Race – Darren Feltham 364,392,3,99,26,304
F2:-
Heat 1 – Dan Moss 797,522,126,476,315,828,676,38,189,460
Heat 2 – Lewis Geech 111,935,627,542,38,797,328,676,560,528
Heat 3 – Steven Gilbert 542,935,476,126,627,522,315,560
Final – Shane Hector 528,522,560,189,542,38,126,797,315,111
G.N. – 189,476,676,38,542,315,627,522,935,797
Bangers:-
Heat 1 – 938,138,244,701,501,79,49,773,771,34
Heat 2 – Kevin Styles 38,129,58,189,209,175,154,284,888
Cons – Jamie Thomas 70,595,527,92,131,69,83
Final – 284,938,70,83,138,244,34,209,154,129