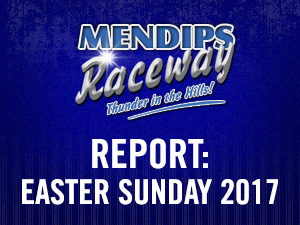 A bright, if not bitter day greeted Easter Sunday racegoers, for a day of action with F2, Hot Rods and Rookie Bangers playing on the bill…
BriSCA F2
An outstanding display of F2 from all corners of the country came to contest the Mendips WCQR, with an Irishman, Bradley McKinstry (NI747) and Scotsmen, Pete Davidson (922), regular visitor, Scottish Champion Dennis Middler (41) and an unadvertised visit from multi champion, Gordon Moodie (7).
We also saw the return of the Mendips Master, former track champion Chris Bradbury (886). Heats went the way of Nathan Maidment (935) and Adam Rubery (700) and the consolation was a tussle between Jamie Avery (126) and Matt Stoneman (127) which Stoneman got the better off.
The Final was for the Gerry Dommett Memorial Trophy, and after early laps were led by James Rogers (544) and Ryan Sheahan (325), Nathan Maidment (935) took over about halfway and it looked likely to make it a third final in 4 meetings. However in the dying laps, Maidment got slowed up by an incident on the exit of turn 4, which allowed Adam Rubery (700) to get on terms, and to take a last bend assault, and Rubery took the win, from Maidment, with Gordon Moodie (7) taking third.
The National was won by James Rogers (544).
ROOKIE BANGERS
An impressive first run out for the Rookie Bangers, however if not a bit teasy with a driver or two not following the nudge and spin rules. After a heat win for Jason Moore (739), silver roofed Dan Rice (138) got the better of a devastating heat. Aaron Loader (362) won the last chance. Come the final, it was Adam Marshall (677) who took the win. Ben Brice(701) rounded off the day with a win in the Allcomers.
HOT RODS
A useful showing of just under 10 hot rods graced the Mendips sunshine. After a titanic tussle between Mark Shelper (788) and Steve Hunt (282), it was veteran Hunt who the better of a coming together. Track Champion James Griggs (258) then showed his dominance by taking Heat 2, but in the final, Griggs and Jamie Bryant (611) sped away lapping the field twice. Griggs took home the CWS Mears Trophy for his efforts in an outstanding display
LADY BANGERS
The annual Ladies FORDS fundraiser turned into a bit of unintentional crashfest, with two coming togethers! Jordan Edwards took the win from the back from Lou Benjafield, with the podium completed by 2016 winner Paula Thomas. Top fundraiser was Emma Quinn, and with goodies and momentos sponsored by Tekkers. An excellent £1,155 was was raised overall – top work ladies!
Jon Hoare
{loadmodule mod_djimageslider,Facebook slideshow - EasterSunday 16 April 2017}

Click Here to View and Tag the full gallery on Facebook
Hot Rods:-
Heat 1 – Steve Hunt 282,258,788,611,117,57,5
Heat 2 – James Griggs 258,117,611,28,57
Final – James Griggs 258,611,5,28,57
Stock Cars:-
Heat 1 – Adam Rubery 700,7,101,522,38,83,468,544,77,328
Heat 2 – Nathan Maidment 935,560,886,747,641,111,464,828,896,398
Cons – Matt Stoneman 127,126,606,325,53,488,516,762,660,460
G.F. – Adam Rubery 700,935,7,560,38,126,747,522,127,846
G.N. – James Rogers 544,7,560,325,522,38,101,886,747,846
Bangers:-
Heat 1 – Jason Moore 739,784,440,41,129,27,894,677,218,258
Heat 2 – Dan Rice 138,199,100,175,938,242
Cons – Aaron Loader 362,624,775,701,304,281,956
G.F. – Adam Marshall 677,739,41,100,258,701,218,938,175,775
A/C – Ben Brice 701,784,41,775,258,881,743,100,27,199