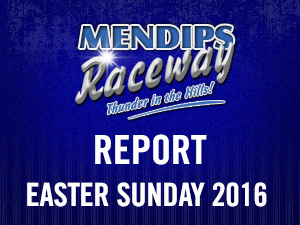 Easter Sunday saw the elements work in our favour, despite the weather throwing in a few showers to dampen proceedings, the meeting was run mostly in pleasant, if not blustery conditions.
BriSCA F2
26 cars were present for a World Championship qualifier, and a 2 from 3 format was deployed.
Heat One was run under one of those showers, allowing Crewe's Luke Wrench (560) to disappear into a hefty lead, until he clashed spectacularly with Jon Palmer (24). This allowed reigning World Champion Kelvyn Marshall (101) to take over the lead and take the win.
The second heat was a near flag to flag affair for Dawlish's Paul Rice (890), who sped away into the distance and was not seen again until the chequered came out!
The third heat was also in a similar veil as again Rice took to the lead, however Wrench was not to be denied a win this time.
So all eyes on the all in final and it got off to an explosive start with Sam Weston (468), Steve Gilbert (542) and the aforementioned Wrench (560) early casualties. On attempt two, it was track debutant Joe Marquand (689) who took the early laps, before Rice took over and pulled out a half lap lead. Within the last 5 laps it was apparent that track Champion Neil Hooper (676) was catching. However Rice took the win and an impressive 29 point haul to his World Championship Qualifier total, and also taking the Gerry Dommett Memorial Trophy.
The day's events were rounded off with a second win for gold roof Marshall in the GN.
HOTRODS
6 cars raced including a last minute change as James Griggs (258) borrowed the car of Jeff Johnson (536). Indeed it was Griggs who sped away, however Colin White (718) played a game of cat and mouse and eventually took over, and held on despite a last minute collision between Mike Norton (205) and Mark Shelper (788)
Heat 2 saw White speed away into an unassailable lead.
All eyes were on White for the CWS Mears Trophy final, however, whilst the early lead was disputed by him,Shelper, Dave Tossell (117) and Griggs, the White car ailed to the middle, allowing Shelper to get the better of Tossell to take the win.
ROOKIE BANGERS
A busy field for the first time in 2016 for the Bangers. Jamie "Cookie" Thomas (70) was top of the shop, taking a heat and final double. He took the first heat in a frantic race. The second race was won by former unlimited Banger World Champion Jody Jeanes (133). After those destructive heats the consolation was a busy affair, with Tom Davey (54) taking the win from Ben Brice (701). Thomas then led the final at a canter after all challengers got caught up in a turnstile bend pile up. The Allcomers came under darkened skies and the shower came mid way in the race. This was no hinderance for Ricky Daunton (777) who had a good run all day, who took the win from Ashley Rice (938).
{module Facebook slideshow - 2016-28-Easter-Sunday-2016}

Click Here to View and Tag the full gallery on Facebook
RESULTS
F2
Heat1    101    677    464    522    689    606    627    828    920    328
Heat2    890    101    315    468    41    846    606    935    476    328
Heat3    560    890    522    676    24    846    542    627    700    315
Final    890    676    315    542    24    700    935    677    476    689
GN    101    24    846    476    935    542    606    828    890    488
Grade    White    689    Yellow    890    Blue    677                
HOT RODS
Heat 1    718    258    117    788    578    
Heat 2    718    117    788    205    258    578
Final    788    117    258    205    578    
ROOKIE BANGERS
Heat 1    70    188    938    816    175    27    34    771    304    244
Heat 2    133    79    777    294    527    114    773            
Cons    54    701    911    154    444    199    455    35        
Final    70    816    244    701    154    444    911    773    125    114
A/C    777    938    329    771    701    244    304