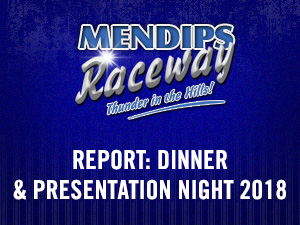 Over 150 people gathered at the Webbington Hotel for another nights of feasting and fun on February 3rd 2018. There was, as usual, a display of race cars, and an excellent selection it was. Nathan Maidment (935F2) had completed a rebuild of his very successful, Polleysport built car to such a standard that most people thought that it was a new car, and will be heading his charge for the World Championship at Mendips Raceway on September 8th after a very successful British Championship in 2017. A new Special Rod for the returning veteran driver Andy Latimer (120), featuring a Ford Zetec power unit similar to that pioneered by son Dan in 2017, and finally a rare Lada classic Banger for Aaron Loader (362) which was beautifully prepared and sign-written.
After the presentation of the many Points and West of England Championships trophies, there was a surprise gift for Richard Elliott Turner, who is leaving after almost twenty years of service having carried out the role of tractor driver, flag marshall, and more recently, overseeing the Junior Rods formula. Following this, there was another presentation of a Lifetime Achievement Award to Paul Butcher(189) who has recently called time on a very long Brisca F2 career, and had been delighted to have finally won a Final at his home track, and it was the Maidment family Trophy, which made it so much more important. He was then asked if he would perform the duty of Grand Marshall at the World Final in September, which he gratefully accepted.
Then it was the presentation that everyone was waiting for-Driver of the Year 2017. This was voted on the night from a list of ten nominees, and announced in reverse order-3rd-Ben Brice (701) , 2nd Macauley Mills (440) and the surprise clear winner was Banger driver Tom Pearce (199), for his commitment, good humour and great attitude. Tom then presented all of the ladies with flowers, and the decks were cleared for dancing to the excellent live band.
Later in the evening the much anticipated 'Best Bits' show was presented by Andy Page and Chris Dalton, who announced his retirement as resident video man at the end of 2018. Finally, the raffle expertly organised by Nicci and Jo raised an excellent £300 for Cancer Research UK.
{module Facebook slideshow - Dinner-and-Presentation-Evening-2018}

Click Here to View and Tag the full gallery on Facebook