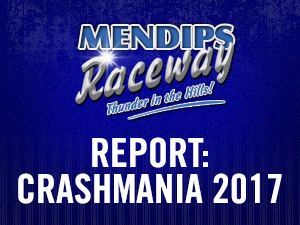 Pink Day at Mendips and with biblical monsoons all around, someone was clearly smiling on us, as we avoided the worst of the weather, with small spits and spots. More pink than you could shake the stick at – the annual fundraiser took to the track with cake sales, soap box races, tyre tossing and hot lap passenger rides.
F2 – Pink Ribbon Trophy
23 cars turned up for the annual Pink Ribbon Trophy. Steve Gilbert (542) took two heats in his brand new car – the "Silver Bullet", and in the 3rd heat, it was a career first win in Formula 2, for former Saloon Stock Car driver Ben Goddard (895). The Pink Ribbon Final was sent away by Andy Maidment, and with it, a full grid. Early doors, Paul Butcher (189) took over the lead and sped away in greasy conditions.
Behind 3 blue tops, Gilbert, Paul Rice (890) and defending title holder Nathan Maidment (935) scrapped amongst themselves, and the red tops struggled in the tricky surface. Butcher pulled out an unassailable lead taking the win from Rice, Gilbert and Maidment. Post race, Butcher proclaimed it was the first final win since his debut at Mendips 36 years ago, and thus completed the Westcountry "Grand Slam" of winning a final at all the venues.
After receiving the trophy from future son in law Nathan Maidment's, daughter Francesca was first on site for a hug for her dad – a great early wedding present. Maidment then took the GN
Filo's Crashmania
We had 9 teams competing in Micro Banger format, with big hits flying in from the get go. Each team put up 3 drivers in each heat. Within a lap, ex Junior Rodder Cameron McColm (134) rolled over – and those who thought it was going to be tame were very much mistaken. First blood went to "Wallie Wash" with Charlie Randall (333) taking the win in his Micra.
The second heat went to Quality Assured and Aaron Charles (17) taking a faultless win. Randall took the 3rd heat from the entertaining Scratchy (74) who's #heatmanstea team were highly entertaining. Harry Thompson (956) won a truncated heat 4 after Lalia Donlon (715) took a nasty spill, which saw her extracted from her car.
Final time and the top 7 teams lined up, with plenty of huge hits going in, one could have been mistaken for thinking it was a DD. Hard hits galore, and it Randall who was victorious again.
Ultimately it was a win for the commentators' favourite name "Wallie Wash" – with Randall's three wins that took the overall title.
In the DD, it came down to 3 cars, but in a fitting end to the day the winner of the "Spirit of Filo" Award, Kenny Gabriel Jnr (720) took the win.
Special Rods
A good showing for the Sierra Squad, with Dan Latimer (720) adding to his tyre tossing win in heat 1.
Heat 2 saw guest appearance  from Banger  boy Dean Quinn (27) who took the win.
Heat 3 saw a win for cult hero "Scania" Dave (831) who had a grin as big the Severn Bridges when he crossed the line.
Come the final, Latimer was again the winner, doubling up a good day for the local driver.
{loadmodule mod_djimageslider,Facebook slideshow - Crashmania 2017}

Click Here to View and Tag the full gallery on Facebook
F2:-
Heat 1 – Steven Gilbert 542,890,522,189,126,035,468,828,325,398
Heat 2 – Steven Gilbert 542,189,127,890,126,245,979,762,660,87
Heat 3 – Ben Goddard 895,935,127,398,522,468,979,111,245,762
Final – Paul Butcher 189,890,542,935,127,522,126,979,828,245
G.N. – Nathan Maidment 935,127,890,126,522,979,828,189,460,328
Special Rods:-
Heat 1 – Dan Latimer 720,556,6,75,612,7,993,81,775,45
Heat 2 – Dean Quinn 27,304,720,45,993,6,364,46,775
Heat 3 – Scania Dave 831,75,304,81,46,556,612,7,364,27
Final – Dan Latimer 720,304,244,7,81,993,556,364,775,224
Micro Bangers:-
Heat 1 – Charlie Randall 333,720,74,17,746,440,210,956
Heat 2 – Aaron Charles 17,210,519,74,45,440,362,5,55,720
Heat 3 – Charlie Randall 333,74,440,7,362,720,189,129,852,519
Heat 4 – Harry Thompson 956,17,746,284,7,199,262,189,692,210
Final – Charlie Randall 333,362,440,746
DD – Kenny Gabriel 720