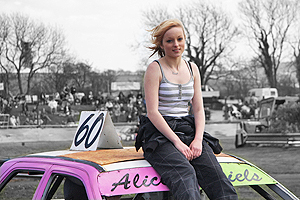 The first day of the two day Easter weekend at Mendips Raceway was greeted with glorious spring sunshine and a full pit area and a good afternoon of racing from the BriSCA F2 Stock Cars, in their World Championship qualifying round, Hot Rods and Rookie Bangers.
The F2 Stock Car entry of 55 cars included drivers from as far away as 641 Dennis Middler from Scotland and just about every point in-between. The three qualifying heats went the way of 742 Nick Rogers and 116 Ashley Rundle from the lower grades before National Points Champion 886 Chris Bradbury came through to take heat three.
The consolation saw several yellow flag periods and eventually it was 877 Eddie Darby who took the win. Rundle was soon into the lead in the Final, which also doubled up as the annual Gerry Dommet Memorial trophy. The Cornish teenager…
pulled impressive clear once again, and although equally rapid yellow graded drivers 779 Cameron Pugh and Rogers were able to keep him in their sights, it wasn't enough to mount a challenge.
With all this the star graded drivers appeared to be well and truly left behind, struggling to make any real progress or inroads. They were all probably praying for a yellow flag and it came when 430 Simon Edwards and 877 Darby tangled on the home straight. It left Edwards stuck right in the centre of the track and thus the yellow flags were shown.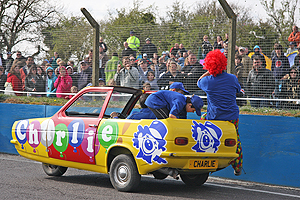 Rundle undertook a very slow re-start lap, and this proved to be his undoing as it was possibly too slow and Pugh was able to pounce soon after the green flag, and Rogers went through the same gap. Behind the star grade battle became even more frantic and fierce with Bradbury being spun a complete 360 degree in the middle of it all. Pugh finished up clear of Rogers to take his second feature race win of the season whilst Rundle completed the best day of his BriSCA F2 career with third.
The Grand National needed a complete re-start after a big pile up on the car park bend and eventually it was Bradbury who came through for his second win of the day. A dozen Hot Rods added to the flavour of the speed and action day with some good racing for the annual CWS Mears Trophy. 718 Colin White came through to win all three races, but it was not as easy as it looked, as in heat one he had to catch and pass fellow veteran 734 Ralph Sanders. This was after there was a yellow flag when 34 Glen Sanders' steering broke and he went hurtling into the plating, ending his meeting very early.
In heat two it was former champion 205 Mike Norton who proved a tough one to catch for White and then in the Final, 18 Larry Langmead proved to be the man and it was only in the closing stages that Colin went round the outside of him to lead. Langmead held on for a good second and 88 Alan Shelper was third.
The second Rookie Banger meeting in succession saw 37 cars in attendance and once again a vast array of cars, paint jobs and the drivers ranging from the inexperienced to veterans and past World Champions. Such were the number of cars in heat one, even under the nudge and spin rules, there was action all the way until it came to a track blockage on the car park bend to bring out the yellow flags. This did cause some confusion however, with some drivers feeling they were out of place at the re-start, but when it finally did get to its conclusion it was a clear win for 282 Steve Hunt.
Heat two saw 93 roll his car on to the centre after being spun on the back straight and he collected his team mate 92 car as he did so! Hunt went on to take his second win of the day, but then failed to appear for the Final. 133 Jody Jeanes soon got into the lead and was looking comfortable to win when 242 Paul Quinn crashed and the race had to be brought under yellow flags in the interest of safety. Jeanes however was able to hold on for the victory with 58 Martin Dalton making second and 458 Kenny Dalton third, the latter then went on to win the Allcomers.
RESULTS - 12.04.09
F2 Stock Cars:-

Heat 1 - Nick Rogers 742,821,676,677,127,254,606,189,76,14
Heat 2 - Ashley Rundle 116,779,642,783,628,315,167,530,641,756
Heat 3 - Chris Bradbury 886,152,935,812,469,430,507,710,438,544
Cons - Eddie Darby 877,832,105,497,641,270,14,126,76,53
Final - Cameron Pugh 779,742,116,189,677,152,676,877,886,642
G.N. - Chris Bradbury 886,246,677,14,812,152,105,877,315,270
Hot Rods:-
Heat 1 - Colin White 718,734,117,26,18,205,88,35
Heat 2 - Colin White 718,205,734,88,26,117,18,35,24
Final - Colin White 718,18,88,26,117,205
Rookie Bangers:-
Heat 1 - Steve Hunt 282,93,941,186,133,404,396,242,364,58
Heat 2 - Steve Hunt 282,58,458,49,68,396,8,710,242
Final - Jody Jeanes 133,58,458,941,441,396,186,582,787,49
A/C - Kenny Dalton 458,441,58,404,270,49,396,787,8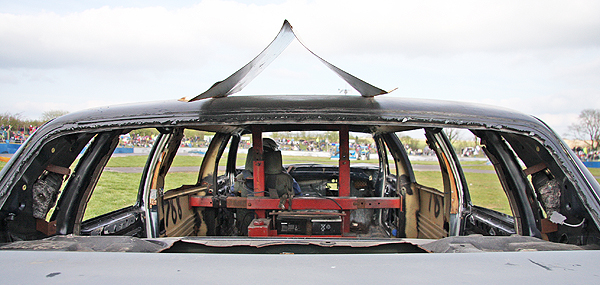 A superb sunny Bank Holiday Monday brought a huge crowd to the Raceway to see a four formula meeting of MiniRods, Special Rods, Robins, and a first ever Hearse and Limo meetings for the Bangers.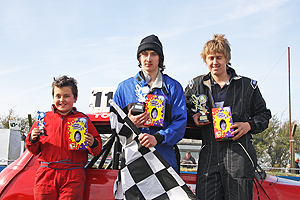 The MiniRods had two heats won well by Ross Stuckey (23) and an improved Jordan Puddy (22) who held off Tony Munden (11) the current points leader. After a heat crash involving himself and Sam May (501), who was loaded for ignoring the black flag, Aaron Charles (7) took the Consolation and fourth in the Final, which was back to form, with Munden winning from Steve Sayer (60) and an excellent perfomance for third place for Sam Bartlett (91).
The Special rods also had some shock results, with three white tops filling the places in the Final-won by Nick Simons(930), with Mark Thompson(144) second and Lee Robbins(17) third, after Alan Cambridge (173) had won Heat two and Robin Bath(25) the Consolation. The use of Yokohama tyres has made the racing much closer, and unpredictable.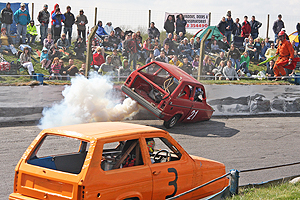 Robins were entertaining, with Mike Jones (59) right on form with his wreck from last year still well on the pace, and daughter Katie(159) had her first outing and finished her races.
Dan Tytheridge (3) won the first, and Jones the second heat.
National Hot Rod star Shane Brereton(348) and his son John (24) took part, which was a bit of a culture shock, but they seemed to enjoy the experience of racing on three wheels!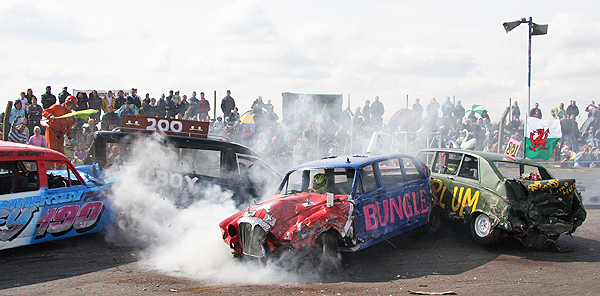 The Matches and Despatches meeting was scheduled as two heats, a final and a figure of eight race into a destruction Derby, and the eighteen cars that eventually arrived put on a tremendous show. Top Tin Awards were made to Pikey (190) for his Daimler, 127 Pete Wake for a similar car, Del Boy (900) for his Granada, Plod (499) for his unusual 6 door Granada Mk 3, and to Darren Feltham (364) for his incredible paint and graphics on a Lincoln Town Car.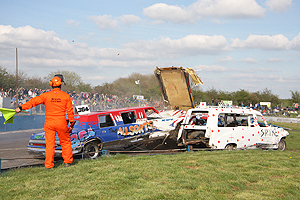 Once down to business though, it was action all the way, with just five finishers in the first race led home by Marcus Goldsmith's Granada Hearse, and Spike (728) in a Daimler hearse.
Rob Mills (404) won the second in a Granada Mk3, followed home by Scott Weldon (517), with only five finishers again.
The Final was won by Martin Dalton (58) in his Daimler, with Mike Cocks (162) and Andy Beavan (83) his placemen, but it featured a superb jacking train on the home straight featuring Dan Chiplen (Lincoln), Sam Trim(Granada Hearse) Goldsmith, Mills, and Feltham with the killer shot that put Marcus rear wheels firmly against the cage, when Spike arrived to power the hearse into the back of Goldsmith's Lincoln.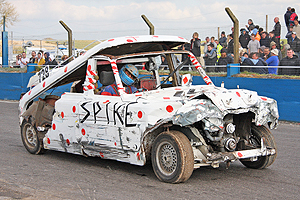 When the cars came out for the final event, there was a brief wait while Pikey was given time to resurrect his Daimler, and Spike his hearse, and the crowd actually applauded as the two cars dragged them selves up the pit road and onto the track!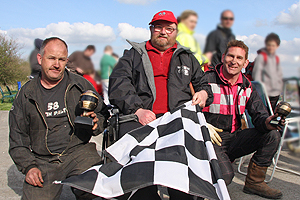 As soon as the race started, Spike's hearse shed its roof, and then seemed to gain speed, and managed a tremendous hit on the cross, and then the event turned quickly into a DD, which, along with the race itself, was won by Andy Beavan(83) in his Granada Mk2, which, had it survived, hads been promised to the returning Dominic Bubblegum, for the £2000 Axminster Power Tools THUNDERBOLT!
RESULTS - 13.04.09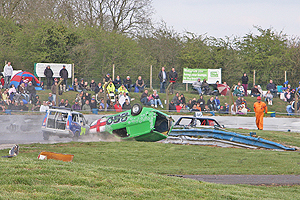 Minirods:-
Heat 1 - Jack Stuckey 23,60,43,127,91,5,61,4
Heat 2 - Jordan Puddy 22,11,56,21,15,404,18,796
Cons - Aaron Charles 7,31,9,121
Final - Tony Munden 11,60,91,7,127,23,22,15,9,43
Robins:-
Heat 1 - Dan Tytheridge 3,87,59,58,250,658,24,46,348,39
Heat 2 - Mike Jones 59,87,3,46,58,658,159,39
Final - Mike Jones 59,87,58,46,658,159,39,348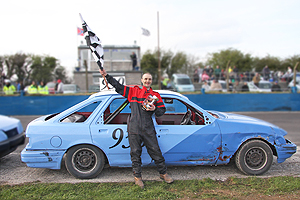 Bangers:-
Heat 1 - Marcus Goldsmith 198,728,404,83,58
Heat 2 - Rob Mills 404,517,162,364,83
Final - Martin Dalton 58,162,83,179
A/C - Andy Bevan 83
DD - Andy Bevan 83
Special Rods:-
Heat 1 - Lee Robbins 17,42,23,19,47,151,198,33
Heat 2 - Alan Cambridge 173,8,144,48,930,43,10,41
Cons - Robin Bath 25,83,407,30
Final - Nick Simons 930,144,17,42,47,43,23,19,173,33