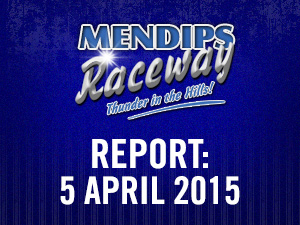 The Easter weekend began mainly in spring sunshine where the pit area very busy with good entries from both the BriSCA F2 Stock Cars, Bangers as well as a showing from the Hot Rods.
The entry in the BriSCA F2 Stock Cars was significantly up on the total from last year and included plenty of long distance travellers with a trio from Scotland the furthest headed by World Champion 1 George MacMillan joined by 102 Willie Dreager and 641 Dennis Middler whilst noteworthy that Cornish brothers 797 Dan Moss and 979 Paul Moss had also made the overnight journey from Scotland having raced at Cowdenbeath the previous evening.   Of the 44 cars present, 17 were star graded, which was the best at this meeting for a number of years.
The first heat saw two yellow flags with two of the star men in trouble, firstly 522 Chris Mikulla in disarray on the home straight and then 542 Steven Gilbert had a heavy coming together with the plating on turns three and four.  464 Matt Linfield had the lead at the time of these suspensions and went on to hold sway all the way to the flag.  The second heat also saw a yellow flag and it went on to be a win for 111 Lewis Geach and 797 Moss continued the yellow graded domination of the meeting with a victory in the consolation.
The annual Gerry Dommet Memorial Trophy Final was a highly spectacular race with 29 F2's taking to the Mendips Raceway.  745 Lee Morgan was the early leader ahead of Linfield who then took up the running.  The yellow graded drivers looked to be holding sway at the front as the well populated star grade, as expected appear to be hampering each other's progress.  However a yellow flag when 254 Richard Beere found himself stranded on the pits bend, and then another swiftly thereafter when 154 Michael Green was also left in a dangerous position brought the pack closer and to race leader Linfield's tail.   He continued to lead at the re-start which was just prior to halfway and despite several attempts from Geach to dislodge him, he opened out a gap once again.  As the laps ticked off, the one making the significant moves was 560 Luke Wrench and he passed Geach with two laps to run and then set off after Linfield.  But, 464 was just that little bit too far ahead for Wrench to land a telling last bend attack, despite a spirited effort and Linfield took the win to record a maximum World Championship qualifying score.  Wrench, on what was his first visit to Mendips made second and Geach was third.  
The Grand National got off to a spectacular start, and an unfortunate one for 315 Justin Fisher as he was squeezed against the plating by the bunched traffic and rolled, whilst hooked with 846 Ashley England.   At the complete re-start there were two more caution periods with 606 Andrew Palmer and then 154 Green stranded across the track and ultimately it was 560 Wrench who completed a good day with a win, the only star man to do so all day, albeit only after first across the line Geach was disqualified for having a loose wheel guard on his car,
Just under 50 Rookie Bangers and they had plenty of incident and accident, as is always the case, despite them being the nudge and spin form of the sport.  There was plenty of both!  After an unfortunate start to heat one when 772 Ashley Higgins was collected side on and the race needed to be suspended, 244 Ian Frampton headed the pack until passed by 28 Steve Linley who went on to win by some distance. 
The second heat featured World Champion v113 Chris Jeanes, although not for long as a hit from 59 Mike Jones ended his race.  929 Sam Baker went on to win before 438 Mike Rice won the consolation.  The Final saw Baker lose time early on as 242 Ben Ellacott and 28 Linley came charging through the pack, until Ellacott retired.  Linley then took up the running and once again opened out a large lead on his way to a comprehensive heat and Final double of wins in his rapid Ford Focus.   There was lots going on behind but in it all 938 Ashley Rice made second and 929 Baker recovered for third.  
Unfortunately the Allcomers race had to be abandoned after a large – and illegal – hit from 7 Aaron Charles on 267 Luke Baber required him to be extracted from the car.  This form of Banger racing is nudge and spin, not got 'glory' hits such as this and Charles was dealt with accordingly by the Steward.
Once again a slightly disappointing seven Hot Rods, but again some good and close racing.  There is no getting away from the fact that more cars are needed to attend, however.  Repaired from the damaged he received at the opening meeting 788 Mark Shelper won the first heat before 258 James Griggs held off the chasing pack to take heat two.  The CWS Mears Trophy saw 125 Mike Hibbert draw the front and it came down to a two car battle at the front between he and 282 Steve Hunt and try as me might, the latter just couldn't get past.  Thus is was Hibbert's win from Hunt and Griggs.
{module Facebook slideshow - MendipsRaceway5April2015}

Click Here to View and Tag the full gallery on Facebook
RESULTS - 05.04.15
Hot Rods:-
Heat 1 - Mark Shelper 788,536,125,282,205,258,278
Heat 2 - James Griggs 258,282,125,205,536,788,278
Final - Mike Hibberd 125,282,258,205,788,536,278
F2 Stock Cars:-
Heat 1 - Matt Linfield 464,604,606,476,677,100,560,761,896,740
Heat 2 - Lewis Geach 111,38,154,101,768,126,315,745,77,627
Cons - Dan Moss 797,83,954,676,783,542,254,76,641,522
Final - Matt Linfield 464,560,111,476,100,101,761,783,676,38
G.N. - Luke Wrench 560,627,38,101,676,542,768,126,797,190
Rookie Bangers:-
Heat 1 - Steve Linley 28,244,54,242,129,38,113,183,58,175
Heat 2 - Sam Baker 929,70,938,300,79,775,154,59
Cons - Mike Rice 438,816,34,7,190,850,45,258
Final - Steve Linley 28,938,929,34,816,438,58,154,79,175