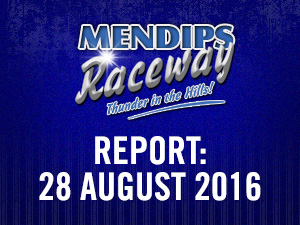 So, the Bank Holiday weather did its usual trick of fooling us into rubbish weather, as we were greeted to mizzly conditions, but thankfully it brightened up as the day progressed to a proper belter of a day.
LADIES RACES for FORDS CARE
The first race of the day was a fundraiser for the excellent FORDS fund for injured drivers and staff.
The girls got their chance and 14 ladies took to the track for a blast around. Nicola Raymond (151) sped away to an early lead, until a suspension halfway for Sam Kennard (455).
Raymond continued to lead until disaster occurred as her car slowed on the last lap, that allowed Paula Thomas (517) to take the win.
The top 5 in the "amateur" race had the privilege of mixing it with the pros. Sophie Fasey (186) took  the lead and was never in threat, even as Leanne Kerry (242) and Katie Chambers (384) came to grief, and Fasey won by a lap.
UNDER 1400 NATIONAL BANGERS
A fair field of little engined cars took to the track in challenging conditions. Macauley Mills (440) was undoubtedly the star of the show with 2 wins, with the final being truly dominant, lapping the field not once, but twice. Sophie Fasey (186) finished 2nd.
In the Allcomers, Dave Quinn (242) took the  win.Birthday boy Dean Quinn (27) started celebrations with a win in the DD
JUNIOR RODS
The changeable conditions added additional problems. A 2 out of 3 format was deployed. Becky Pearce (66) led from Charlie Ayles (300) early doors. Ayles then took the win and followed it with a win in the second heat after a scrap with Daniel Kent (376).
Pearce then took heat 3 from Adam Headland (108).
In the final, the early laps were led by Taylor Sealy (730) from Jack Mintram (101). A caution was called for track championship leader Josh Weare (36) and Jacob Anderson (285).
Come the restart Mintram sped away to a lead, until Pearce and Jack Sear (854) clashed, which culminated in the Cornishman ending up on its roof! Ayles and Daniel Kent (376) then charged forward, however, Ayles was then disqualified for excessive and repeated contact. Kent then took the lead and Mintram took an excellent second.
BriSCA F2
A slightly disappointing turnout of 20 cars turned up. Chris Mikulla (522) won heat 1 after Matt Linfield (464) led the early laps. Linfield then took the win in the second heat, with Lewis Geach (111) finishing in second
The final, for the Marion Bennett Trophy saw2 false starts which wiped out a fair few cars before the green got going, including fancied favourite Chris Mikulla (522) and Sam Weston (468). Once they got going the early lead was taken by Linfield before Nathan Maidment (935) took over.
However it was Dave Polley (38) who took the win from travel companion George Macmillan (100), with Maidment in third for a Polleysport chassis lock out of the podium places.
Grand national saw Chevy Mills (538) lead until 2 to go, when National Points Champion Macmillan took his first win of the season, and trophy on his merry way back to Scotland
{module Facebook slideshow - Sunday 28 August 2016}

Click Here to View and Tag the full gallery on Facebook
FORDS Care Ladies Bangers Race:-
Race 1 – Paula Thomas 517,384,242,151,504,284,107,101
Race 2 – Sophie Fasey 186,517,384,319,151,284,624,173,258,504
Junior Rods:-
Heat 1 – Charlie Ayles 300,66,285,36,376,854,730,70,35,75
Heat 2 – Charlie Ayles 300,376,108.854,21,36,34,28,10,101
Heat 3 – Becky Pearce 66,108,285,88,730,34,101,77,35,75
Final – Daniel Kent 376,101,88,34,225,77,75,730,21,108
F2:-
Heat 1 – Chris Mikula 522,38,935,100,575,538,542,189,745,828
Heat 2 – Matt Linfield 464,111,38,522,100,828,745,575,538,468
Final – Dave Polley 38,100,935,542,575,464,111,538,189,828
G.N. – George McMillan 100,538,522,542,935,464,38,575,111,745
Bangers:-
Heat 1 – Macauley Mills 440,363,7,27,256,284,81,189,55,258
Final – Macauley Mills 440,186,55,27,173,199
A/C – John Quinn 242,262,440,7,256,199,81,27,775,186
DD 27 Dean Quinn