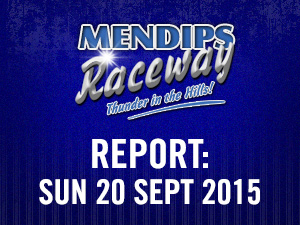 On a benign early Autumn afternoon weather wise, it was the penultimate meeting of the season at Mendips Raceway where four formulae raced in a 15 race programme, two track championship points titles were settled and there was a first ever appearance at the track for the ORCi Stock Rods.
The BriSCA F2 Stock Cars saw a total of 22 cars in attendance, and the first event was the Rookies Reward Final open only to those white or yellow graded drivers who had qualified via the three rounds earlier in the season.  
It was Lancashire's 53 Phil Mann who took the win, and with it the tyres courtesy of Yokohama and enhanced prize money.  Despite an early tangle (which also ended 937 Matt Issac's day prematurely) 828 Julian Coombes and 845 Andrew Morgan made up the other trophy (and tyre positions)   
The remainder of the meeting saw all cars in all races, and a five way battle for the track championship for the first time in a number of years, although with 783 James Rygor absent it essentially became three with 522 Chris Mikulla, 676 Neil Hooper and more outsiders 542 Steven Gilbert and 111 Lewis Geach all mathematically possible of winning.  
It was 476 Ryan Wadling who took heat one before heat two featured a complete re-start after 627 Gary Sillifant rolled on turn one after a tangle up amongst the blue grade.  Gilbert did all he could to stay in touch in the points by winning, but with Hooper and Mikulla in the top ten it was edging towards a battle between these two.  
The Final saw an early yellow flag for 460 Matt Weston stranded and it was son 468 Sam Weston who headed the way until the halfway stage when 476 Wadling took over, tracked by 83 Sy Harraway.  
Gilbert was again the pic of the stars and made it up to second but could do nothing about Wadling who took the victory, to book himself a return to the star grade.  Gilbert in second and Harraway in third but with Hooper and Mikulla fourth and fifth it was to be down to them to decide the points on the very last race of the season.  
468 Weston took the lead early on and it was to be one he wasn't to lose, whilst Hooper made second place, two places ahead of Mikulla which confirmed him as the new track champion.
Just like the F2 Stock Cars, the Hot Rod points was very close too, it would have been a four way battle but 788 Mark Shelper was not present, meaning it was down to 258 James Griggs, 282 Steve Hunt and outsider 205 Mike Norton.  
Norton took the victory in heat one by a clear margin, but with Griggs and Hunt not too far behind, despite the win, it was then down to these two.
Heat two was very frantic with 904 Wilson Hamilton fending off 718 Colin White as well as Hunt, Griggs and 125 Mike Hibbert for lap after lap to take the win.  But, with 258 and 282 finishing one place apart, it was down to the very last race of the season to decide the points.   
117 Dave Tossell held sway at the front, until he was caught by the pack, and just as in heat two it was a frantic dice at the front.  Hunt looked to be in with a chance, but 718 White fought his way back up to second to challenge Tossell and went around him just before halfway to take the lead, and it was one he wasn't to lose.  Hunt had the clear measure on Griggs this time, but his second place to White wasn't to be enough.  Hibbert made third but Griggs' fourth was enough for him to secure the points by four.
17 Stock Rods for their first appearance, which was long overdue and it featured drivers from throughout the southwest and south coast as well as World Champion 83 Michael Bethune and 91 Jim Pithcairy all the way from Scotland.   
The solitary heat race got off to a bad start for 181 Lindsay Jones as he crashed heavily on turn one to bring out the yellow flags.  315 Trevor Ashworth led the re-start until his engine expired and then Pithcary took over until he too retired with a sick sounding engine.  It was then 626 Richard Edmonds who took over and despite pressure from 441 Tom Major he held on for victory.   
The Final was a very scrappy affair, with a succession of yellow flag caution periods following crashes, broken cars and debris.  It came down to a large scrap at the front between Pithcary, 437 Lewis Trickey, 306 Neil Truran and 909 Justin Washer.  
It got all the more frantic until they all came to grief on the exit of turn four and into the home straight.  The red flags were called and the race declared.  It led to a great deal of confusion but it was Trickey who was declared the winner ahead of Truran and Washer.  
Despite the large amount of damage in the Final, there was still a decent sized field for the Grand National.  Despite immense pressure from both the Scots Bethune and Pithcary, 909 Washer held on for the win.
It was the last World Championship qualifying round for the National Bangers, and the only one to be for unlimited cars.  There was never likely to be a large entry, but the 15 drivers that were in action did produce an array of cars and the meeting had its moments.  
Brothers 252 Steve and 262 Rob Buglar had already pretty much secured their World Final places, but they made sure of it by sharing the heat wins and coming first and second in both.  Both of these featured something of a feud between 54 Tom Davey and 107 Dan Chiplin, which resulted in both being loaded up for the remainder of the day.  
In the Final, 129 Lee Dalton simply got away and was never caught whilst 505 Sam May held on for second.  It was third that was in doubt with veteran 517 Scott Weldon appearing to take both Buglar's by surprise by wading in to grab third place on the very last corner.  
Only five cars for the Allcomers, 262 Roona took his second win of the day whilst the interest was needle between 103 Lee Buglar and Weldon, which the latter got the better of.
{module Facebook slideshow - Sun 20 September 2015 - Rookies Reward}

Click Here to View and Tag the full gallery on Facebook
RESULTS - 20.09.15
F2:-
Rookies Reward - Phil Mann 53,828,845,529,460,826
Heat 1 - Ryan Wadling 476,676,542,468,83,627,528,111,53,189
Heat 2 - Steven Gilbert 542,83,676,522,476,254,111,468,328,740
Final - Ryan Wadling 476,542,83,676,522,528,468,828,111,627
G/N. - Sam Weston 468,676,83,522,189,528,476,627,828,111
Hot Rods:-
Heat 1 - Mike Norton 205,258,125,282,536,718,578,17,27
Heat 2 - Wilson Hamilton 904,718,258,125,282,205,536,17,27,578
G.F. - Colin White 718,282,125,258,117,205,536,578,17
Stock Rods:-
Heat 1 - Richard Edmond 626,441,437,909,776,306,40,92,9
Final - Lewis Trickey 437,306,909,705,9,91,40
G.N. - Justin Washer 909,83,91,306,776,9,705,437
National Bangers:-
Heat 1 - Rob Bugler 262,252,517,440,103,129,720,523,502,505
Heat 2 - Steve Bugler 252,262,129,284,440,505,27,502,523
G.F. - Lee Dalton 129,505,517,262,440,252
A/C - Rob Bugler 262,517,252,440,103