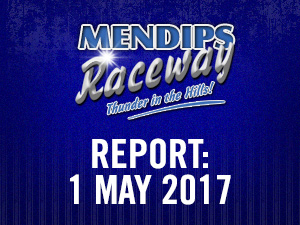 BriSCA F2
25  cars turned out, pleasing considering the amount of regulars suspended. A two out of three format was deployed for the F2. Paul Rice (890) took heat one after taking over for a suspension for Gary Smith (851). The second heat was led away by newly demoted white tops Nigel Fordham (245) and Ben Goddard (895) sped away. As the boards came out, Matt Stoneman (127) caught his sponsor Fordham (245) on the last bend. The third heat saw Goddard get away again, only to be caught by Rice for his second win of the day. Cue the final, and with a heavy field of cars, an early suspension for Julian Coombes (828) who himself perched on Becky Pearce's (660) car. This allowed the star graders to get to front a lot quicker, however Goddard opened up an early lead. Come the second half, Gordon Moodie (7) took over the lead, with Stoneman and Chris Bradbury (886) following behind. That was how it finished, with Goddard holding on to an excellent 4th.
In the post race interview, Moodie announced he was coming down for the British. "It's gonna be great when there's more here" proclaimed the Scot, After the storm, there were many that called it a day, but Chris Bradbury (886) took his first win since his comeback from Superstox in the National
Hot Rods
Again a tale of two parts. After a faultless heat win for James Griggs (258), Steve Hunt (282) had the better of Mark Shelper (788) in Heat 2. Then, as the final was lining up, the heavens opened, turning the track into a river, with the bottom bend resembling your local swimming baths. Griggs splashed his way to victory, with Shelper not too far behind. Graham Taylor (57) completed the finishers, unless you counted Noah, in his ark, in 4th.
Bangers
The form book was thrown out of the window as the first three races were won by white graded drivers. The first heat saw Sam Ghey (386) take a near flag to flag victory, as he and Patchy (21) sped away. The second heat saw Seb Burns (715) really go away too, and he wasn't caught. As the skies greyed above, the consolation treated us to a roll for John Quinn (242). After Kenny Gabriel Jnr (720) took the victory, the drama was to continue on the infield as the Quinn car burst into flames. Come the final post downpour, the sun shine saw the track start to dry, but the Star graders took to the field, as Chris Neville (109) got the better of long time leader in Henry Murray (784).
Robins
Another hilarious day for the Robins, some rolls for Jerry Weeks (100) won him best entertainer in heat 1. As Dan Tytheridge (3) strived to get to the front only for his 3 wheeler to become a two wheeler as entering the finshing straight. He could almost touch the chequered! Russ Gillingham (26) took the win. Tim Weare (304) sped away in a roll ridden race with more Weeks rolls and Gordon Mintram (101) getting involved. Darren Feltham (364) took a flag to flag victory in the final, as Weare tried to get on terms. Then the Caravan Race…. What can we say. Feltham was first through the static caravan in the back straight. 3 cars towed, with Weare, Gillingham and Mintram towing along, complete with a few "dubious" slogans. Weare lost his caravan first, but then went to hiding, disappearing and driving the remnants around, not once but twice! Weare then took the victory after Gillingham still with flat bed charged him down! Another day of hilarity for the robins!
{loadmodule mod_djimageslider,Facebook slideshow - 1st May 2017 Meeting}

Click Here to View and Tag the full gallery on Facebook
F2:-
Heat 1 – Paul Rice 890,7,126,542,127,522,828,468,111,516
Heat 2 – Matt Stoneman 127,245,895,886,468,700,189,828,476,762
Heat 3 – Paul Rice 890,895,935,7,126,886,542,700,476,189
Final – Gordon Moody 7,127,886,895,522,700,542,935,890,126
G.N. – Chris Bradbury 886,522,126,7,476,762,660
Hot Rods:-
Heat 1 – James Griggs 258,536,788,282,35,57
Heat 2 – Steve Hunt 282,788,258,536,57,35
Final – James Griggs 258,788,57
Robins:-
Heat 1 – Russ Gillingham 26,364,392,119,333,101,100
Heat 2 – Tim Weare 304,26,100,364,108,333,25,119,27,101
Final – Darren Feltham 364,304,100,333,3,25,101,108,119
Caravan – Tom Mannell 333,26,3
Rookie Bangers:-
Heat 1 – Sam Ghey 386,21,701,38,109,784,362,27,199
Heat 2 – Seb Burns 715,100,938,440,129,175,270,624,595,888
Cons – Kenny J Gabriel 720,138,41,956,276,894,852,775,281
Final – Chris Neville 109,784,138,701,938,100,956,775,276,175