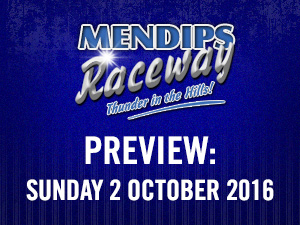 Our final meeting of the 2016 season at Mendips Raceway takes place on Sunday October 2nd at 1pm. We will be crowning three new Champions as we present the West of England Championships . All three formulae racing  will be racing for this title in their individual formula, from the 11-16 year old Junior drivers, right up to the Unlimited Banger boys, and in between, the Speclal Rods.
First the Juniors. Such is the nature of our very basic build that almost any car can score points with the right drivers, and the variety of cars from the Mini, Nissan Micra, Ford Fiesta, Fiat, and even Citroen is competitive in this form of racing. With 30 points available today, the Points Championship is not over yet, as six drivers have a mathematical chance of winning it. The West of England Championship race is run to a different format to our usual finals, whereby the fastest drivers go to the front of the grid, based on their performance in the heats. Depending on driver attendance, we may vary the meeting format to provide a good grid for the Final. Becky Pearce (66) who had a scary crash at the last meeting, is racing her last junior race today, and next season will be in an adult formula, in which she is sure to shine, as is Adam Headland (108) who will be racing with one less wheel on his wagon in 2017!
Special Rods have had a steady season, but at the last meeting there was a major crash in the Final which took out points Championship leader Andy Pincott (85) and destroyed his car. Word is that he will not be racing, as the new car that has been ready for a while will need an engine, and with holidays and work, he has not had time to complete it. This opens up the Points Championship to, again, a large number of drivers, mathematically, so let us hope for clean racing, and a worthy winner of both Championships. Ben Brice(701) won the West of England last year, after a spectacular start to his adult racing career, and has the speed and skills to do so again, although Dan Latimer (720) has steadily climbed the points table after a disappointing start to 2016.
The West of England Championship is for Unlimited National bangers today, albeit in Old Skool format. This type of racing is really taking hold as drivers who want to race in the big cars without the huge crashes that have permeated the formula are tempted back to the ovals. The starting point for this was the inaugural Graham Salter Tribute meeting in 2013, and the movement has grown from there with no less than 90 cars racing last June! We don't expect that today, but we should have enough for a good event. These cars are built to National banger specifications but raced in a restricted contact way until after the Meeting Final, when it is no holds barred for the Allcomers and Destruction Derby. The James brothers are well to the fore in this type of racing with Johnnie(362) winning the last West of England race and Buddy (262) winning the inaugural Old Skool World Final in May. They have to be favourites for this year's title
We should congratulate Dean Quinn(27) and Macauley Mills (440) for qualifying for the National Banger World Championship next Saturday at Ipswich, and it is these two who lead the Points Championship which will be decided at the final meeting for 2016.
The Graham Salter Tribute meeting will return again on June 25th 2017, and the Old Skool Unlimited World Final is scheduled for May 28th. Following the great reception to the introduction of Back to Basics Bangers, these cars will feature twice in 2017.
We are busy planning our 2017 season, and can confirm that our opening meeting will be on SUNDAY MARCH 26th 2016, with a guaranteed large field of Micro Bangers, for the Micro Massacre, and our  Practice Day on SATURDAY MARCH 4th
Until then, keep and eye on www.mendipsraceway.com for all the news, and follow us on facebook!
9    Mavis    Claverham
27    Dean Quinn    Bristol
34    Warren Wobbly Burnham    Doncaster
40    Pete Stanley    Poole
55    Alan Machin    Bristol
185    Richard Coaker    Newton Abbot
189    Jamie Knox    Bristol
199    Tom Pearce    Dundry
222    Cleetus    Newton Abbot
232    Alan Robey    Newton Abbot
258    Jason Hughes    Bristol
262    Buddy James    Teignmouth
270    Slug    Highbridge
284    Leon Benjafield    Weston
362    Aaron Loader    Weston
362    Johnnie James    Newton Abbot
363    Sam Trim    Charterhouse
376    Simon Kent    Clevedon
440    Macauley Mills    Trowbridge
502    Dipper    Yate
517     Scott Weldon    Corfe Mullen
797    Scooter    Radstock
White
8    George Jenkins    Cleeve
10    Kaitlin Kelly    Dorchester
21    Kyan Passco    Bristol
26    Leah Bennett    Bradford on Avon
28    Ava Hawkins    Bishop Sutton
35    Charlie Johns    Westom
53    Angus Hawkins    Bishop Sutton
70    Amie Trott    Bristol
Blue
29    Jasmine Mc Ardle    Bishop Sutton
34    Cameron Mc Colm    Draycott
75    Jack Buckingham    WESTON SUPER MARE
77    Jacob Filer    BRISTOL
100    Thomas Weeks    BATH
101    Jack Mintram    Gurney Slade
254    Jack Sear    St Stithians
730    Taylor Sealy    Taunton
Red
36    Josh Weare    CHEDDAR
66    Becky Pearce    DUNDRY
88    Charlie Pearce    WINFORD
108    Adam Headland    SWINDON
190    Ewan Gumbleton    Radstock
285    Jacob Anderson    WESTON SUPER MARE
376    Daniel Kent    CLEVEDON
Special Rods
White
35    Mark Johns    Banwell
91    Sam Bartlett    Weymouth
224    Jordan Edwards    Bristol
364    Darren Feltham    Oldbury
444    Mark Loader    Weston
556    Stuart Garland    Bristol
784    Henry Murray    Taunton
789    Shaun Coleman    Weymouth
Blue
5    Alan Lettley    Taunton
46    Angela Harris    Yeovil
51    Rob Price    Bristol
75    Gary Hunt    Highbridge
92    Liam Bartlett    Weymouth
108    Steve Brown    Taunton
136    Jason Horseman    Bristol
Red
7    Will Harraway    Congresbury
29    Dave Dalton    Bristol
41    Dene Howard    Frome
43    Andy Howard    Frome
45    Tim Seaford     Frome
244    Dale Edwards    Bristol
304    Tim Weare    Cheddar
426    Russell Colenutt    Reading
700    Les Brice    Tiverton
993    Darren Foss    Swindon
Superstar
701    Ben Brice    Tiverton
720    Dan Latimer    Loxton