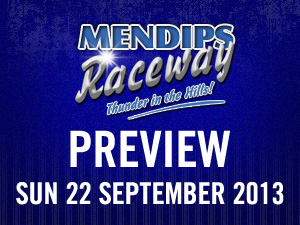 Autumn appears to be upon us, the days are getting shorter but it is still almost unbelievable that our penultimate meeting for season 2013 is coming up on Sunday, but even at this late stage in proceedings we have one of the year's highlights as we welcome the National Hot Rods. The BriSCA F2 Stock Cars will be here and also the National Bangers, amazingly for the first time since the end of June and with vital World Championship qualifying points at stake towards their big one of the year at Ipswich next month.
With regard to the National Hot Rods, staging round of the World Series here to keep a 'west link' has been discussed for several years, with the NHRPA keen to keep the class 'National' as it says on the tin and also introduce new drivers and fans to new markets and now it has finally happened and Sunday will see the fourth round of the 2014 World Series.  For many it will be their first visit here to Mendips, and yes, it is very different to what they are used to.  But, seeing as National Hot Rods is regarded as the pinnacle of non-contact oval racing the drivers could, and should be able to cope and it will be fascinating to watch this round today unfold with interest.  Last weekend round three was staged at Birmingham it was an evening dominated by Northern Irishman 940 Gary Woolsey, who is competing in the English series this year and expects to make the long trip from Ulster today for a track debut.   Others who have been going well since the summer are 2 Ken Marriott, 162 Carl Waller-Barrett and 217 Brett Walter, but a new track today is bound to throw up surprises.  The full entry list will be shown and updated on www.nationalhotrod.com
In highly dramatic fashion 783 James Rygor won the BriSCA F2 World Championship at Taunton on Saturday, thus becoming the first southwest winner in nine years and the first that we can call as local to us at Mendips Raceway since Malc Locke won in 1985.  So a special well done to James on what was a very much shock win and we look forward to welcoming him, along with the trophy and gold roof on Sunday.   The meeting will see the focus not so much on the big names, but the lesser names with the final of the Rookies Reward.  Those drivers from the white and yellow grade only, who have competed in the three qualifying rounds earlier in the season.  This is now the twelfth season of running this particular series which since became mandatory for all BriSCA promoters with varying ways of doing it.  It is worth winning with double feature Final money and other prizes.   Of the rounds, 464 Matt Linfield won two and 519 John Scorse the other and they start as two of the favourites for this.  In the remainder of the racing, 886 Chris Bradbury has won the track championship for a record sixth time, having secured that last time out.  He was forced to pull out of the World Final last week through illness but does hope to be back where he will be one to watch again, as he always is whilst it will be 935 Nathan Maidment going for three Finals in a row around here after his emphatic wins at the Pink Ribbon Trophy and then on Semi Final day.   Needless to say the BriSCA F2 Stock Cars will continue to be a pivotal part of season 2014, just as they have been since that afore mentioned opening in 1969.
The National Bangers have made way for the Rookie Bangers in recent meetings, with their last here being the Old Skool Unlimited meeting at the end of June.  That is a discussion for another time though and today they are in under 1800cc for with those World points on offer.  So, smaller cars (but not too small) and at the time of writing there is a good looking entry for this and a real scramble for the points.  In terms of the track points, 54 Tom Davey has secured the silver roof for the second year in a row but surprisingly he is a little way out of the hunt for the trip to Ipswich as it stands.  252 Steve 'Boogie' Buglar leads ahead of 409 Joey Collins, 241 Liam Cracknell and 820 Martyn Perkins, but there are some behind who could bounce up, Davey included but he will need to have a good day.  
Racing will start at 1.00pm with a grand parade of cars.  Make sure you are with us.