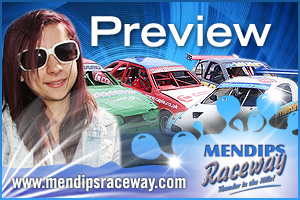 Mendips Raceway will be back in action for its traditional end of September date with the BriSCA F2 Stock Cars rounding off their season here with us which includes the Rookies Reward Final. The National Bangers will be in under 1800cc form and welcome back the Rebel formula for their annual trip to the west of England.
In the F2's 886 Chris Bradbury looks set to take an unprecedented fourth track championship title, although unlike the previous two seasons it has come down to this last meeting of the season for them. Teenage sensation 921 Jack Aldridge has run him close, and whilst it is mathematically possible that he could beat Chris to the title, it would take a lot of bad luck for it to happen.
That said, he did take part in the World Final last week with an injured leg, so whether that has an effect today remains to be seen. Whatever the outcome though, Jack can look back on a fantastic debut season that has netted him the National Championship, third in the National Points and a dead cert for the Novice of the Year. Both were in fine form here last month, whilst 676 Neil Hooper was away last time but is set to be back this time along with other notables 24 Jon Palmer and local star 522 Chris Mikulla to name but two. The Rookies Reward has not been as well supported this season, which has naturally been a disappointment but it goes ahead as planned with the enhanced prize money and tyres from Yokohama all up for grabs. 954 Jamie Beere was the winner last year and is set to be on the grid again this time around.
The trip by the Rebels is always well received by both their organisation and us here at Mendips, with the small cars always turning on the big action button with some great racing. There is also the chance of a surprise in a class of racing where the cars are totally identical and the onus is always on the driver and their set up and driving skills. The winners last year were 656 Adam Joyce, 35 Stuart Moss and then 81 Lyndon Rushby in the Final. Joyce was new to the Rebels then, having only just made the switch from the F2's and he and brother James have pretty much taken the formula by storm this season and are first and fourth in the points coming into today's meeting. Others in there are 1 Steve Shaw, who successfully retained his World Rebellion title in a fantastic race at Northampton just over a fortnight ago and the afore mentioned Rusby. The main trophy for them will be the Stuart Smith Memorial, as they pay their own tribute to the former multiple BriSCA F1 champion and cameo star of the BBC TV series "Gears and Tears", who sadly died at the end of last year.
After having Rookie Banger action over the August Bank Holiday weekend, it is back to the harder hitting and at times much more extreme National Bangers, and they have the added bonus of some World Championship qualifying round points up for grabs for the last remaining of the Banger 'Worlds' at Ipswich in November. The last time we had the National Bangers was Crashmania, the team meeting in July when 162 Brett Ellacott lead his team to an emphatic victory. This came on top of his English Championship title here in June and then two weeks ago he took the 'alternative' World Championship title at Taunton. So, a fantastic year for the seasoned campaigner and he should be present with the gold roof today. Domestically, the Banger points are headed by two veteran stars with 517 Scott Weldon leading 40 Pete Stanley. Pete has not been in the best of health of late and so could be a non-attender but it is very close behind as 58 Martin Dalton and 363 Sam Trim are not too far back, with another meeting to go after this one.
And that meeting comes up is reasonably quick succession, two weeks until our next outing when we will be looking to go out on a high with the Unlimited Bangers West of England Championship. One of the oldest titles in the sport, and interest is looking back up again this year and possibly some large and impressive cars! In a West of England Championship triple header the Special Rods and youngsters in the Junior Rods will also be having theirs too. So, make sure you are here for that, but for now thank you for being here today and enjoy!
Steve Linfield