Welcome once again to Mendips Raceway for the annual day for the fuchsia fanatics, a day when the raceway turns PINK in aide of Cancer Research. With the traditional pre match shenanigans on the infield including the infamous Tyre Toss and pink all around, its one of our favourite days of the year. But very much in our thoughts will be those who we lost to cancer as we raise vital funds to try and eradicate this horrid disease.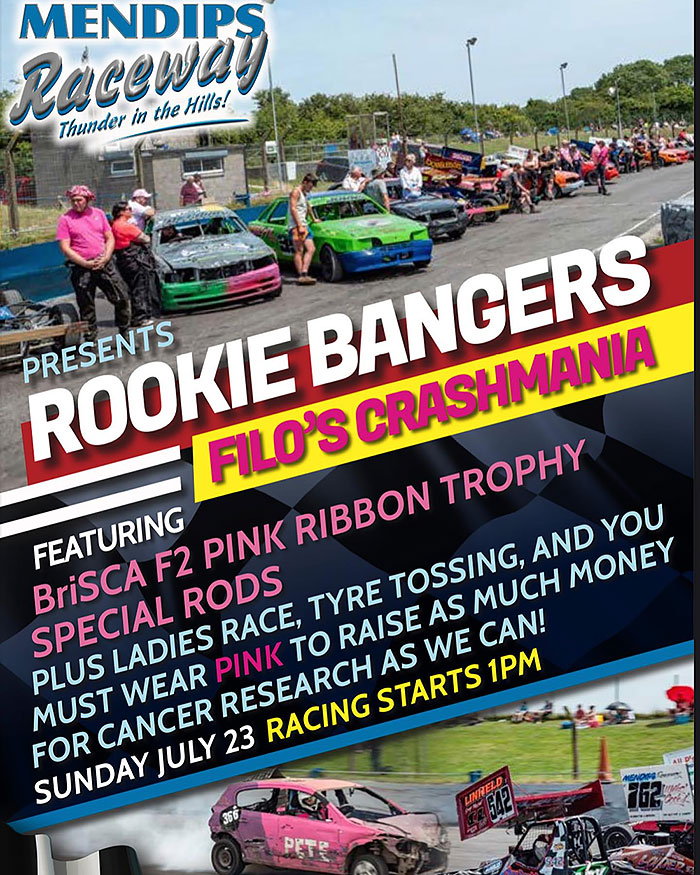 BriSCA F2 – THE PINK RIBBON TROPHY – in memory of Lesley Maidment
A highlight of our year and one of the great races, with often popular and emotional winners. Kindly sponsored again by the Maidment family, long time supporters of the raceway. With a final already under his belt, Nathan Maidment (935)'s demotion to blue could not have fallen at a more opportune time. Steve Gilbert (542) will be looking to repeat his Pink Ribbon win in what has been a fairly barren year for the Cornishman. We expect a few visitors down to play with us today eager to get some fast laps around the raceway to get dialled in for the Semi Finals – which take place here in a fortnight! We expect to see Luke Wrench (560) and the like with us today for a play. 776 Dan Roots, a high scoring qualifier on the Semi Final line up makes the journey down, as well as Pole sitter and National Points Champion 183 Charlie Guinchard. 605 Richard Andrews makes his first appearance at Mendips Raceway in 2023.
ROOKIE BANGERS - FILO'S CRASHMANIA – in memory of Phil Cleverley
Rookie bangers team racing – and this time it's encouraged! Nudge and spin for the win. Last time saw things spill over from the day before with lots of "non rookie" moves seeing a few drivers fall foul of the steward. A healthy booking list of teams are entered, inclusing the ever present All Blacks featuring star driver 129 Lee Dalton. Taunton based Team N.M.T has a healthy line up in cluding 99 Ryan Hall, Lee Radford and the Greening Brothers. Last time at the B2B Weekender, 777 James Cliffe of Team Cliffedogs rounded off an impressive win by taking home the Destruction Derby Trophy, and will be looking to add more silverware to his collection.
SPECIAL RODS – including Ladies' Race
So not to be left out, the Special Rods spouses will be having their own race organised once again by Susie Bennett. A lot of nervous drivers to be watching the racing from the safe side of the fence, hoping that the one they hold precious comes home intact. The car not the missus! Clear inspiration could be drawn from the last meeting as both Angie Harris (46) and finally Leah Bennett (26) broke her duck. It was a real "I was there" moment, as she had come close so many times.
Tom Bristow (60) and the returning Russ Colenutt (426) took race wins before Sam Howard (44) held off Ben Brice (701) in the final.
NEXT TIME…..
The Mendips Summer Season gets this Wednesday under way with Specials and Rookies and the Drifters will be giving a demo. Then a week later the visiting Stock Rods will be joined by the youngsters of the Junior Rods and the really young in the Micro F2s – a first for Mendips, and also a run out for the F2s also before on August 6th, an absolute biggy. The biggest BriSCA F2 meeting on the mainland this year! The World Championship Semi Finals – the best in the business scrapping for places in this year's World Final. Add to that, the always excellent Saloon Stock Cars will be here with some light relief from the Specials. Tickets are available at mendipsraceway.com – you dare not miss it!
Cheers n gone
Jonny
Brisca F2
12 Craig Driscoll
121 Vinnie Neath-Rogers
127 Matt Stoneman
183 Charlie Guinchard
194 Luke Johnson
235 Alfie Brimble
259 Daz Purdy
291 Dan Baker
303 Kurt Selway
308 Lee Gilmore
315 Charlie Fisher
454 Ryan Gardiner
475 Leah Sealey
509 Jordan Butcher
542 Steven Gilbert
560 Luke Wrench
605 Richard Andrews
736 Josh Weare
762 Mike Cocks
776 Dan Roots
828 Julian Coombes
844 Jack Prosser
856 Jamie Cocks
870 Bruno Farrell
890 Paul Rice
895 Ben Goddard
915 Jamie Jones
935 Nathan Maidment
979 Paul Moss
Rookie Banger Teams
Team R.A.W.
105 Louis Tomkins
267 Billy McDade
601 Brandon Melksham
761 Kyle Williams
Cliffedogs
19 Connor Bell
371 Ben Bridgeman
721 Carley Gabriel
777 James Cliffe
Purple Reign
515 Sam Fowler
718 Adie Brown
tbc
tbc
All Blacks
129 Lee Dalton
301 Fred Moore
509 Matt Dixon
852 Ryan Hughes
16 Ali Edgecombe
18 Jason Edgecombe
177 Charlie Edgecombe
366 Pete Warren
406 Chris Bridger
Team Pretenders
19 Paul Sweeting
33 Shawn Norton
90 Luke O'brien
365 Ben ?
Team N.M.T
6 Dan greening
13 Lee Radford
99 Ryan Hall
298 Dave greening
Box,Bush Bangers
110 Ash Freeman
112 Rich James
213 Jake Mews
237 Jamie Broadhurst